After seeing parents grieving the deaths of children who drown every year during the flood season, a resident of the Mekong Delta province of Dong Thap Province decided to volunteer as a swimming coach.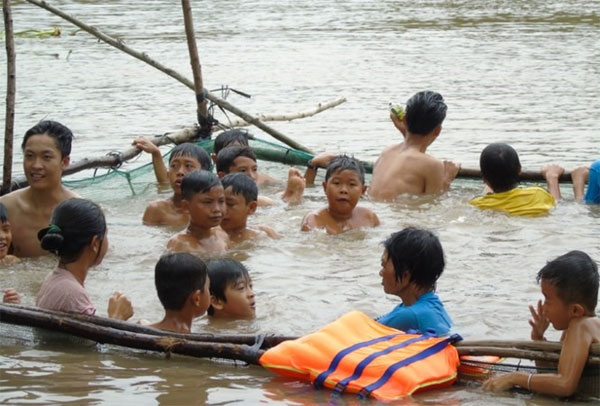 Tran Thi Kim Thia (in blue) teaches children how to swim in her training pool. — Photo tienphong.vn
Tran Thi Kim Thia, 59, known as Sau Thia, lives in hamlet 4, Hung Thanh Commune in Thap Muoi District.  "Whenever I see on television news on kids drowning and their parents' grief, my heart writhes in pain," Sau Thia told the Tien Phong (Vanguard) newspaper.
"In my hometown, when the flooding season came, everywhere was submerged. So when the commune needed a swimming trainer, I volunteered," Sau Thia said.
In 2002, the commune launched a project to teach children how to swim. "I did not hesitate to take the job but I felt very nervous because I did not know how to teach kids swimming," Thia recalled. She spent many sleepless nights over the project, but she need not have worried. She was sent for a three-day training course on swimming instruction and has never looked back.
River pool
Sau Thia set up her training pool on the edge of a river. She laid down bamboo stakes in the river basin over an area of about 40sq.m and put a net on them to form a pool bottom. "To ensure the net would not float on the water and endanger the children, I had to dive into river to tie the net to the stakes," she said.
"Stringing was very difficult when the river water was high and the flow was strong," she added.
Each of her swimming courses lasts 15 days, with lessons taking one or two hours. The courses are usually held one month prior to the flooding season, which usually starts in August and lasts till November. Each class has about 30 children. 
First, she teaches the children to dive and then she teaches freestyle swimming. At the end of each course, she conducts a test in which children have to swim 15 metres. Children who pass the test are given a certificate.
Explaining why the test is to swim 15m, Sau Thia said simply that "in the commune, there are canals of 30m wide. If a kid fell from a boat in the middle of the canal, he or she could swim to the bank."
Phan Thi Do, a local resident, told the newspaper that "we failed to teach my nine-year-old son to swim but Sau Thia did. Now we feel secure about my child when we go out to work during the flooding season."
Devoted trainer
According to Sau Thia, getting children to take part in swimming classes was difficult at first although the classes were free. She went door-to-door to persuade parents to let their children join the courses.
"Many parents did not trust that I could teach their children swimming because I did not have any experience," she said.
"I had to patiently argue that in the flooding season, if a parent had to stay at home to care for children, the family income would be reduced by half. If both father and mother went out to work, they could not feel confident that their children were safe at home. So it was better to let children learn swimming," she said.
Eventually, she wore down the resistance of some families. However, in the initial days, her free-of-charge swimming class had only 30 children in one hamlet. To support her, the commune had to pay VND20,000 (US$1) for each child who passed the test in the first course.
Gradually, the number of students grew. Now she teaches on average 200 children each season. The sight of an older woman going from hamlet to hamlet to coach children before the floods has become common.
Sau Thia lives alone on a daily income of VND100,000 (US$4.5). Her main job is to sell lottery tickets, but she takes time off before the floods to devote herself to the children. "I teach children to swim because I am afraid they will drown. I am happy to see them obediently listening to my swimming instructions," Sau Thia said. 
VNS