VietNamNet Bridge – Phan Thanh Tien can now focus on his work at a garment company in HCM City's Cu Chi District as his 4 ½-year-old son is being taken care of at an officially licensed public kindergarten in the industrial park where he works.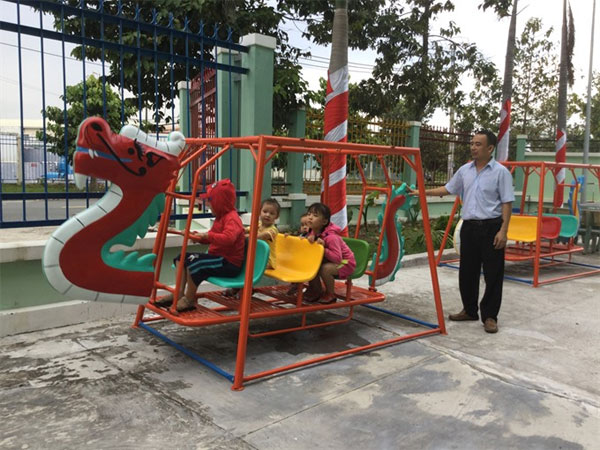 Tay Bac Kindergarten serves children of workers at Tay Bac Industrial Park in HCM City's Cu Chi District. -- VNS Photo 
"The Tay Bac Kindergarten is just opposite to where I and my wife work. It's very convenient for us to pick him up," Tien said.
During previous school years, Tien had sent his son to a privately owned kindergarten, but, even though it had received a license from the city, the space was too small and hot, he said.   
At Tay Bac Kindergarten, 106 children are enrolled, 80 per cent of whom are daughters and sons of workers at the industrial park.
In Binh Tan District, Nguyen Thi Thanh Toan, principal at the April 30 Kindergarten in Vinh Loc Industrial Park, said that 80 of its 362 kids are children of workers.
The number of workers' children attending the school rose by 30 compared to last year, Toan added.
"Because many workers live in the industrial park's apartment building or near the park, they want their children at the kindergarten," she added.
Ngo Van Tuyen, head of the Education and Training Division in Binh Tan District, said that since workers contributed to the city's economic development, the city's responsibility was to ensure there were kindergartens and schools for their children located near or in industrial parks.
Last year, more public kindergartens such as Mai Vang, Tan Tao, Tan Tao A and Do Quyen began providing care services for children of workers in industrial parks.
"For this academic year, three more public kindergartens Thien Te, Cat Dang, and Hong Ngoc are being built near Pou Yuen Industrial Park in the district and will open next year," he said.
At a conference on building schools for the 2017-2018 academic year in HCM City held in mid-August, deputy head of the city's Department of Education and Training, Le Hoai Nam, said the city has 17 public kindergartens in or near its industrial parks and processing export zones.
Overtime services
In 2016, the city People's Committee approved a pilot programme at kindergartens at industrial parks and processing export zones that extended hours to 5:30pm and to Saturday, instead of the previous Monday through Friday until 4pm, for children of factory workers who work overtime at the IPs and zones.
The pilot services began at kindergartens in the Linh Trung 1 and 2 export processing zones in Thu Duc District and the April 30 Kindergarten in Vinh Loc Industrial Zone in Binh Tan District.
In the 2017-18 academic year, two more HCM City districts provide overtime services for workers who have kids at nurseries and kindergartens in Tan Thuan Export Processing Zone in District 7 and Tay Bac Industrial Park in Cu Chi District.
Fifty per cent of overtime charges are paid by the city's State budget, while the remaining 50 per cent comes from parents' payments and support from companies.
Teachers who have voluntarily registered to work overtime are paid VND33,000 (US$1.5) per hour for Monday through Friday and VND44,000 ($2) per hour for Saturday.
Le Hoang An of Mekong Delta Province of Tien Giang, who works at a company in the Vinh Loc Industrial Park and has a three-year-old son, said that overtime services at the April 30 Kindergarten had been helpful.
"In the past, I often brought my child to the company on Saturday because no one at home could take care of him," he said, adding that sometimes he sent his child to the house of a relative or neighbour.
Nguyen Dinh Duy, who works at a company in District 6, said: "I send my two children to the care services and overtime services at the April 30 Kindergarten. I no longer worry about picking them up when my wife and I work late."
Tien of Dong Thap Province said that he would plan to use overtime services at the Tay Bac Kindergarten if he has to work extra hours.
Vo Thi Vung, principal of Tay Bac Kindergarten, said the number of kids using overtime services at the kindergarten was still not high, possibly because the service was still new and workers were still concerned about quality.
Only four kids are being taken care of until 5:30pm or 6:30pm on Monday through Friday, so the kindergarten is free to take care of kids during overtime hours.
"We are ready for the workers' kids," she added.
Toan of the April 30 Kindergarten said that overtime services were only allowed for kids aged 3 to 5, so workers with younger children must send them to family-based nursery establishments.
Overtime services are expected to be offered at all industrial parks and export processing zones in the city during the 2018-19 school year.
Tuyen of Binh Tan District said the city should have more preferential policies for the private sector to build standard kindergartens in or near industrial parks and export processing zones in the city to ensure safety for workers' kids.
Gia Loc
VNS