VietNamNet Bridge – The one-storey house of resident Trieu Duc Chinh of the Central Highlands Dak Lak Province is home to ten people: Chinh himself, his three wives, and their six children.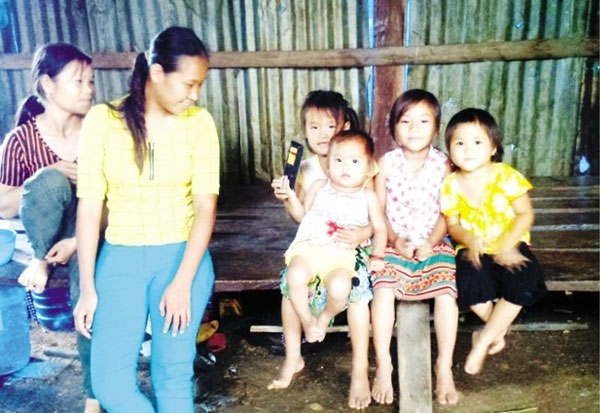 The two wives and four children of a resident of the Cu Kbang Commune in the Central Highlands province of Dak Lak. — Photo tienphong.vn
Polygamy is not uncommon in the province's mountainous distant villages, which are mostly occupied by the Mong ethnic minority, the Tien Phong (Vanguard) newspaper reported. "The more wives we have, the more productive we can be at our agricultural production" is the rationale that men like Chinh give to having more than one wife.   
The Mong village of Chinh's Cu Kbang Commune houses about ten polygamous families. "They met, they liked each other, they moved in together without registering with the authorities," said the commune's family planning official Hoang Thi Cham.
"What's strange is that the wives agree to live in harmony under the same roof with one another, and loving one another's children like their own," she added. "They knew they were breaking laws, but insisted on acquiring more human resources for the field work."
In vast, empty lands where agricultural cultivation is the major occupation that keeps food on the table, nothing better than having someone to share the laborious tasks of  plowing soil and sowing seeds. That is how Chinh's two mistresses bonded with his first wife, he said.
"My wife and I moved here after getting married in the north. Then I married two other women and moved them all in with us," he said.
"My wife disliked it at first, but having two 'sisters' to help with the field work every day softened her," he added. "They bonded and became close over time."
And how does he manage their intimate life? Taking turns, he said.
"One of the three rooms in our house is for the children, the other two are for me and my wives," he said. "I stay with one of them in one room each night, and the others sleep in the remaining room."
Child marriage
Apart from polygamy, child marriage and consanguineous marriage remain the popular traditions of the province's ethnic minorities. After his 13-year-old first daughter gave birth to a child last year, resident Duong Van Dinh of the district's Cu Pui Commune became a grandfather at 34.
"It was her ripe age to get married and have children so that they would grow up and help us with the field work," he said.
Resident Vu Thi Song, 25, got married ten years to a boy two years older than her. "My friends had already had children at that age," she said. "I would have been left on the shelf if I hadn't got married then."
Thirty-one consanguineous marriages have taken place in its Krong Bong District since the beginning of this year, 24 of them were of the Mong ethnic people, according to statistics.
Despite having been selected to pilot a population model against child marriage and consanguineous marriage in 2009, not much has been changed in the attitude of the province's citizens towards the customs, said doctor H'Le Nie, head of the province's population and family planning division.
The model was implemented on the grounds of the visible consequences of consanguineous marriage on the inbreeding couples' offspring, he said. Like how both children of a couple in the Lak District were born with disabilities, and one of them died at six-month-old due to cerebral palsy in 2009.
"Our family planning officials came knocking at their doors and persuaded the parents not to marry off their children too soon, and not to marry them off to their cousins," he added. "They listened, then kept on doing it."  
The small number of family planning officials at the grass roots is not able to cover the vast areas where ethnic people live, he added. The mountain topography also hinders communication between these people and the authorities, he said. 
VNS