Man's body recovered from southern river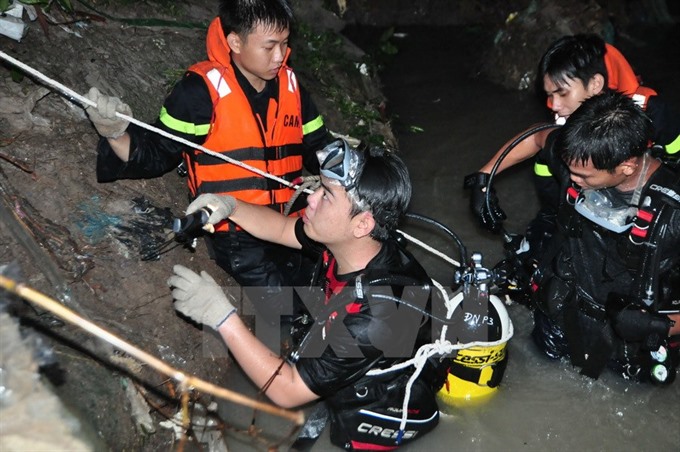 Rescue forces of the southern province of Đồng Nai search for a man's body that was swept into a river on Saturday.
The body of a man swept into a flooded river in the southern province of Đồng Nai was recovered yesterday.

The body of Nguyễn Tấn Phát, 29, a resident of the province's Biên Hòa City, was discovered on the stretch of the Đồng Nai River in Tân Mai Ward, about 6km away from the Săn Máu River where he disappeared.

Around 9pm Saturday, Phát drove his motorbike through the Kim Bích 2 Bridge across the river. Floodwater had inundated the bridge, sweeping Phát and his motorbike into the river.

The province's rescue force and citizens were mobilised to search for his body.

Worker crushed to death in construction accident

A construction worker in the central province of Quảng Trị died after a one tonne concrete pipe fell on him yesterday.

The victim was identified as Lê Văn Đức, 43, a resident of Hà Tĩnh Province, the Dân Trí online newspaper reported.

Đức was working to install drainage systems at a construction site, located north of the Hiếu River in Đông Hà City, when the cables lifting the concrete pipe onto a crane broke. 

Mid-Autumn fest presents granted to disadvantaged children

A charitable art programme, themed "Sympathy and Love", was held in Hanoi on October 1 by the Fund for Vietnamese Children with Disabilities on the occasion of the traditional Mid-Autumn Festival.

Speaking at the event, priest Phan Khac Tu, Vice Chairman of the Committee for Solidarity of Vietnamese Catholics, said that over the past years, the Party, State and community have paid special attention to vulnerable groups, including children with disabilities.

Numerous policies such as the Child Law and the Law on Persons with Disabilities have assisted unlucky children, he stated.

The programme aimed to honour collectives and individuals who have made great contributions to the child protection, care and education, including children with disabilities or Agent Orange/dioxin victims, he added.

On this occasion, Permanent Deputy Prime Minister Truong Hoa Binh presented nearly 100 Mid-Autumn fest gifts to disabled children who are living in difficulty.

Earlier as part of the programme, nearly 1,000 presents had been granted to children at disabled children care centres in Hanoi, Ho Chi Minh City, and Da Nang city and Ha Tinh province in the central region.

On the same day, National Assembly Chairwoman Nguyen Thi Kim Ngan attended a live TV programme for children on the Full Moon festival.

The programme, the 10th of its kind, is held annually on the occasion of the Mid-Autumn Festival aiming to create a playing ground for children nationwide.

At the event, gifts were presented to 300 orphans, children with disabilities and those living in difficult circumstances.

Tuberculosis prevention project launched in VN

A tuberculosis prevention project was launched in the port city of Hải Phòng by the city's Department of Health yesterday.

Aiming to limit the incidence of tuberculosis in the country to two in every 100,000 persons by 2025, the project, entitled "Zero TB" (ZTB), will implement a comprehensive model of care for tuberculosis patients in the three cities with the highest, average and lowest incidence of tuberculosis in the country.

They are HCM City (164/100,000), Hải Phòng (101/100,000) and Hội An (68/100,000), respectively, according to Dr Lê Văn Hợi, deputy director of the National Lung Hospital.

The project will intensify the screening for people who make direct contact with tuberculosis patients, improving the social workers' capability and the quality of the diagnosis processes, as well as minimising the risks of recurrence, and expanding the collaboration with the National Tuberculosis Control Programme.

Within the period between 2005 and 2015, Việt Nam was one of the few countries that was able to reduce the incidence of tuberculosis and deaths to below 50 per cent of the total population.

Health literacy investment needed

Investment in health literacy would be a useful initiative in Việt Nam and other ASEAN countries to help reach health goals, according to Asian Health Literacy Association.

"Enhancing health literacy will be particularly essential to provide outstanding healthcare services, to fill in the gap between the patients and healthcare providers," Prof. Dr. Peter Wu Shou Chang, the association's general secretary said at Thủ Đức District Hospital's annual science and technology conference held on Saturday.

The development of adequate and satisfactory health literacy becomes more critically needed in modern societies, especially in societies at which people wanted to last their lives long without significant burderns of diseases, Chang said.

"Health literacy serves to empower individuals, patients, their families and communities on all health issues, including reproductive, maternal, newborn, and child health, infectious diseases and non-communicable diseases, mental health, road safety and preventing unintentional poisoning and injuries," he added.

It also helps to strengthen the health systems and health care services in countries, he said.

Health literacy helps individuals keep healthy behaviours; maintain and promote health status; reduce latency of fully-developed disorders; minimize the side-effects and burderns of post-actue illnesses; facilitate early rehabilitation and comprehensive recovery from diseases.

It is developed through families, early education and informal life-long learning, shaped by continuous exposure of individuals with health information and healthcare organisations.

Eventually, the status of health literacy in individuals can protect and ensure they understand when, where, and how to communicate with healthcare providers, and to develop productive communication with healthcare providers, and support the individuals and families as well as the society to become a good manager of health, he added.

Waiting for two hours or more at hospitals for health examinations and treatment is unavoidable and common at many hospitals, especially overcrowded ones, Chang said, and suggested that hospital managers should think about how to provide health education to patients while they wait.

He advised that there are many different ways to provide education. For instance, exciting videos to guide disease prevention or common knowledge about health problems should be shown on televisions in waiting areas.

One study on health literacy and its impact on the quality of healthcare services among patients with type 2 diabetes at Thủ Đức District Hospital showed that empowering patients via improvement of health literacy enables health-friendly environments, better self-care with fewer health risks, and lower healthcare costs.

The conference also heard about many scientific research reports in the fields of administration, surgeries, obstetrics, nutrition, public health, anaesthetic and recovery.

Old couple's efforts pave way for new road

Age was no hurdle for 73-year-old Bùi Thị Thu and her 80-year-old husband Đinh Công Vượng, who despite the progression of senility were determined to contribute towards the upgrade of infrastructure in their poor neighbourhood in central Hà Tĩnh Province.

Thu and Vượng spent more than three years collecting money for the newly constructed 600m road in the province's Phúc Trạch Commune.

In early 2014, the couple initiated the construction of the concrete road to give the village road a better surface. However, they were both teachers before they retired decades ago, and their savings of VNĐ20 million (US$881) was insufficient for the work.

"We found commuting on the muddy road inconvenient and wanted it to be upgraded with a concrete layer," Thu said. "At first, when we came up with the idea, we had only 20 million đồng saved from our pension, and we thought every local could help."

Thu then began walking around to mobilise money, while Vượng convinced the locals to give up their land to expand the road.

"First, I talked to my neighbours to get their consent, then I got the seal of the local authorities in the petition that called for cash donation." Thu said, adding that the authorities' seal helped to protect her from being accused of cheating.

"Every local was encouraged to contribute, depending on their economic situation and willingness," she said. At the same time, Thu made the calls for donation to villagers who lived far from home in other localities in the country.

Late last year, two other villagers volunteered to join Thu and Vượng to make a group and help collect money. Earlier this year, the group got enough to buy rock and sand. Thu then knocked the door of the People's Committee of Hương Khê District, which included the commune, for the supply of cement.

The committee agreed to supply cement, bought from the local budget allocation for upgrading the rural infrastructure.

By September, the construction on a 600m long and 3m wide road was nearly completed, with a total capital of VNĐ200 million ($8,810), collected through the mobilisation efforts of the old couple.

"We are happy with the new road. Earlier, we had to commute on a road that was rough during summer and muddy during the rainy days, but the tough times are over this year, thanks to the efforts of the Thu couple," said Hồ Thị Hiếu, a local.

"Without their efforts, we cannot imagine our commuting would be as easy as it is today," she added.

Trần Quốc Khánh, the commune's chairman, said the contribution by Thu and Vượng had helped to release the burden on infrastructure development in the commune. 

Thu and Vượng agreed that the biggest obstacle they faced during the mobilisation process was the scepticism of the locals. "Some blamed us for making use of mobilisation, while others termed us beggars," Thu said, adding that as she could not ride a bicycle, she would walk around during the time to collect the donation money.
However, the old couple do not mind and they are pleased with their work. Currently, they are growing herbal medicine plants in their garden, expecting to supply free medicinal plants to the locals. "We will do anything that is good for our community, never mind our age or the hostile attitude of others," said Vượng

Midlife crisis? Not for these artists

Members of an artists' group called Vẽ Ký Ức (Painting the Memoir), aged 50 to 60, are showcasing their paintings in Hà Nội to express their joy of life in middle age.

Each artwork is an experience reflecting a truthful emotion, said painter Nguyễn Thị Hồng Hà. For Hà and his friends, painting is a way to share their passion and exchange feelings and ideas.

The exhibition will run until October 5 at the Hồ Gươm Cultural Information Centre, 2 Lê Thái Tông Street, Hà Nội. — VNS

Đức, Hằng win titles at Hà Nội Mới's Run

Lê Trung Đức of Thanh Hóa and Đoàn Thu Hằng of Quảng Ninh won gold medals at the Hà Nội Mới (New Hà Nội) newspaper's 44th Run for Peace in the capital city yesterday.

Trung won in the men's professional category, which covered five laps of 8,750m around Hoàn Kiếm Lake.

He was followed by Nguyễn Trung Cường of Hà Tĩnh and Trần Văn Đảng of Hà Nội.

Hằng topped the women's event after running three laps, which was 5,250m.

Nguyễn Thị Thanh Hương of the Ministry of Public Security and Đinh Thị Bích from Nam Định came second and third, respectively.

The organisers also presented awards to winners of different classes, including amateur runners, workers, students and foreigners.

Six dead as buses collide heads-on in southern Vietnam

At least six people including the driver from one bus were killed when it crashed into another from the opposite direction in Tay Ninh Province on October 2.

The collision occurred at 4 a.m., badly damaging both vehicles and injuring 10 other people, who have been rushed to a local hospital and another in Saigon, around two hours away.

Doctors said some of the cases were critical.

Survivors on the ill-fated bus said their driver had showed signs of sleepiness, according to media reports.

People in Tay Ninh's Duong Minh Chau District said they were awakened by a very big blast.

"I opened the door to a disastrous scene," a witness said. "Many people were dead while others were screaming and crying." 

Police are investigating further.

Road crashes are a leading cause of death in Vietnam, killing almost one every hour. Experts have blamed narrow highways, poorly maintained vehicles and drivers' disregard for road safety and traffic rules for most fatalities.

Int'l artists partake in AIF week

The third art week Art In The Forest (AIF) yesterday was kicked off in Flamingo Dai Lai Resort in the northern province of Vinh Phuc.
 
The event saw the participation of artists from Spain, South Korea, Japan, Singapore and Vietnam. For instance Japanese artist Mukai Katsumi, Spanish artist Carlos Albert Andrés, Korean Lee Jae Hyo, Singaporean Yeo Chee Kiong.
World leading artists used various materials for their works such a iron, steel and inox to depict their confidence and preoccupation about life and relation between human and nature.
The highlight of Art In the Forest this year is the focus on painting with the participation of eight Vietnamese leading artists namely Nguyen Xuan Tien, Mac Hoang Thuong and Ha Manh Thang; especially art critic Nguyen Quan. 
Especially, painter Trinh Minh Tien and Pham Tuan Tu draw paintings on plastic pail of paint ( or container).
Along with the event, from October 28 to November 6, a sight-seeing tour will be organized for visitors and art lovers to enjoy the event in the resort. Moreover, painting classes, competition and and musical performance will take place.

Smart pumping system needs more testing to estimate efficiency

The smart pumping system in Nguyen Huu Canh street needs other few times of testing in heavy rains combined with high tides to estimate its efficiency in coping with flooding in the street. 
 
That was said by director of the HCMC Steering Center of Urban Flood Control Program Nguyen Ngoc Cong last night.
During the heavy rain on September 30, investor Quang Trung Industry Joint Stock Company deliberately functioned the system at 7:17 p.m. when the rain had started for an hour and the street had been submerged under 30-50 centimeters.
Therefore, floodwater did not recede as fast as expected. At 8 p.m, many spots in the street were still submerged under 20 centimeters.
The company said the delay aimed to examine the efficiency of the system.
During the first testing previously, the precipitation was insufficient for the system to operate so tidal water was released into the street to increase floodwater to 0.5 meter. It was pumped out within 15 minutes.
Hence, that has not been able to estimate the efficiency of the system as it just pumped a fixed volume of water without heavy rain.
During the second testing on September 30, the investor did not correctly anticipate the rainfall so it took longer than the first time to pump out floodwater. The rainfall measured 93mm within 40 minutes, equivalent to 150mm during three hours. Rainwater drenched the street too fast causing heavy flooding.
In addition, garbage still slogged manholes in the street despite a sewer cleanup project has been done this year.
After nearly an hour of running, pumps reduced flooding time in the street faster than before when there was no the pumping. However, sluice gates were blocked with lot of garbage so floodwater drained off more slowly, especially in positions far from the system such as areas near Nguyen Huu Canh and Saigon bridges.
Mr. Nguyen Van Trai whose house at 57 Nguyen Huu Canh street said that formerly rainwater flowed into his house and just receded after 2-3 or even 5-6 hours after rains ended. On September 30, it took nearly one hour to flow out. Street flooding also reduced faster than before.
Despite big capacity pumps, floodwater will not drain off quickly if there are no workers picking up garbage from sluice gates, according to Mr. Trai.

Fund helps bring joyful Mid-Autumn Festival to disadvantaged children

The National Fund for Vietnamese Children has supported over 6,600 disadvantaged children nationwide with 2.6 billion VND on the occasion of the upcoming Mid-Autumn Festival.

From September 29 to October 1, the fund held various festive activities to children ahead of the festival. On September 29, it held a festival for 400 children, including 200 from the Dan Lai ethnic minority group in Con Cuong district, the central province of Nghe An.

During the event, the fund presented 150 scholarships worth 1 million VND each to children with outstanding academic performance, along with 600 gifts, 200 school kits and 50 bicycles to local children.

On September 30, the fund gave 418 gift packages valuing 300,000 VND each to children in Son Duong district of the northern province of Tuyen Quang and 100 scholarships and 300 gifts to poor children in the Mekong Delta province of Ben Tre.

Meanwhile, the fund has also organized various activities to give a joyful Mid-Autumn festival to children in various localities, including Hoa Binh, Thua Thien-Hue, Ha Nam, Hanoi, Nam Dinh, Thai Binh, Phu Tho and Bac Giang.

Second street vendor market opens in HCM City

The second street vendor market opened today (October 2) in Bach Tung Diep Park in HCM City.

This is the second street vendor area to be established, after the first market was opened on August 28 in Nguyen Van Chiem Road. Located at the city's centre, the venue will open daily from 6am-9am and from 11am-2pm. 

Nearly 30 street vendors will offer a wide range of fast-dining options at 15 pavilions for visitors and staff from the office buildings nearby.

Vietnam Stage Artists Association marks its 60th anniversary

The Vietnam Stage Artists Association held a ceremony at Hanoi Opera House, on October 1, to mark its 60th anniversary (1957 – 2017) and Vietnam Stage Day (the 12th day of the eighth lunar month).

The event was attended by Deputy Prime Minister Vu Duc Dam, Former Hanoi Party Secretary Pham Quang Nghi, alongside delegates from ministries, departments and art associations, as well as more than 500 artists, actors, authors, directors and stage researchers from across the country.

Former President Truong Tan Sang, Prime Minister Nguyen Xuan Phuc and Secretary of the Party Central Committee (PCC) and head of the PCC's Commission for Communication and Education Vo Van Thuong sent flowers and greetings to the event.

The annual celebration provides an opportunity for artists from across the country to get together and pay tribute to the theatre's ancestors who laid the foundation for the national art forms and contributed to their development throughout the years.

Over the course of the past 60 years of development with eight congresses, the Vietnam Stage Artists Association now has 2,500 members across the country and the association has been honoured with Party and State titles. Many members have been awarded with the Ho Chi Minh Award, the State Awards for Literature and the Arts, as well as 'Meritorious Artist' and 'People's Artist' titles.

Addressing the event, Deputy PM Vu Duc Dam praised the great contributions of the artists over the past few years. He stressed the difficulties and challenges that the Vietnamese theater needs to overcome at present, especially the issues such as a lack of resources for training, composition, criticism, performance, management; living conditions, work of artists; as well as the downgrade of their theater and performance equipment.

On the occasion, the Vietnam Stage Artists Association honoured a number of outstanding artists, actors, authors, directors and stage researchers for their contributions.

On the same day, at Dai Nam theatre in Hanoi, an incense offering ceremony to mark traditional day of the Vietnam Stage Artists Association was also held.

Downpour hits southern region

The National Hydrology Meteorology Forecast Center reported that the south-central, central highlands and southern region continue experiencing medium- heavy rains, cyclone, thunderstorm, lighting and powerful wind on the large scale from October 2-4. 

The weather condition was due to an influence of low- pressure zone in combination with tropical convergence. 

The highest temperature in the provinces from Da Nang to Binh Thuan and the southern region can keep at 29- 32 degrees Celsius. 

Meanwhile, the northern region suffers a heat wave with its temperature of 30-33 degrees Celsius. 

Nhân Cơ alumina plant's red mud containing cell unbroken

Đàm Quang Trung, director of the province's Department of Natural Resources and Environment, confirmed that Nhân Cơ alumina plant's red mud containing cell in Đắk R'lấp District was unbroken.

"Leaders of Nhân Cơ Ward People's Committee and some 40 locals conducted an investigation as they suspected its red mud containing cell had collapsed. However, the delegation did not detect any spill," Trung said on Sunday.
He also said the plant had three cells. Since it recently began operations, the amount of composed red mud was not enough to break the cell.
According to residents, on September 29, all streets around the plant were flooded, causing traffic congestion. The reddish flood water led to suspicions of a red mud disaster.
At the end of July 2016, Nhân Cơ alumnia plant's pump broke, leading to a spill of 9.58cu.m of alkaline water. A portion of it leaked into the Đắk Dao spring, resulting in fish deaths.
In mid-2017, white powder from the alkaline plant was seen coating the trees and houses of the locals.