An Giang tax fraud trial begins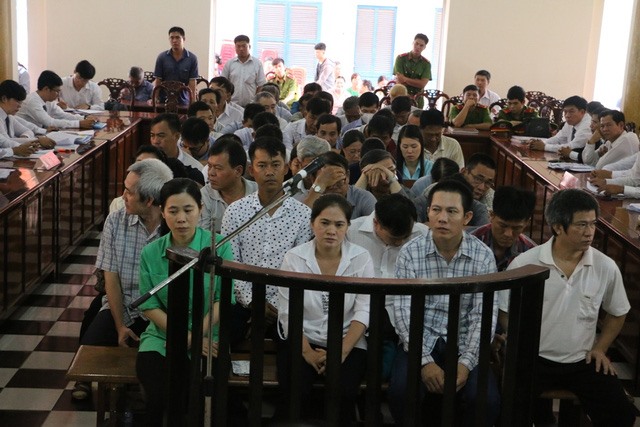 The People's Court of the southern province of An Giang on September 28 opened the first hearing into a case that involves 51 defendants, 34 of whom were customs officials in the province.

Lê Thị Chi, 38, from An Phú District, and 17 accomplices are accused of "swindling to appropriate assets" and "trading receipts", while the 34 former customs officials were charged for "abusing position and power when performing their duties".

According to the indictment, from May 2011 to March 2013, Chi and 10 accomplices used the names of three companies that she had established to illegally buy value-added tax (VAT) receipts from other domestic enterprises, pretending they were making export products. They then offered bribes to customs official and border guards at An Giang Province's Khánh Bình Border Gate to certify their documents proving the products were exported to two Cambodian enterprises.

All activities were aimed to make use of the State policy to refund VAT for export products. By this, they managed to appropriate nearly VNĐ42 billion (US$1.84 million) in tax refunds from the State budget.  

Seven defendants are charged with selling more than 2,300 VAT receipts which were either fake or contained incorrect information to help Chi and her accomplices complete VAT refund applications. The total amount of money claimed in these receipts amounted to nearly VNĐ444 billion ($19.5 million).

The 34 former customs officials of Khánh Bình Border Gate Customs Branch are accused of abusing their position, for their own benefit, in certifying the product export documents from Chi's companies despite knowing they were fraudulent.

The indictment also found that the crimes were systematically organised, committed many times and caused serious consequences.

The trial is expected to last for one month.

Wanted notice issued against CRB Company chairman

The Ministry of Public Security on Wednesday issued a wanted notice against the chairman of HCM City-based CRB Consultancy Service Company, Nguyễn Ngọc Thiên Phúc.

Phúc, 35, living in HCM City's Bình Thạnh District is allegedly involved in appropriating property, and reportedly fled from his residence when the police began investigating him.

Initial investigations shows that his company did not co-operate with any bank to offer loans but Phúc still asked his staff to receive over 280 applications for bank loans and received over VNĐ10 billion (US$440,000) as brokerage fees, accounting for 10-15 per cent of the value of loans.

Hanoi on track to fulfil annual revenue target

The capital city of Hanoi's officials have announced that the total city's revenue this year is projected to exceed the targeted revenue by 1.04 percent and increase by 15.8 percent over last year's figure.

The figures were announced at a conference the Hanoi People's Committee held on September 28 to review the city's finance for the first nine months of this year and make decisions to manage the city's budget in the remaining months of the year.

The city's revenue for the first nine months of the year reached 146.4 trillion VND (6.5 billion USD), meeting 71.5 percent of the year's targeted revenue, according to report of the city's Department of Planning and Investment.

It is estimated that the total city revenue for the entire year will reach over 207.6 trillion VND (9.2 billion USD).

Nguyen Manh Quyen, the department's director, also emphasised that the city's investment and business environment had improved.

Hanoi ranked 14th on the provincial competitiveness index (PCI) in 2016. It scored 60.74 points, up 10 levels compared to 2015.

The average consumer price index in the first nine months was up by 3.5-3.55 percent over the same period last year. The average CPI in 2017 is estimated to increase by 3.05-3.11 percent compared to 2016.

Hanoi also ranked third among 63 provinces and cities in the country in the 2016 administrative reform index.

Besides the results, Quyen also mentioned some shortcomings in the city's economic performance this year. Industrial growth is increasing slowly and competitiveness is not high. Violations on construction regulations, public land laws and mining rules persist.

Other issues such as health examination and treatment, quality of medicine, food safety and hygiene have improved, but not yet met the people's demands.

Quyen said that until the end of the year, the city will carry out drastic measures to manage revenue collection, stimulate consumption and ensure market stability for the coming Tet (Lunar New Year holidays) to achieve the growth target of 8.5 percent in 2017.

Heavy rains wreak havoc in Lào Cai

Prolonged heavy rains in Lào Cai Province over the past few days flooded 46 houses, according to the provincial Steering Committee on Disaster Prevention and Control.

The downpour, with an average rainfall of 122.6-135mm, also damaged over 120ha of crops, killed 600 poultry birds and cows and destroyed nearly 20ha of aquaculture.

Many irrigation works and transport routes were also damaged. The total damage is estimated to be over VNĐ2 billion (US$89,000).

Lào Cai City, Bảo Thắng and Bắc Hà districts were the most affected.

Local authorities mobilised available forces to help the affected people, and those living in areas prone to landslides have been moved to safer places.

Đà Nẵng prepares health services for APEC

Đà Nẵng has completed preparation for medical services at the upcoming Asia-Pacific Economic Co-operation Summit to be hosted in the central city in early November, the municipal Department of Health reported on September 28.

In a meeting with the health deputy minister Lê Quang Cường, Đà Nẵng health department's deputy director Nguyễn Tấn Hải said the city already issued a comprehensive plan on medical preparation for APEC 2017.

Accordingly, 23 emergency paramedics will be available for the event, of which 17 will be stationed at the 17 hotels where the delegations will stay, another two each for the business and the media centre, while the APEC staff and flight crews will also have medics available for them.

The city's health department also plans to station nine medical teams at Đà Nẵng C Hospital, Đà Nẵng Hospital and seven district health centres in case of emergencies.

Regarding food safety, the city's Food Hygiene and Safety Division will constantly carry out food and drinks inspections throughout the city to ensure food quality during the APEC Summit, Hải said.

So far the food safety division completed food inspections at 16 out of 17 hotels hosting summit guests.

VOV launches smart phone application for medical consultations

The broadcaster Voice of Việt Nam (VOV) yesterday launched two applications that allow smart phone users to register to get consultations from doctors online.

The apps – VOV-Doctor24 for doctors and VOV-Bacsi24 for patients – are video calling apps for IOS, Android and Windows. Doctors who register to offer online consultation must have legal medical practice licences. People can pay for the consultation via phone cards, online banking or credit cards. They can also listen to the doctor's advice over and over again, as the apps automatically record the sessions.

Speaking at the launching ceremony, VOV General Director Nguyễn Thế Kỷ said that the apps were developed to help people deal with problems in the healthcare sector in Việt Nam, such as overcrowded hospitals and the difficulty rural people face in getting to far-flung hospitals for care.

He said that the apps are expected to connect healthcare providers and patients both in the country and overseas.

Minister of Health Nguyễn Thị Kim Tiến said that the apps could help meet demand for medical consultation from people living in remote areas in Việt Nam or overseas.

The apps are expected to help save time and costs, she said, adding that the ministry was willing to co-operate with VOV to engage doctors and hospitals to join online consultations.

Second phase of project on building resilience launched

The Việt Nam Red Cross in collaboration with the American Red Cross launched the second phase of a project on building resilience to natural hazards.

The project, launched in the central provinces of Việt Nam at a ceremony on September 28 in Hà Nội, aims to support vulnerable groups and local authorities to increase the capacity of coping with natural disasters, and reduce the risk of damage to people and properties due to climate changes.

With a total budget of nearly US$1.54 million, the project will be implemented in 33 communes/wards in four central provinces of Quảng Nam, Quảng Ngãi, Hà Tĩnh and Quảng Trị. It is expected to benefit 37,000 residents, directly, and more than 200,000, indirectly, in the project areas.

The project will focus on establishing technical support groups and community groups and organising trainings on community-based disaster risk management and assessment. It will also carry out community-based disaster risk assessment (CBDRA) and develop natural disaster preparedness and control plans in targeted wards/communes.

Furthermore, local authorities will be assisted in integrating results from the CBDRA reports into their annual socio-economic development plans (SEDP), seeking internal resources to implement the SEDP plans.

At the household and school level, the project will support the upgrading of the early warning system, raise awareness and sharing of practical experiences in disaster preparedness and response, organise trainings in first aid, search and rescue drill and provide rescue equipments for emergency response teams.

The United States Agency for International Development (USAID)-sponsored project will be implemented by five organisations, including the American Red Cross/Việt Nam Red Cross, Catholic Relief Services, Plan International, Save the Children and HelpAge International in Việt Nam.

In the first phase from October 2015 to June 2017, the project has made great achievements in building capacity for the local government and mass organisations in disaster risk reduction, improving community readiness and increasing resilience for primary and lower secondary schools through the implementation of Safe School Initiatives in 28 communes/wards of Hà Tĩnh, Quảng Trị, Quảng Nam and Quảng Ngãi provinces.

OVs in Cambodia build school for students in remote area

A ground-breaking ceremony for a school in Banlung commune of Ratanakiri province, 600km northeast of Cambodia's capital Phnom Penh was held by the overseas Vietnamese community in the province on September 27.

Addressing the event, Phan Van Ninh, Chairman of the overseas Vietnamese community in Ratanakiri said the province is home to more than 500 Vietnamese households, with over 1,100 residents.

However, there have been only four classes of first to fourth grade in the locality, for about 50 Vietnamese students, who study both Vietnam and Cambodia's curricula.

The overseas Vietnamese community in Ratanakiri province has mobilised financial aid from various sources to build the school. The construction is expected to be completed before the second semester of the 2017-2018 school year.

Vietnamese woman finally issued visa to save cancer-stricken sister in US

The US government has finally granted a visa to a Vietnamese woman so that she can travel to the US for a stem cell transplant that could save her sister from cancer.

The family of the patient, Helen Huynh, said she is struggling to fight acute myeloid leukemia, a disease she was diagnosed with in February.

The only hope of saving the 60-year-old woman is through a stem cell transplant, according to the family's Go Fund Me page set up to help with legal and medical bills.

The procedure requires a genetic match to Helen, and her youngest sibling, Thuy, is a rare 100 percent match.

Thuy's three previous visa applications were denied by the US Consulate in Ho Chi Minh City.

Today, Helen's husband told the BBC that his sister-in-law had just informed them that she had been granted the visa.

In a previous refusal letter, the consulate in HCM City stated that Thuy had failed to offer the necessary evidence that she would leave America once her visa had expired, The Washington Post reported.

As a last effort, Helen's family hired an immigration lawyer to file for humanitarian parole for emergency entry into the country.

According to the BBC, Helen's oldest daughter set off for Vietnam today to bring Thuy back to the US for the procedure.

Quang Nam hosts Vietnam-Laos friendship exchange

The central province of Quang Nam hosted a Vietnam-Laos friendship exchange on September 28 to mark the 55th anniversary of bilateral diplomatic ties and 40 years since the signing of the Vietnam-Laos Friendship and Cooperation Agreement. 

Addressing the event, Lao Consul General in Da Nang city Khamsene Phommaseng stressed that Quang Nam was among Vietnamese localities that provided great help to Lower Lao provinces during the war for national liberation. 

Tam Vinh commune in the province's Phu Ninh district housed the Lower Lao Resistance Base from 1948 to 1954, which provided the safe shelter for Lao revolutionary armed forces and Vietnamese voluntary soldiers.   

Vice Chairman of Quang Nam province's People's Committee Le Van Thanh recalled that the province had 304 voluntary soldiers who fought in Lower Laos during Laos's resistance wars for national independence. 

At present, Quang Nam has maintained close relations with its twinning Sekong province. The province's tertiary education establishments have trained hundreds of Lao students. 

On the occasion, the organizers of the friendship exchange – Quang Nam's Vietnam-Laos Friendship Association and Phu Ninh district's People's Committee – presented 10 scholarships to Lao students studying in the province and 30 scholarships to local needy children.     

 World Vision contributes to socio-economic development in Dien Bien

The World Vision Vietnam (WVV) and the Dien Bien province People's Committee have agreed on principles in carrying out programmes and projects funded by the WVV in the  northern mountainous locality from 2017-2022.

The cooperation agreement, inked by the two sides in Dien Bien Phu city on September 28, covers programmes in Dien Bien Dong, Muong Cha, Tua Chua and Tuan Giao districts, and projects to help the poor develop production and end violence against children.  

These projects cost an estimated 7.3 million USD and run from October 1, 2017 to September 30, 2022. 

Over the past time, the WVV-financed programmes and projects have significantly contributed to spurring local economic development, improving living standards of locals, tackling social problems and removing difficulties facing local people, especially minority children. 

World Vision is a global Christian relief, development and advocacy organisation dedicated to working with children, families and communities to overcome poverty and injustice.

World Vision serves all people, regardless of religion, race, ethnicity, or gender.

Since its inception in Vietnam in 1988, the WVV has rolled out a total of 39 programmes in 14 cities and provinces, benefiting about 3 million children each year.
     
VOV-developed apps give online health consultations

The Voice of Vietnam (VOV) on September 28 launched new smartphone and computer applications to give online health care services, with the aim of improving the health care quality for the community.

Introduced in Vietnam for the first time, the VOV-Doctor24 and VOV-Bacsi24 via video calls allow users to register for health consultation services with doctors across the country at any time.

Developed by the VOV FM89, the radio channel for health and food safety, the apps are compatible with IOS, Android and Windows users, with free 3G and 4G services support and high security. Users can also save conversations with doctors for re-listening.

Addressing the launching ceremony, VOV General Director Nguyen The Ky said that the apps are expected to help those in need of health consultations to connect with physicians amidst the overload situation in hospitals.

He also expressed his hope to receive feedback from users for timely improvement.

Meanwhile, Health Minister Nguyen Thi Kim Tien lauded the introduction of the apps, saying that they will help save time and efforts of patients, especially those in remote areas, while easing overloads in hospitals.

She pledged to cooperate with the VOV to run the apps, especially in building lists of doctors and hospitals involving in the service.

USAID helps Vietnam's central localities combat natural disasters
As many as 33 wards and communes in central provinces will be assisted to combat natural disasters under the second phase of a project funded by the US Agency for International Development (USAID). 

The second phase of the Office of US Foreign Disaster Assistance (OFDA) project was launched by the Vietnam Red Cross (VRC) and the US Red Cross in Hanoi on September 28, targeting the four central provinces of Quang Nam, Quang Ngai, Ha Tinh and Quang Tri. 

With a budget of more than 1.5 million USD, the second phase, to be carried out until September 2018, will help the local communities manage natural disaster risks and adapt to climate change effectively and sustainably while improving essential services and infrastructure for locals. It is expected to benefit about 240,000 people. 

VRC Vice President Tran Quoc Hung said this phase will focus on community-based natural disaster prevention by establishing technical support and community groups, providing training in community-based management and assessment of natural disaster risks, and devising natural disaster prevention plans in the targeted localities.  

Local authorities will also be assisted to integrate outcomes of reports on community-based natural disaster assessment into annual local socio-economic development plans, and seek resources to materialise these plans. 

At the same time, the project will upgrade early warning systems in families and schools, and raise public awareness of natural disaster response. 

The first phase of the project, from October 2015 to June 2017, was carried out in 28 wards and communes of the four provinces at a total cost of 2.5 million USD, helping improve the capacity to fight natural disasters of local authorities, community and schools through similar activities.

HCM City leader lauds Italian diplomat for fostering bilateral ties

Secretary of the Ho Chi Minh City Party Committee Nguyen Thien Nhan lauded efforts of outgoing Italian Consul General in the city Carlotta Colli in fostering ties between Italy and Vietnam and between Italy and Ho Chi Minh City.

Bidding farewell to the diplomat on September 28, Nhan expressed hope that in any position, Colli will continue supporting Vietnam and the city.

For her part, Carlotta Colli spoke highly the cooperation potential of Italy-Ho Chi Minh City in various fields. She said that many Italian enterprises wish to seek partnership and investment opportunities in Ho Chi Minh City.

Last year, trade between the two countries stood at 4.7 billion USD, 603 million USD of which was contributed by Ho Chi Minh City. By May, 2017, Italy landed 27 investment projects valued at 68.5 million USD in the southern metropolis.

Social insurance sector moves to slash red tape

The social insurance sector has made significant improvement in administrative procedures reform after four years implementing the Government Resolution 19/ NQ-CP on improving the business environment, delegates told a seminar in Ho Chi Minh City on September 28.

Dao Viet Anh, Deputy General Director of the Vietnam Social Security (VSS), said the administrative procedures were reduced by 75 percent from 114 in 2013 to 28 now.

That was thanks to the application of information technology as well as electronic transactions for both organisations and individuals in all areas involved in the sector, he said.

At present, the sector's IT system has connected with over 12,000 medical facilities and performs electronic surveillance.

Nguyen Minh Thao from the Central Institute for Economic Management said since the implementation of Resolution 19, Vietnam's business environment is constantly improving.

The World Economic Forum's latest global competitiveness list, released on September 27, ranked Vietnam 55th overall, up five places from last year, she said.

The administrative reform, simplifying procedures and accelerating the application of electronic transactions have significantly helped businesses to reduce time and costs, she said.

Last year time needed for paying social insurance reduced by 89 hours to 189 hours a year.

The resolution 19 orders the reduction of time required for payment of social insurance to 49 hours a year, so more needed to be done to accomplish the target, delegates said.

Delegates at the workshop also suggested the Government to adjust the social insurance premium as it was too high compared to other countries, making its business environment less competitiveness.

The current social insurance premiums in Vietnam are the highest in ASEAN with 32.5 percent of the monthly salary, in which enterprises pay 22 percent and employees contribute 10.5 percent.

Meanwhile, in ASEAN, the social insurance premiums of Malaysia account for only 13 percent of salary, the social insurance premiums of the Philippines account for 10 percent of salary, Indonesia and Thailand with 8 percent and 5 percent respectively.

From 2018, workers and employees will have to pay social insurance based on total incomes, so the payment will increase.

The increase of social insurance premiums will increase the burden on businesses, increasing costs and affecting their competiveness, said Nguyen Thi Cuc, Chairwoman of the Vietnam Tax Consultants Association.

This will affect attracting foreign investors into the country, she said.

Thus she as well as many delegates at the event suggested the Government to reconsider the insurance premium rates.

At the event, officials from the VSS as well as social security officials from many provinces and cities untied issues faced by enterprises during the process of completing or paying social insurance online, among other issues.

Vu Quoc Tuan, deputy chief of the VSS's secretariat, said 11.4 million people had compulsory social insurance by the end of September. The number of people with voluntary social insurance in the country totalled 243,000, Tuan said.

More than 79 million people in the country have health insurance, accounting for 84.9 percent of the total population, he added.-

Quang Nam hosts Vietnam-Laos friendship exchange

The central province of Quang Nam hosted a Vietnam-Laos friendship exchange on September 28 to mark the 55th anniversary of bilateral diplomatic ties and 40 years since the signing of the Vietnam-Laos Friendship and Cooperation Agreement. 

Addressing the event, Lao Consul General in Da Nang city Khamsene Phommaseng stressed that Quang Nam was among Vietnamese localities that provided great help to Lower Lao provinces during the war for national liberation. 

Tam Vinh commune in the province's Phu Ninh district housed the Lower Lao Resistance Base from 1948 to 1954, which provided the safe shelter for Lao revolutionary armed forces and Vietnamese voluntary soldiers.   

Vice Chairman of Quang Nam province's People's Committee Le Van Thanh recalled that the province had 304 voluntary soldiers who fought in Lower Laos during Laos's resistance wars for national independence. 

At present, Quang Nam has maintained close relations with its twinning Sekong province. The province's tertiary education establishments have trained hundreds of Lao students. 

On the occasion, the organizers of the friendship exchange – Quang Nam's Vietnam-Laos Friendship Association and Phu Ninh district's People's Committee – presented 10 scholarships to Lao students studying in the province and 30 scholarships to local needy children.

Doctors provide free checkups to poor people in Cambodia

A team of Vietnamese and Cambodian volunteer doctors provided free health check-ups and medicines to poor people in Phnom Penh, Cambodia on September 27-28.

The volunteer doctors from Cho Ray Hospitals in HCM City and Phnom Penh teamed up with the Ho Chi Minh Communist Youth Union and the Union of Youth Federations of Cambodia in the charity event to mark the 50th anniversary of the Vietnam-Cambodia diplomatic relations.

Over 1,000 local people from difficult background received medical check-ups during the event.

The team also provided counseling on livestock breeding techniques for local people and helped renovate green spaces for several Cambodian schools.

In recent years, the government of Vietnam has enabled Cambodian nationals, especially those living along the shared border, to receive treatments in hospitals in Vietnam and pay the same rates as Vietnamese people.

Thousands of Cambodians were reported to get healthcare services in Vietnam every day.-

Vietnam, Laos, Asia-Pacific trade unions step up connections

The Vietnam General Confederation of Labour (VGCL), the Asia-Pacific International Trade Union Confederation (ITUC) and the Lao Federation of Trade Unions (LFTU) shared experience to promote close and effective cooperation at the sixth Joint Coordination Meeting held in the northern province of Ninh Binh on September 28.

President of the VGCL Bui Van Cuong highlighted the ITUC's active support for Vietnamese trade unionists to meet with their counterparts from other countries.

The VGCL will push ahead with coordination with the ITUC to implement effectively cooperative contents reached at the meeting, he affirmed.

Secretary General of the ITUC Shoya Yoshida recognised the close coordination between trade unions in the Association of Southeast Asian Nations (ASEAN).

The enhancement of multinational cooperation and information sharing in the field is crucial to improve the efficiency of trade union activities, he stressed.

Deputy head of the LFTU external relations department Inpeng Meuviseth said the LFTU is boosting legal consultancy activities and hygiene safety to trade unions at the grassroots level as well as focus on developing trade union membership and building trade unions in foreign-invested sectors.

Action Month for the Vietnamese Elderly launched

A ceremony was held in Hanoi on September 28 to mark the 27th International Day of Older Persons (October 1) and launch the Action Month for the Vietnamese Elderly.

National Assembly Chairwoman Nguyen Thi Kim Ngan, Head of the Party Central Committee's Commission for Mass Mobilisation Truong Thi Mai, Secretary of the Hanoi Party Committee Hoang Trung Hai and Deputy Prime Minister Vu Duc Dam attended the event, among others.

Speaking at the ceremony, Deputy Prime Minister Vu Duc Dam affirmed that the Vietnamese Party and State always pay attention to and reserve resources for caring for the elderly.

Not only the Constitution but also the Law on the Elderly and guidance documents have been improved to better care for and protect of old people, he said.

In addition, the Government also launched a National Action Programme for the Elderly for 2012-2020 and organise the Action Month for the Vietnamese Elderly in October every year, Dam added.

According to the Deputy PM, Vietnam is one of the five countries with the fastest aging rates in the world. The nation is home to 10.1 million old people, or 11 percent of the population. The figure is forecast to rise to 17 percent by 2030 and 25 percent by 2050.

Therefore, more efforts are needed to take care of and protect the elderly, and promote their roles in society, he noted.

Dam also stressed the necessity to prioritise investment in developing geriatrics at medical clinics, and continue implementing social welfare policies for the elderly, especially homeless people and those living in difficult circumstances.

President of the Vietnam Association of the Elderly Pham Thi Hai Chuyen said that after 22 years of founding and development, the association now has nearly nine million members, or over 90 percent of the Vietnamese elder people.

The association has actively coordinated with relevant agencies in making laws and policies regarding the care for the elder and the promotion of their roles, and their legitimate rights and interests.

At the event, gifts were presented to elder people who are living in difficult circumstances.

Huế presents refreshing evening for APEC delegates

It wasn't just food and music. The hospitality extended at a well-organised cultural night was aimed at showcasing Vietnamese culture and pleasing guests from APEC member economies who are in the former imperial capital city of Huế to attend forums.

Hosted by HCM City Peace and Development Foundation chairman Tôn Nữ Thị Ninh, an experienced former diplomat of Việt Nam, the night showcased the quintessence of Vietnamese music, clothing and food.

The night also succeeded in creating a refreshing ambience for the delegates from Australia, Chile, Japan and South Korea, as well as the United States, Russia, Mexico and New Zealand, along with Thailand and Malaysia, who have been busy indoors with two days of forums in air-conditioned rooms on Tuesday and Wednesday.

"We are here in Huế for the APEC forums that highlight women, women's empowerment and their economic contribution, and with this evening, we continue to promote the theme," Ninh said in her opening remarks.

"Culture and economy have a bond and women play a key role in preserving culture values and developing the economy," she noted.

During the cultural night, the attendees first visited an exhibition of selected Vietnamese culinary items and an exhibition of modern designed áo dài, and then had a brief introduction on ca Huế singing.

The food during the event was all vegetarian, aimed at serving guests from different cultures and religions, while expressing sensitivity towards cultural and religious taboos. The dishes included rolls made of paper cake, Huế's specialty thanh trà grapefruit, a special type of Huế soup and a type of cake that once consumed only by the royal family.

The guests were served in an elegant manner. Organic material was used and food and beverage artisan Hồ Thị Hoàng Anh, the only one who possesses the vegetarian recipes that were once served to the kings, displayed her expertise.

Each dish that was served was accompanied with a music performance. First was the performance of ca Huế and conical hat dance, followed by ca trù, hát xẩm, áo dài performance, and chầu văn singing.

A positive feature of the night was the fluent English spoken by host Ninh and master of ceremonies Trác Thúy Miêu, who helped the guests get a deep understanding of Huế culture in particular and Vietnamese culture in general. However, a minus was the long speeches delivered by Vietnamese delegates, a common occurrence at meetings.

With the beautiful sky and the poetic Hương River in the background, along with the refined food being served and the introduction to Vietnamese culture, these guests from APEC economies will undoubtedly be refreshed and go back home with some sweet memories.

Deputy PM calls for measures to promote Vietnamese football

Deputy Prime Minister Vu Duc Dam has called for a preliminarily review of the national football development strategy in order to find solutions to tackle the limitations encountered during the promotion of the sport in Vietnam.

On September 28, the deputy PM hosted a working session with leaders of the Ministry of Culture, Sports and Tourism and the Vietnam Football Federation (VFF), as well as representatives of the relevant ministries and agencies, on the situation of Vietnamese football and the operations of the VFF.

Reports delivered at the meeting show that Vietnamese football has achieved notable achievements in recent years, with football training and development growing widely amid strong investment in facilities and grounds. Many clubs, training centres and youth football training centres have been established. Both amateur and professional football systems are regularly held at all ages and levels and have resulted in a number of encouraging achievements at international tournaments.

The privatisation of football has been promoted, attracting more resources to develop domestic football with hundreds of businesses, economic organisations and individuals investing in clubs and sponsoring tournaments.

However, the management and operation of football remains inadequate, as training and educating on ethics and lifestyle for players are underestimated, leading to negative behaviour such as gambling, matchmaking and violence.

At the session, the delegates focused their discussions on the causes of the shortcomings in football development, scoured from a limited perception on the goal of football development and inadequate mechanisms that make it difficult for football clubs to mobilise finance, develop yards and deploy training plans. Especially, a lack of a long-term vision for professional football has caused football management to lag behind in the context of the country's current development.

Deputy PM Dam emphasised that football is a very popular sport in Vietnam. In 2013, the Prime Minister approved the national strategy of developing Vietnam football by 2020, which considers football development as "an effective tool to contribute to the education of patriotism and national pride, while promoting the image of the country in international arena."

The strategy has been implemented for four years, he said, urging the Ministry of Culture, Sports and Tourism to urgently carry out a preliminary review of the implementation of this strategy, in which they should clarify the viewpoints, goals and major orientations that need to be adjusted, supplemented and implemented in the coming years.

He stated that the most important goal in the preliminary review is to clearly analyse the inadequacies and causes for such limitations, while recognising the responsibilities of each organisation and individual, as well as the responsibilities of the State management agencies and localities in football development and management.

The deputy PM instructed the Ministry of Culture, Sports and Tourism to hold an extended conference to collect the opinions of all professionals, stakeholders and fans devoted to the development of domestic football.

Reaffirming that football is a sport of great interest, Dam stressed the need for the management and administration of football to be in accordance with the current law and in respect for the role of professional societies and international practices.

OceanBank trial: Son sentenced to death, Tham life imprisonment

A Hanoi court has sentenced OceanBank's former general director Nguyen Xuan Son to death and its former chairman Ha Van Tham to life imprisonment in one of the most high-profile corruption cases in recent years.

Both are charged with three counts of embezzlement, an abuse of power to appropriate assets and intentional violation of State economic management leading to serious consequences.

Tham faces one more charge of breaching lending regulations.

Court documents show that during Tham and Son's leadership, OceanBank committed plenty violations such as paying interests higher than the ceiling rate and outside of contracts, causing serious losses to OceanBank and its shareholders, whilst also affecting the implementation of the central bank's monetary policy.

Among the VND1.5 trillion (US$66 million) used to pay interests outside of contracts, Son was found to have pocketed VND492 billion (US$21.6 million).

The People's Court of Hanoi also gave a sentence of 22 years in prison to Nguyen Minh Thu, another former OceanBank chair, and Nguyen Van Hoan, a former OceanBank deputy chair.

Others involved in the case have to serve between 18 months and 17 years in jail.

Prior to Tham's arrest in 2014, OceanBank's bad debt ratio had reached 50% and the owners' equity was negative VND10 trillion (US$440 million), which the bank's profits could not offset.

In May 2015, OceanBank was acquired by the State Bank of Vietnam at zero Vietnamese dong.

Central Highlands province cracks down on arsenic-contaminated water

The People's Committee of the Central Highlands province of Đắk Nông has requested concerned authorities to inspect and propose solutions to treat arsenic-contaminated water in Krông Nô District.
Water testing at a water supplier in the district's Đức Xuyên Commune, conducted by the provincial preventive medicine centre in June, showed that the amount of arsenic used in insecticides, weed killers, solid-state doping agents and various alloys exceeded national regulated norms by two to 20 times.
The amount of arsenic found in 32 urine samples of residents also exceeded regulated levels, the maximum being eight times.
Nguyễn Bốn, chairman of the Đắk Nông People's Committee, recently requested the province's Department of Health and the Krông Nô People's Committee to collaborate with concerned agencies to treat well water and groundwater that was contaminated with arsenic in the area.
Water samples should be taken from all water sources in the province, with a focus on areas suspected to be contaminated with arsenic, he said.
Locals should be informed about the water treatment process and be advised to install house water filter systems "to proactively treat the contaminated water themselves," he added.
Disadvantage households in the area should be provided with an allowance to treat the water, he said.
Bốn directed the administrative authority of the water supplier of Đức Xuyên Commune to be transferred to the Đắk Nông Urban Development and Water Supply JSC (WASUD). Transfer procedures should be completed before November 15, he said.
Arsenic is a chemical element found in nature and some manmade products such as pesticides. Consumption of 0.3-30mg of arsenic can cause acute poisoning within 30-60 minutes, which can lead to death or leave serious impact on the human body, according to Đắk Nông health authorities. Long-term exposure to the element will damage the nervous, cardiovascular and digestive systems and increase the risk of cancer.

Boy found dead after being washed down sewer

The body of a boy who was washed down a flooded sewer in southern Đồng Nai Province on Wednesday night was found on Thursday evening.

Nguyễn Tấn Trường, 11, was washed away, on the way back home from school. He fell down an open sewer while he was bending down to pick up his sandal. He was washed down the sewer to Ông Hường spring and then to the Đồng Nai river.

Chairman of the People's Committee of Thiện Tân Commune, Thái Mã Thành, said his body was discovered at the Đồng Nai river section near Tân Uyên boat station in Tân Uyên commune, around 7km from where he went missing.

Relevant authorities and his family confirmed the body was of Trường.

Uncovered manholes have become a threat to pedestrians in Việt Nam. Many streets are found unpaved, with manhole covers removed for construction projects with no fences or warning signs.This is not the first life that an uncovered manhole has claimed in Việt Nam.

Last October, an eight-year-old boy from southern Bình Dương Province's Dĩ An Town was swept into a manhole on Street No. 4, following prolonged heavy rainfall that flooded the province's streets, according to witnesses. His body was discovered two days later, 3km from where he went missing.

In the same month, a man died after falling down a manhole while rushing towards a bus on Kinh Dương Vương Street, HCM City, Bình Tân District. The manhole he fell into was open as the cover had been removed for a road reconstruction project.

In 2014, two boys died after they fell down manholes in Bình Dương Province.

Đà Nẵng roofs go green

The central city's technology and science college has launched a solar power system on top of its buildings as part of green-roof development projects at the college.

The system, which was built by the Bách Khoa Solar Power Investment and Development joint-stock company, will supply 75,000 Kwh each year from 160-solar panels, cutting carbon emissions each year by 48,000 tonnes.

According to the company, property developer VinGroup is also been building one of the biggest solar power systems for its trading centre – the VinCom Ngô Quyền Đà Nẵng – on 2,200sq.m of rooftops of the four-storey building. It will provide 302,000 Kwh and reducing carbon emission by 200 tonnes each year.

Solar-powered lighting systems have also been installed on two cruise ships in Đà Nẵng with a capacity of 260 watts.

Last month, the Empire Group also started construction of a solar power system for its entertainment centre – CocoBay resort in Đà Nẵng – generating 67,640 kwh per year.

Đà Nẵng city, which saved 12,000 tonnes of carbon emissions in 2011-15 from energy saving measures, has called for investment in two solar power stations with a total capacity of 400MW.

A solar-powered lighting system and solar powered-driven sea-water filtration system have also been built on Việt Nam's Trường Sa (Spratly) Islands and Song Tử Tây Island off the coast of Khánh Hỏa Province.

Numerous activities for children on Mid-Autumn Festival launched

Ho Chi Minh City is full of activities these days, preparing for numerous events and entertainment programs for children to mark the Mid-Autumn Festival that happens on the 15th day of the 8th lunar month.
Numerous activities for children on Mid-Autumn Festival launched
The labor unions of districts 8,1, Go Vap, Binh Thanh and Binh Tan will hand over 400 gifts to disadvantaged children at the Ho Chi Minh City Labor Culture Palace on September 30. The event will include a series of exciting activities, such as folk and sports games, circus and music performance and more.
Meanwhile the Vam Sat Ecological Tourist Center in Can Gio District will offer 100 presents to poor kids who are children of forestry workers in Ly Nhon Commune on October 1.
Dam Sen Cultural Park and Suoi Tien Tourist Area are expected to attract children with a lot of exciting activities, including music and circus shows, lantern parade, folk and sport games, masquerade festival, and giving a free entrance for all children (under 1m4) holding lanterns in their hands.
In addition, a children's art performance titled "Dances of Mid-Autumn's night" will be organized at Lan Anh Theater by the Phuong Nam (Southern) Art Theater.

Health spending on rabies $26.4 million annually in Vietnam

The estimated public health expenditures on rabies disease diagnostics, prevention, and control in Vietnam is VND600 billion ($26.4 million) annually, said Deputy Head of the Department of Preventive Medicine Dang Quang Tan at a meeting in the northern province of Bac Giang yesterday.
 
The meeting was jointly held by the Ministry of Health and the Ministry of Agriculture and Rural Development in response of the World Rabies Day with the theme "No more dead people because of rabies".
Mr. Quang said that cost of a rabies prevention is VND1.5 million. Yet each year around 400,000 people is bitten in the country and total treatment cost is VND 600 billion.
Vaccination for a dog costs VND20,000-40,000 but health expenditure on victim of dog bite is VND1.5-2 million a person. Because of large sum of treatment, many people neglected vaccination; consequently, it is estimated that the number of human deaths from rabies is 100 per year.
From 2005 to 2016, rabies claimed 1,055 lives in the country. Apart from this, in nine months of 2017, the disease claimed 56 lives. Most of deaths are living in the mountainous northern provinces and North Central region as prevention task in these localities is not effective with low human and veterinary vaccination.
The country has over 7.7 million dogs and over 3.8 million households feed dog, said Deputy Chief of the Department of Animal Health under the Ministry of Agriculture and Rural Development. However, just around 2.9 million dogs have been vaccinated accounting for 41 percent.
As per the government's decision No. 90/ ND - CP effective on September 15, 2017 on the administrative penalties in the field of veterinary, residents will be fined up between VND600,000 (US$26.36) and VND800,000 ($35.14) for letting out their out dogs without a leash or muzzle
Ho Chi Minh City has collected stray dogs and next time, Hanoi will set up team to dogs that wander off in the streets.

HCMC tightens control on food safety in schools

Ho Chi Minh City will tighten control on food safety in schools this year by checking canteens and caters.
 
Additionally, schools will themselves test food and how to handle food poisoning. The management board of food safety in HCMC, amongst 2,821 schools providing meals for students, 1,620 have its own inside kitchen, 883 have canteen and 318 are provided meals by outside caterers. Most preschools have its own inside kitchens.
Just around 32.1 percent of primary schools and over 20 percent of junior and senior high schools in HCMC have kitchens. Nguyen Dai Ngoc from the Management board of food safety said that junior and senior high schools have canteens rather than kitchen; accordingly, authority will inspect these facilities. Deputy Director of Education Bureau in Thu Duc District Le Thi XInh said that many canteens in schools sell food without indication of clear origin, and date of expiry.
The management board said five poisoning incidents in school affecting 305 students have occured in the city since 2014. Inspectors have paid visits to caterers to check food safety unregularly. Additionally, cooks and assistants have little knowledge of food safety, especially how to preserve food correctly.
Head of Food Safety Management Board Ms. Pham Khanh Phong Lan said leaders of school must take responsibility for poisoning incidents.
Next time, HCMC will carry out synchronous measures to control food safety matter such as reviewing issuance of certificates to kitchens, canteens and caterers for schools as well as enhance supervisions and encourage people to buy safe food with clear origins.
As per an agreement between the Department of Education and Training and the Management Board on food safety, schools in districts 3 and 5 will be provided with safe food.

Traffic accidents tend to fall

The number of traffic accidents and road deaths has gone down by 19.5% and 7% annually since 2011, heard an international seminar on traffic safety and solutions for motorbike commuting.

At the seminar in Hanoi on Tuesday, part of an annual meeting of the Federation of Asian Motorcycle Industries (FAMI), Khuat Viet Hung, vice chairman of the National Traffic Safety Committee, said economic development and urbanization have brought not only opportunities but also transport-related challenges including traffic accidents and congestion in major cities.

Since 2011, there have been 158,130 road accidents nationwide killing 48,020 people.

The road traffic fatality rate has edged down from 12.97 per 100,000 people in 2011 to 9.68 in 2015. Thus, Vietnam has obtained the target of reducing the traffic-related death rate to below 10 per 100,000 people.

Traffic congestion in large cities such as HCMC and Hanoi City has been also eased. In Vietnam, road density, measured by the length of road for every square kilometer of land, is 0.3 kilometer and the total length of road per 1,000 people is 1.12 kilometers.

Pham Viet Cong from the Traffic Police General Department under the Ministry of Public Security said the department has enhanced traffic inspection and increased penalties on violations to raise public awareness.

In 2016 alone, there were 33,320 cases of traffic law violations and accidents on the roads equipped with surveillance cameras. The department detected and fined 180,000 DWI (driving while intoxicated) cases, 820,930 speeding cases and 84,500 truck overload cases.

The seminar also reported that Vietnam has 3.2 million cars and 49 million motorcycles. There are 22 cars for every 1,000 people while the figure is 516 for motorbikes.

Annual growth in autos and motorcycles in circulation is significant with 7.3% and 6.5% respectively. However, auto growth in large cities outpaces that of motorbike growth, at 15% against nearly 10%, Hung added.

Repair work on Binh Tay Market complete next year

The project management unit of District 6, HCMC will finish the upgrade of Binh Tay Market, also known as Cho Lon, in September next year, instead of November this year, said Nguyen Anh Viet, vice chair of the management unit.

The delay is attributed to the protracted selection of a contractor for the upgrade project as Binh Tay Market has been recognized as a city-level relic by the municipal government.

On November 15 last year, authorities decided to shut down the market within a year for comprehensive upgrade. The renovation requires an estimated investment of over VND104 billion (US$4.55 million) which comes from kiosk rentals in 10 years.

The investor will renovate the market's tile roof, pillars, stairways, banisters, floors, walls, and main entrances. In addition, public restrooms and a room for electricity generators will also be built.

Traders will be relocated to a temporary market opposite to Binh Tay Market on Thap Muoi Street while the renovation is being carried out.

Covering a total area of 28,000 square meters, Binh Tay Market has a main entrance opposite Cho Lon Bus Station and 12 small gates. The market consists of some 1,450 stalls with 1,038 stalls under operation.

As one of the largest wholesale markets in HCMC of cultural, historical and architectural value, Binh Tay Market has lured a large number of domestic and foreign tourists.

The authority of District 6 said the market was set up by a Chinese trader in 1928, and designed in Chinese style by a French architect. In 1991, the market was upgraded.

September sees steep decline in startups

Vietnam has seen a sharp decline in startups this month, according to the Business Registration Agency under the Ministry of Planning and Investment.

The latest statistics of the agency show the country has had over 8,600 new enterprises established with total registered capital of around VND80.5 trillion (US$3.5 billion) in September alone, down 30.6% and 38.7% respectively compared to the previous month.

The average registered capital of each new enterprise is VND9.4 billion, a 11.7% decline against August. The new market entrants intend to employ 64,000 workers, down 37% month-on-month.

The agency attributed the dramatic decreases both in new firms and registered capital to the seventh lunar month regarded as a "Ghost Month" in which entrepreneurs refrain from starting up new business. This seventh lunar month falls in September this year.

Meanwhile, more than 21,000 suspended enterprises have resumed operations in the year to September, rising 2.9% year-on-year and bringing the total number of businesses that have been newly established and resumed business to over 115,000.

Besides, the country has had roughly 94,000 startups with total registered capital of more than VND900 trillion in January-September, respective rises of 15.4% and 43.5% over the same period last year.

More than 27,500 operational companies have registered an additional VND1,241 trillion to fund their expansion plans, bringing the total freshly pledged capital to some VND2,144 trillion in the same period.

Nearly 18,500 companies have registered for temporary suspension while over 30,800 others have stopped their operation without prior notice or have been waiting for dissolution in the year to date, up 13.5% and 7.1% year-on-year respectively. Especially, more than 8,700 enterprises have finalized their dissolution procedures.

According to the agency, the majority of sectors have seen increases in startups so far this year. In particular, the real estate sector had over 3,500 new faces, up a staggering 62.4% year-on-year. The power, gas and water generation and distribution sector come second with 728 (up 31.9%), followed by healthcare and social services with 497 (up 31.8%).

In addition, there were around 4,400 new businesses in the transport and warehouse sector, down 6.8% versus the year-ago period.

Five expressway projects' financial restructuring schemes postponed

The Government has agreed to put off the issuance of regulations on the financial restructuring schemes for five expressway projects implemented by Vietnam Expressway Corporation (VEC) until the National Assembly Standing Committee has its final say on the project budgets.

The five projects are Cau Gie - Ninh Binh, Noi Bai - Lao Cai, HCMC - Long Thanh - Dau Giay, Ben Luc - Long Thanh and Danang - Quang Ngai. Certain proportions of the capital for such projects under the tentative schemes will be transformed from loans to Government stakes.

Three of these projects have been put into service while the remaining two projects, Ben Luc - Long Thanh and Danang - Quang Ngai, are under construction.

The first 65-kilometer section of Danang - Quang Ngai Expressway was opened to traffic last month and the rest is expected for completion by the end of this year, while Ben Luc - Long Thanh Expressway will be completed by 2019.

Previously, the Government issued Decision 2072/QD-TTg guiding the financial restructuring for the five expressway projects. Accordingly, the entire official development assistance (ODA) loans for these projects would be turned into State stakes. The reciprocal capital for these projects would be restructured and compensated by State funds.

The capital advanced for Cau Gie - Ninh Binh and Noi Bai - Lao Cai projects, and the bonds issued to mobilize capital to develop Cau Gie – Ninh Binh and Noi Bai – Lao Cai Expressways and generating profits would be changed into State budget funding the projects directly.

As for Noi Bai – Lao Cai and Danang – Quang Ngai projects, if toll fee collections from vehicle owners and other sources were not enough to pay loans, the Ministry of Transport would have to specify reasons and coordinate with relevant agencies to ask the Government for support.

The Prime Minister assigned the Ministry of Transport to direct VEC to find financial solutions to help investors recover capital and take responsibility for the projects' feasibility.

In addition, the ministry would manage the State budget for the five highway projects and supervise fee collections and VEC's spending.

Nam Dinh: Work begins on Thinh Long bridge over Ninh Co River

Construction of the Thinh Long bridge across the Ninh Co River in the northern province of Nam Dinh began on September 29.

With an investment of more than 1.15 trillion VND (48.4 million USD) from the Korea Economic Development Cooperation Fund (EDCF) and Vietnam's correspondent fund, the 12-metre-wide bridge is designed to have two lanes for motorised vehicles and two other for non-motorised ones.

According to Duong Viet Roan, Director of the Thang Long Project Management Board, the investor of the bridge, the 2.3-kilometre-long bridge will connect Hai Hau district and Nghia Hung district.

Chairman of the provincial People's Committee Pham Dinh Nghi underlined that the bridge is an important work to promote social and economic development of Nam Dinh province, helping ensure security and defence, prevent flood and storm as well as tap marine economic potentials.

Nam Dinh is housing a line-up of notable projects like Rang Dong garment industrial zone, a ship building plant, Thinh Long sea port and Nam Dinh I thermoelectric plant.

Upon completion, Thinh Long bridge will enhance connectivity with other localities in the vicinity like Quang Ninh, Hai Phong, Thai Binh, Ninh Binh and Thanh Hoa, cutting transport cost for vehicles.

Deputy Minister of Transport Nguyen Van Cong ordered contractors to focus all resources, assuring the quality and progress of the bridge.

Meanwhile, Nam Dinh province and relevant districts are requested to join hands with the investor to tackle arising issues during the construction so that the project can be completed in a timely manner.-

Final sections of Vam Cong bridge spanning Hau River joined

The final segments of Vam Cong bridge in the Mekong Delta province of Dong Thap were connected on September 29.

The 2.9 kilometre bridge is the longest bridge in the Central Mekong Delta Region Connectivity project. It is the second bridge spanning the Hau River, connecting Lap Vo district of Dong Thap province and Thot Not district of Can Tho city.

Built by the Cuu Long Corporation for Investment, Development and Project Management of Infrastructure (Cuu Long CIPM), it is a 24.5 metre wide cable-stayed bridge which sits 37.5 metres above the Hau River's surface.

With an investment of over 7.3 trillion VND (321.2 million USD) sourced from official development assistance of the Republic of Korea and Vietnam's corresponding capital, the bridge is designed to have four lanes for motorised vehices and two others for non-motorised ones. It allows maximum speed of 80 kilometres per hour.

Upon completion, the bridge will make significant contributions to improving road traffic network, boosting social and economic development and consolidating defence and security in the Mekong Delta region and key economic zones in the southern region.

Together with Cao Lanh bridge and Lo Te-Rach Soi project, Vam Cong bridge will shorten travelling time to Ho Chi Minh City to meet increasing transport demand and ease congestion on national road No.1.

Cambodia's top legislator vows to back cooperation with Vietnam

President of Cambodia's National Assembly Heng Samrin affirmed that the legislature and he personally always support and want to boost cooperation with Vietnam at his reception for outgoing Vietnamese Ambassador Thach Du in Phnom Penh on September 29.

The top legislator appreciated the Vietnamese diplomat's contributions to nurturing and consolidating the bilateral friendship and solidarity.

He expressed his belief that in the new position, the diplomat will maintain his support for the bilateral relations.

Ambassador Du thanked the NA President and Cambodia's ministries, agencies and localities for helping the embassy and other Vietnamese offices in the country fulfill their tasks.

He wishes Cambodia will gain greater achievements in its nation construction and development.

Earlier, the ambassador bid farewell to Acting Head of State of Cambodia and President of the Senate Say Chhum; Prime Minister Hun Sen; Deputy Prime Minister and Minister of National Assembly-Senate Relations and Inspection, President of the Cambodia-Vietnam Friendship Association Men Saman; Deputy Prime Minister and Minister of Defence Tea Banh and Senior Minister of Foreign Affairs and International Cooperation Prak Sokhonn.

VNA/VNS/VOV/SGT/SGGP/TT/TN/Dantri/VNE