VietNamNet Bridge – The Government Inspectorate of Viet Nam has detected violations related to the project to convert 50,000ha of substandard forest area into rubber farms in the Central Highland province of Gia Lai.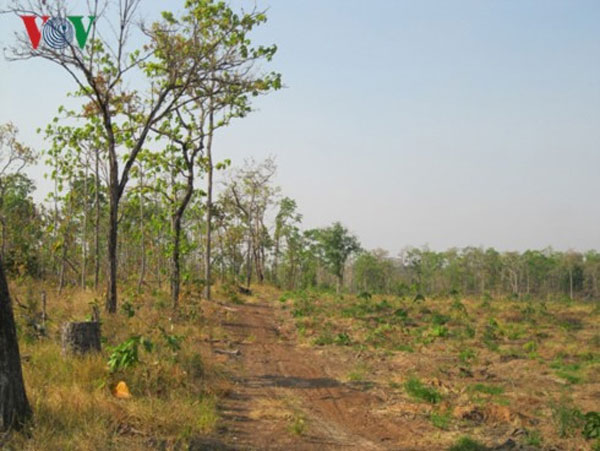 Thousands hectare of forest in Central Highland province of Gia Lai were chopped down to grow rubber. — Photo vov.vn
From 2008 to 2012, chairman of the province People's Committee Pham The Dung approved the project to convert 50,000ha of substandard forest area into rubber farms. As many as 16 companies were allocated forest land to grow rubber on a total area of 35,000ha.
During the period 2010-2011, the province People's Committee rented nearly 5,000ha for companies to grow rubber, which did not follow land use plans toward 2012 that were prepared earlier.
The committee also allowed project investors to exploit resources in the so-called "poor forests" before they grew rubber. This resulted in over 1.5 million cu.m of timber getting felled.
From 2010 to 2012, the province sold nearly 500,000 cu.m. of timber without conducting auctions, which was against regulations on State's asset auctions, also causing losses to the State budget.
Moreover, the committee divided land into slots with areas of less than 1,000ha each so that they did not require approval from the National Assembly.
The National Assembly requires that all forest-related projects with area of 1,000ha and more have to be reviewed by the legislative body.
After approving the forest transformation projects, Gia Lai Province People's Committee said the project would help create jobs and be a source of income for people of ethnic groups living in the forest areas. However, few people of ethnic origin got jobs under the project.
Moreover, project investors failed to realise their commitments on assisting to improve local infrastructure.
The public, therefore, is very concerned about the violations that have left a negative impact on socio-economic development and environment of the province.
According to reports by the Voice of Viet Nam (VOV) radio, the locals have asked for further investigation to identify responsibilities of individuals and agencies involved, including the province People's Committee and its chairman Pham The Dung.
VNS