VietNamNet Bridge – It's nearly two weeks since a Government decree increasing fines on those who let their dogs run wild took effect. However, violations are still common.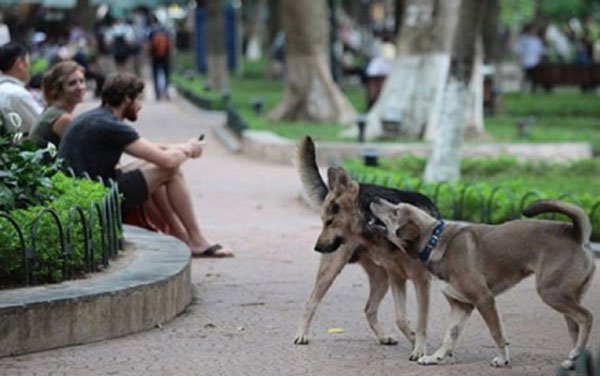 Dogs have been seen wandering without a leash and muzzle in Ha Noi's public places, while city authorities have not taken any measures to fine dog owners, blaming a shortage of equipment and human resources. — Photo vov.vn
Dogs have been seen wandering without a leash and muzzle in Ha Noi's public places, while city authorities have not taken any measures to fine dog owners, blaming a shortage of equipment and human resources.
Under Decree No 90, which took effect on September 15, dog owners who allows their pets to be in public places without muzzles will be fined between VND600,000 (US$27.2) and VND800,000 ($36.3).
Dogs that run wild will be collected by local authorities, and will be destroyed after 72 hours if the owner fails to pay a fine to retrieve the animal.
The decree also stipulates that dog owners must pay compensation to victims if their dog attacks anyone, affects traffic or causes traffic accidents, it said.
However, violations have not decreased. In Thong Nhat and Thanh Cong parks, residents still let their dogs run loose.
Many dogs have been seen without muzzles or leashes around Hoan Kiem Lake, while it's common to see unattended dogs near West Lake.
A woman known only as Huong said she usually took her dog to West Lake for a walk when she had free time. She always kept the dog on a leash, and thought it was safe enough.
"My dog is tame and has never attacked people," she said firmly. "Moreover, I've got the leash to lead him, he can't get loose."
Huong said she heard about the regulation, but had not seen any violators fined so far.
Kim Oanh, a resident in Hoan Kiem District said that dogs' owners should think about the safety of others and the dog.
"Every dog's owner has their own reason for their violation. But most of the excuses are unreasonable and selfish," she said.
"If they really care about their dog, they will follow the regulation instead of complaining or ignoring it. Wearing a leash or muzzle is a way of protecting their dog, not harming them," she added.
Oanh said authorities should boost patrols and fine violators to encourage dog owners to obey the law.
Meanwhile, city authorities and local authorities haven't strictly enforced the decree.
Doan Hong Phong, deputy head of Ha Noi's Veterinary Sub-department said the regulations were simply a revision of the amount of the fine.
The previous regulations fined owners between VND100,000 ($4.39)-300,000 ($13).
Phong affirmed to local press that the sub-department was not required to establish dog warden teams to do the job, saying it came under local authorities' responsibilities.
He said the sub-department would not send officers to look for stray dogs, despite the regulation stipulating that this task was under the veterinary department's management.
On stray dogs being culled after 72 hours, Phong said the regulation only really applied to sick animals that were not reclaimed by their owners. Other animals would be moved to animal rescue organizations.
Local authorities, however, said that they were not ready to conduct the regulation. An officer of Thanh Xuan District's Khuong Dinh Ward said that they had not received any guidelines, equipment, transportation or an area to keep stray dogs.
The wards had only disseminated the regulation to local residents, he said.
Giang Hong Thanh, a lawyer of the Ha Noi Lawyer Association, said he had seen many cases of dog attacks harming people's health and property.
He said that the regulation was necessary, saying that local residents should co-operate to strengthen supervision and report violations to agencies.
HCM City
In HCM City, the situation is totally different. The municipal Department of Veterinary, together with local authorities have patrolled roads in 14 districts in the city to seize wild dogs, despite obstructions by residents.
In the first nine months of this year, the department caught 58 dogs. Of the figure, 40 were reclaimed by their owners.
Duong Thanh Da, head of the department's dog warden team said that a four-person team arrest dogs without leashes or muzzles on weekdays.
The team had to be accompanied by local police to conduct the job to defuse arguments with local residents.
Dogs are kept at a facility at 252 Ly Chinh Thang Street in District 3 to wait to be retrieved by their owners. Owners must pay fines before getting their pets back, he said.
Figures from the Ministry of Agriculture and Rural Development's Department of Veterinary showed that more than 70 people died of rabies and nearly 400,000 people were attacked by dogs and forced to get treatment annually on average in Viet Nam, causing losses of about VND 800 billion ($35.2 million) each year.
Last year, more than 411,000 people were attacked by dogs. Of that, 91 died, an increase of 13 people compared to the previous year.
In the first three months of this year, as many as 12 people were killed by rabies. 
VNS