The national weather forecasting centre upgraded the Typhoon Doksuri barreling toward Vietnam from level 11 to 12 (of 18), with winds at its eye expected to reach 150km per hour.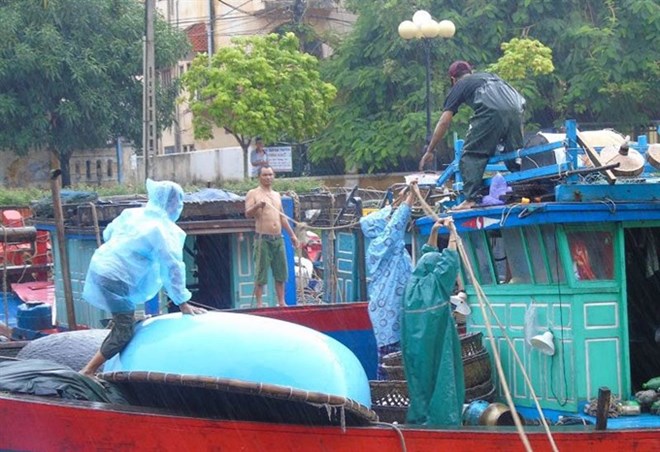 Residents in the central province of Quang Binh prepare for typhoon Doksuri - billed as the strongest storm to hit the East Sea in a decade.
Doksuri, said to be the strongest typhoon in a decade, is expected to make landfall between this afternoon and evening. It will directly hit Vietnam's central region, including the four provinces of Nghe An, Ha Tinh, Quang Binh and Quang Tri. 
The National Centre for Hydro-meteorological Forecasting (NCHMF) in its latest report at 9pm on September 14 said that the wind was at 135kph. By 7pm the same day, it was 360km off the coast of Ha Tinh province to Quang Binh province.
The NCHMF forecast rainfall of up to 400mm for localities in Ha Tinh, Quang Binh and Quang Tri. Other provinces could get as much as 300mm of heavy rains. In the northern provinces of Hoa Binh and Son La, rainfall of 50-200mm is forecast.
The centre said floods were predicted to occur in the river systems from Thanh Hoa province to Quang Ngai province between September 14 and September 17.
The urban areas of Vinh, Ha Tinh, Dong Hoi, Quang Tri and Hue were warned about flooding triggered by heavy rains. The northern region, including the capital city of Hanoi, will be hardly affected by the typhoon. It is expecting some rainfalls over the weekend, though.
Coastal provinces on September 14 continued making preparations.  
In Nghe An province, students are off from school until the storm passes.
In Thanh Hoa province, vice chairman of the provincial People's Committee Nguyen Duc Quyen ordered authorities in mountainous areas to make plans to evacuate about 247,867 people living in areas at risk of landslides and flash floods.
Da Nang city said 162 ships carrying 1,300 fishermen near Quang Ngai, Thua Thien-Hue, Nghe An, Quang Binh, Quang Tri and Hoang Sa (Paracel) Archipelago of Vietnam, had received storm warnings and were heading for safe shelters.
The city banned all operations by fishing ships on September 13 evening, and set up emergency teams at vulnerable lowland areas in preparation for heavy rains.
Ships and cruise vessels around Cham Island in Quang Nam and Ly Son Island in Quang Ngai province anchored safely at ports on September 14.
Timely countermeasures needed to minimise losses by storm Doksuri
Powerful typhoon Doksuri is approaching Vietnam's central coast 
Powerful typhoon Doksuri, which is approaching Vietnam's central coast, is expected to cause great losses if there is no timely and effective countermeasures, warned Deputy Prime  Minister Trinh Dinh Dung. 
During his field trip to the central province of Quang Binh on September 14, Dung asked local leaders to set forth specific plans and seriously follow the Prime Minister's instructions. 
The first job is to ensure safety of activities at sea, guide vessels to take shelter or move out of the typhoon's path, he said. 
Apart from Gianh Port, the Deputy PM inspected preparations for the storm in Hon La Port, where tens of boats sunk during the storm in last July. 
Then, Deputy PM Dung made a field trip to Nghe An province. 
As of 5:30pm on September 14, heavy rains and strong winds began in localities of Quang Binh. 
The province has kept a close watch on developments of the typhoon to inform them to people, banned vessels from sailing to sea, promptly called on boats to find shelters, and evacuated people from high-risk areas. 
Local farmers and businesses have been urged to harvest crops and aquatic produce before the typhoons comes. 
Dinh Quy Nhan, Director of the provincial Department of Education and Training, said on September 14 that his department has requested schools across the province to inform their students to stay at home as from September 15. 
Meanwhile, by 4:30pm on September 14, Bach Long Vi island district in the northern port city of Hai Phong, experienced strong north-northeast winds, according to Chairman of the district People's Committee Do Duc Hoa. 
Chairman of the Hai Phong municipal People's Committee Nguyen Van Tung has issued an urgent notice, requesting chairmen of district People's Committees and heads of departments and agencies to swiftly implement countermeasures. 
More than 2,500 vessels in the locality have been informed about the storm and over 48,500 people have been mobilised for natural disaster combat.
Airlines cancel flights due to Storm Doksuri
Many passengers have been affected by the storm
Several airlines have announced cancellation of flights to and from airports in the central coastal region on September 14 and 15 out of concern for safety as Storm Doksuri, the strongest storm to hit Vietnam in many years, is approaching the central coast.
Jetstar Pacific said it cancels four flights between Ho Chi Minh City and Chu Lai (Quang Nam province) and HCM City-Dong Hoi (Quang Binh province) on late September 14 and 12 other flights on September 15 between HCM City and Thanh Hoa/Hue/Vinh (Nghe An province)/ Dong Hoi, and between Hue and Da Lat (Lam Dong province)/Dong Hoi/ Chiang Mai (Thailand). 
Vietjet Air suspended its flights between HCM City and Chu Lai airport on September 14. 
Doksuri, the biggest storm to hit Vietnam in many years, is forecast to make landfall in the central region on late September 15 and early September 16.  
This is the first time Vietnam has rated the Danger Level 4 for a storm, said Hoang Duc Cuong, head of the National Centre for Hydro-Meteorological Forecasting (NCHMF).
VNA