Khmer pagoda helps disadvantaged children attend school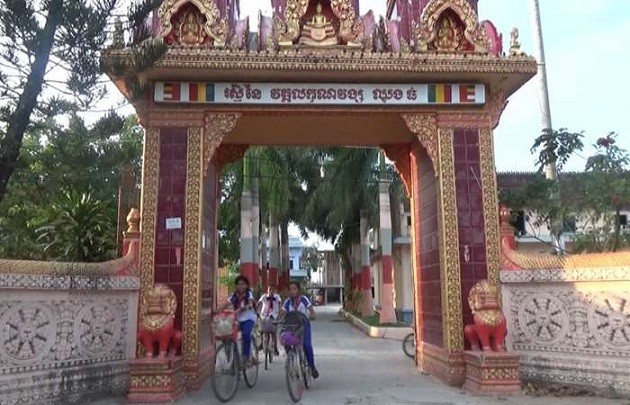 Located in Lai Hoa commune, Soc Trang province, the Khmer's Lakhanawong Xung Thum Pagoda has nurtured many disadvantaged students. VOV's Thach Hong reports on how the pagoda has helped children in difficult circumstances attend school.

Lakhanawong Xung Thum Pagoda is caring for 21 children from different areas of Soc Trang. They are orphaned or abandoned or born into families with economic difficulties.
Monk Tran Huyen, deputy head of the pagoda, said "We looked at the difficult situation of certain children and decided to help them continue their education."

The children are provided accommodation and exempted from school fees. On weekends they can go home to visit their relatives, if they wish. Danh Sang, a 5th grader at Lai Hoa primary school, has been raised by the pagoda.

"I had to earn money by catching fish to pay my school fees. My family is very poor. I have 4 brothers. My grandparent brought me to the pagoda. The monks buy clothes, textbooks, and notebooks, for me to go to school," he said.

After school hours, the children play sports and games with each other. 9th grader Tang Chai of Lai Hoa Secondary School, who has lived at the pagoda for nearly a year, said "It's very fun to stay at the pagoda because I have many friends there. I often confide in the pagoda's chief monk because I don't have parents. The monk said he will help me learn the trade I want to follow."

Local officials have also done much to help these disadvantaged children continue their studies.

"What the monks at Xung Thum pagoda have done is meaningful to the community, especially local ethnic people and disadvantaged children. We'll seek ways to expand the model," said Le Van Vui, head of Vinh Chau town's education sector.

At times the pagoda has as many as 40 children, some from other provinces in the Mekong Delta region.

Monk Tran Huyen said "Talented people and intellectuals are an important resource for society's development. We want to help these children as much as possible and hope they will become useful members of society."

Each year the pagoda also organizes classes for students from Soc Trang province and beyond to help them have a better future.

Tam Hải Island designated as eco-tour site

The central province of Quang Nam has designated the Tam Hải Island commune in Núi Thành District as an eco-tour site, ecological buffer zone and global geo-park site.

Chairman of Núi Thành District's people's committee, Huỳnh Văn Mau, told Việt Nam News the eco-park on the 15sq.km island off the coast of Núi Thành District would be similar to Chàm Island-Hội An, a world biosphere reserve, and Lý Sơn Island off Quảng Ngãi Province. Early this year, Quảng Nam province in co-operation with Quảng Ngãi launched a new cruise tour that takes in the three islands.

He said the island would focus on development of community-based tourism rather than resorts and hotels, while boosting mangrove forest and climate change resilience.
Nguyễn Văn Phong from the provincial Urban and Rural Area Planning Institute said the tourism plan would help protect the environment and primary mangrove forest on the island, as well as its historical relic and cultural value. Phong said the plan also includes re-planting coconut trees, as well as changing aquaculture farms into coastal protected mangrove forests.

He said the province would draw up a plan to submit the island for recognition as a global geo-park in the future.

The fishing Island was populated 600 years ago and its historical vestiges can still be seen in Thuận An Hamlet at the foot of Bàn Than Mountain.

Islanders have preserved 5km of coral reef and a 7.5ha primary mangrove forest for centuries.Tam Hải also protects the largest grave in the central region – where 500 whales that died on the coast or offshore are buried. 

The 8,400-population commune, a five-minute boat trip from Núi Thành District, is an ideal destination for adventure trips and a green, peaceful vacation. Around 700 visitors come there on weekends.

In 2015, the French-influenced Le Domaine De Tam Hải Resort on the island was given a Certificate of Excellence by the travel website TripAdvisor. The 10ha resort includes 11 villas scattered among coconut palms, each with a private terrace and a view of the sea.

Bridge across Tiền River proposed to relieve traffic

The Ministry of Transport has been asked to approve the construction of a major bridge across Tiền River, connecting the Mekong Delta provinces of Tiền Giang and Bến Tre.

The bridge, officially called Rạch Miễu No2 Bridge project, is intended to solve the current traffic overload on Rạch Miễu No1 Bridge and nearby highways, as well as promote economic development in the Mekong Delta. Rạch Miễu No1 Bridge also connects Tiền Giang and Bến Tre and is near the site of the planned second bridge.

The bridge is expected to cost VNĐ4,434 billion ( US$194.5 million). It will have four lanes with a width of 17 metres and will be designed for vehicles traveling at 80km per hour.

Though the Ministry of Transport has recently upgraded roads and bridges in the area, a leader of Project Management Unit 7 said that traffic had increased faster than the pace of investment. Traffic congestion frequently occurs on the two-lane Rạch Miễu No1 Bridge, especially when the number of vehicles increases during peak hours and on holidays.

If the bridge is approved, project preparation is expected to end in the fourth quarter of 2018, and construction on the bridge is slated to begin in the first quarter of 2019. Construction would take five years.

The overseeing Project Management Unit 7 has called for investment from Korea's Economic Development Co-operation Fund (EDCF) to support the project. Of the project's estimated cost of US$194.5 million,  about $153.1 million will come from EDCF's official development assistance (ODA). The rest ($41.4 million) will come from reciprocal capital from the Government.

Hưng Yên proposes road toll exemption, relocation

Authorities in northern province of Hưng Yên have proposed the two ministries of transport and finance offer an exemption or reduction of BOT road tolls for all vehicles passing through toll station No. 1 on the section of National Highway 5 through the province.

Under the proposal signed by Vice Chairman of Hưng Yên Province's People's Committee Bùi Thế Cứ on Tuesday, which was sent to the two ministries, the provincial authority reconfirmed that toll collection at toll station No. 1 was to reimburse funds under the financial plan of the Hà Nội- Hải Phòng Expressway Project.

However, it proposed the Ministry of Finance to consider amending and supplementing Circular No. 153/2015/TT-BTC, dated October 2, 2015, by reducing road tolls for all vehicles passing through toll station No 1.

The provincial People's Committee also expected that the Vietnam Infrastructure Development and Finance Investment JSC (Vidifi) – the major investor and company that operates the toll station – would exempt fees for personal vehicles belonging to locals in communes and wards within a radius of 5km from the toll station, including Trưng Trắc, Lạc Hồng, Đình Dù and Như Quỳnh in Văn Lâm District, Bần Yên Nhân in Mỹ Hào District, and Giai Phạm and Nghĩa Hiệp in Yên Mỹ District.

In particular, the committee requested to move toll station No. 1, which is currently located at km 18+100 on National Highway 5 in Văn Lâm District, to the contiguous position between Hưng Yên Province and Hà Nội City or between Hưng Yên and Hải Dương provinces.

Explaining the move, the authority said it was aimed at preventing and limiting the number of vehicles circulating on inter-provincial roads to avoid the toll stations.

At the same time, the authority said it would help ensure the stability of local life and control traffic safety in the areas.

Toll station No. 1 on the section of Highway 5 through Hưng Yên Province has become a hot spot over the past several days, when many drivers using small currency of VNĐ200-500 (less than US$0.02) to buy tickets at the station.

The action, which was reportedly a protest against the unreasonable toll collection, led to traffic jams for many hours and severely affected traffic safety and social security in the area. 

Hưng Yên Province had to mobilise all its forces, including mobile police and traffic police, in co-ordination with investors, to maintain social security by streamlining and regulating vehicles passing through the toll booths.

The province's authority also warned that in the future, public disturbances would likely occur at the stations when the drivers paid the toll with stacks of small change  to protest the high fees and the unsafe road.

Vidifi on Wednesday asked for a police investigation into alleged public disturbances at toll station No 1. 

A video clip showing drivers paying with stacks of small change at one of Vidifi's toll stations first appeared on social media on August 27, according to the company. 

Not content with the disruption they had caused, the drivers then turned around to go through the station again armed with more change, before parking horizontally across the road in protest.

The incident was repeated again on Tuesday afternoon with drivers driving slowly and paying with small change, resulting in a traffic jam.

At present, some 15,000-16,000 vehicles pass through the toll station daily, most of them being trucks. The lowest toll is VNĐ40,000 ($1.8) and the highest is VNĐ180,000 ($7.9) depending on the vehicle size and capacity.

Earlier this month, drivers also protested against a toll station on National Highway 1 in the southern province of Tiền Giang by paying with stacks of small change.

Tiền Giang authorities said they would propose a cut in the toll fee, while the transport ministry would decide if the station should be moved.

Phú Yên pilots solar-powered watering system for sugarcane farm

The central province of Phu Yen is piloting a solar-powered watering system for sugarcane farms in Sơn Hòa District.

The province said the solar power system, built with total investment of VNĐ140 million (US$6,200), will supply 10 kilowatts per hour (Kwh) for a 10ha sugar cane farm each day.

It's the first off-grid solar power system that has been developed on a farm in central Việt Nam, where the national power grid connection is limited.

The province said the system would help farmers in remote areas water their crops in case of a power grid blackout.

According to the project developer, the HCM City-based SolarBK company, the system uses a control application on a smart phone for remote operation.

Sơn Hòa is one of three key districts farming sugarcane on 12,000ha out of a provincial total 26,000ha of sugarcane farms.

Sixteen investors have been seeking investment in solar power, wind power and gas-driven power projects in the province.

Last month, the province officially launched the first stage of the 30MW (Megawatts) biomass power plant.

Phú Yên province also operates a solar-powered public lighting system and automatic watering at a 6ha public park in Tuy Hòa City.

Vietnamese, Cambodian women's unions sign agreement
The Vietnamese Women's Union (VWU) and Cambodian Women for Peace and Development (CWPD) on September 12 signed a cooperation agreement for 2017-2022, focused on sharing information and experience in enhancing gender equality.

The document was signed by VWU President Nguyen Thi Thu Ha and Cambodia's Deputy Prime Minister and CWPD President Men Sam An after their talks in Phnom Penh.

At the talks, Men Sam An lauded the Vietnamese union's initiatives and programmes in developing the two countries' friendship.

She expressed her hope that the unions will continue strengthening cooperation in numerous fields, especially in sharing experience.

For her part, Ha proposed the two sides focus cooperation on educating women and young generations about bilateral relations, sharing information, and signing cooperation agreements between localities.

The VWU will help train female officials for the Cambodian side, she affirmed.

While in Cambodia, the VWU delegation also presented gifts to poor households in Steung Treng, Kampong Thom and Prey Veng provinces.

The VWU delegation's activities in Cambodia formed part of the "Vietnam-Laos-Cambodia goodwill coach trip" that began on September 4 going through the three countries. The trip will end in Vietnam on September 16 with a forum featuring the three countries' women working to foster friendship and cooperation to realise sustainable development goals by 2030.

Cai luong show to raise money for poor farmers

Dozens of veteran and young cai luong (reformed theatre) artists and singers will perform at HCM City Theatre for a charity programme to raise funds for poor farmers living in the Mekong Delta provinces.

The 90-minute concert, Vang Trang Me (Mother is the Moon), will feature cai luong stars like Ngoc Giau and Phuong Hong Thuy, together with young singers Quang Thanh and Kim Anh. Vietnamese-American singer Khanh Ly will be a guest artist. 

They will stage songs in praise of love and women composed by veteran artists Trinh Cong Son and Pham Duy. Famous extracts from historical cai luong plays will also be highlighted.  

"Our annual concert which began in 2012 aims to raise money to upgrade and build bridges in remote areas of the region," said 54-year-old actress and director Thanh Thuy, the event's organiser.

"We hope our art will encourage more associations and individuals, including artists in theatre and movie, to work for charity," she said.

All of the artists taking part in the event will perform for free. They will also donate clothes, food and money.

Last year, Vang Trang Me raised over 500 million VND (22,000 USD) to build five bridges in Long An, Tien Giang and Dong Thap provinces.   

Thuy began her professional career after graduating from the HCM City Theatre & Cinematography in 1992.  

She later worked with her colleagues, Quoc Thao and Thanh Hoang, opening and developing the 5B Small Drama Theatre, one of the region's leading drama troupes.

She has performed in more than 200 plays, videos and movies.

In 2003, she began working as a theatre director for dozens of State-owned and private drama troupes. She won several top prizes for the best dramatic actress and director at national professional drama festivals and contests.

In 2011, she won the Favourite Dramatic Actress award presented by HCM City Television.   

The show Vang Trang Me will open at 8pm on September 15 at 26/6A Nguyen Binh Khiem St in District 1. Tickets are available at the theatre's box office.-

Comprehensive childcare and development enhanced

A project on comprehensive childcare and development and healthcare system reform in Việt Nam was recently approved by the Government.
The four-year project, funded by the UN Children Fund (UNICEF), will start this year in Hà Nội, the Tây Nguyên (Central Highlands) provinces of Gia Lai and Kon Tum, and the northern province of Điện Biên.
The project was financed by a non-refundable official development assistance (ODA) source worth over US$5.1 million (equal to VNĐ112 billion), with Vietnamese Government's counterpart fund of over VNĐ16 billion in cash, and VNĐ8 billion provided in the form of transfering facilities, staff and expertise.
The project aims to improve child and maternity healthcare services to enhance the comprehensive development of children.
The project will focus on improving healthcare, nutrition and environmental hygiene for children, especially vulnerable groups, to ensure social integration and equality for the cause of human resource quality in the future.
The project will be caried out in community and local healthcare clinics, and focus on improving the qualifications of health workers from central to local levels.
Media plans on behavioural changes, mother and child healthcare, vaccination and nutrition, as well as clean water and environmental hygiene will be extensively promoted.
The Prime Minister has asked the Health Ministry to review the project's contents to avoid overlap with other foreign and State budget-funded projects.
The ministry was also made in charge of setting up a mechanism for project management and implementation to ensure the project's effectiveness and progress. 

Vietnam-China Friendship Association of Vinh Long holds first congress

The Vietnam-China Friendship Association of southern Vinh Long province held its first congress for the 2017-2022 term on September 12, where 17 members of the executive board were elected.

Pham Tu Phuong, Director of the provincial Department of Industry and Trade, was elected as chairman of the association.

The association plans to continue working as a bridge for exchanges in innovations in industry, agriculture, healthcare, and education between Vietnam and China. It will also pave the way for cooperation in trade and economy, science and technology, education, culture, sports and tourism between Vinh Long and partners from China.

Speaking at the event, Chinese Consul General in HCM City Chen Dehai praised the Vietnam-China friendship, saying it is a valuable asset for both countries. He also lauded the role the Vietnam-China Friendship Association has played in fostering cooperation between the province and Chinese localities.

Vice Chairman of the provincial People's Committee Lu Quang Ngoi, for his part, asked the association to establish close ties with the Chinese Embassy and Consulate General to work together in implementing its action programmes. He urged the association to help local businesses, workers, and students access more opportunities for cultural exchange, education, employment and investment in China.

According to Ngoi, Vinh Long is home to about 5,000 Chinese people, accounting for 0.5 percent of its population.

Workshop navigates towards free, open seas of Asia

"Navigating Towards the Free and Open Seas of Asia: The Role of Maritime Law in Maintaining Good Order at Sea" was the theme of a workshop in Hanoi on September 12.

The event, which was held by the Embassies of the UK and Japan in Vietnam in conjunction with the Diplomatic Academy of Vietnam (DAV), brought together experts from the UK, Japan, Singapore, China, Malaysia, the Philippines, India and Indonesia. 

The workshop stressed the importance of the rule of law in maintaining peace and security at sea in the region and discussed practical measures to narrow gaps of awareness between countries of ensuring maritime security and enhancing economic development. 

The participants also talked about how ASEAN and its partners can coordinate with each other to maintain order at sea. 

In his opening remarks, DAV Director Nguyen Vu Tung said the ruling by the Permanent Court of Arbitration in 2016 should be considered the initial step that helps clarify regulations stipulated in maritime law and develop policies regarding disputes in the East Sea. 

UK Ambassador to Vietnam Giles Lever stressed remarkable developments since the court issued the ruling, saying the UK understands that the decision is binding and should be respected. 

The adoption of the framework of the Code of Conduct in the East Sea (COC) is an important step as it creates conditions for the COC to become a meaningful document that can promote cooperation and peaceful development in the East Sea. 

Japanese Ambassador Kunio Umeda said since the ruling was announced, the international order in Asia-Pacific has not been fully implemented.

Water plant for poor residents inaugurated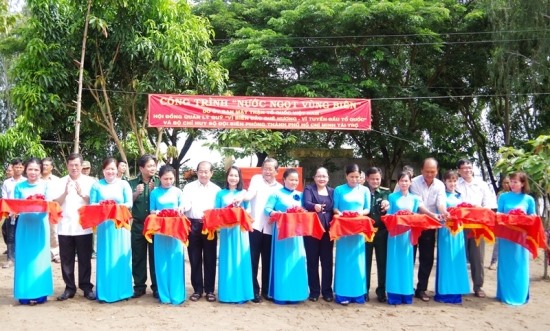 A clean water plant for poor residents was inaugurated on Monday in Cái Đôi Vàm Town, Phú Tân District, in the southern-most province of Cà Mau.

The plant has a total investment of more than VNĐ550 million (US$24,400). Some VNĐ500 million ($22,200) comes from the HCM City Fund for the Nation's Island and the remainder comes from sponsors solicited by the Cà Mau Fatherland Front Committee.

The plant will supply clean water to more than 100 households.

Local residents must hand in a small fee to maintain the plant, which is about half the market price for clean water.

Vietnam, Cambodia news agencies urged to promote cooperation

Deputy Prime Minister Vu Duc Dam has pledged that the Party, State and Government of Vietnam always back the Vietnam News Agency (VNA) and Cambodia's news agency Agence Kampuchea Presse (AKP) to further bolster their cooperation in the future.

At a meeting with AKP Deputy General Director Keo Chandara in Hanoi on September 12, the Deputy PM said that the two agencies should actively work together to provide people of both sides with accurate news of the two countries and their sound relations.

VNA and AKP should continue their traditional affiliation activities and seek new measures to improve cooperation efficiency, he said, adding that both sides should make full use of opportunities from the digital era.

Along with contributing to the bilateral ties, the two agencies should strengthen cooperation in the framework of ASEAN and other regional and international collaboration mechanisms to which they are members, said the Deputy PM.

He highlighted that Vietnam always gives top priority to the reinforcement and development of friendship and multi-dimensional cooperation with Cambodia. He lauded the VNA's launching of a news column on the Vietnam-Cambodia relations on the occasion of the Vietnam-Cambodia Friendship Year 2017.

He told his guest that 2017 is a special year for external activities in Vietnam as it plays hosts the APEC Year 2017, asking the AKP to actively cooperate with the VNA to popularize the images of Vietnam, its people, culture and foreign relations achievements to Cambodian people and international friends.

For his part, Kep Chandara briefed his host on the outcomes of his talks with VNA leaders.

He said the two agencies reached an agreement on the promotion of cooperation and mutual support in professional activities, as well as the upgrade of infrastructure system, thus contributing to deepening mutual understanding and friendship between people of both countries.

12th PHAMEDI Vietnam to draw 400 firms

The 12th Vietnam International Exhibition on Products, Equipment, Supplies for Medical, Pharmaceutical, Hospital and Rehabilitation (PHARMEDI Vietnam) will take place from September 20-23 in Ho Chi Minh City, according to the organising board.

It will have the largest scale so far with over 600 booths to be installed by more than 400 companies from 25 countries and territories.

The exhibition will showcase medical products, equipment for production and packing of the medical sector, as well as medical equipment, healthcare services and medical environmental technology.

The event will include a free diabetes and heart diseases screening and consultations for both children and adults.

Nguyen Dinh Anh, head of the Department of Communications, Emulation and Awards of the Ministry of Health said that the exhibition will gather over 150 foreign firms with top world brands which are expected to bring the latest technology in the medical and pharmaceutical sectors.

This is a chance for enterprises to seek new partners, expand market and update technology, he said.

First held in 2016, the PHARMEDI Vietnam has become the most waited event in medical and pharmaceutical areas.

Last year, the event drew 10,587 visitors who visited 550 booths by domestic and foreign firms.

Experts discuss clinical management of new infectious diseases

A conference was held in Hanoi on September 12 to discuss the clinical management of acute respiratory infection and newly emerging communicable diseases.

Addressing the event, Associate Professor, Dr. Luong Ngoc Khue, head of the Department of Medical Examination and Treatment, said that Vietnam is a hot spot of newly emerging communicable diseases with high risks of becoming an epidemic.

In recent years, Vietnam has countered SARS, influenza A virus subtypes H1N1 and H5N1, foot-and-mount disease, and measles, and it is battling dengue fever. The fatality ratio from the diseases was estimated at 30 percent in 2010.

Currently, patients have enjoyed easy and quick access to health care services. However, health care facilities have been in frequent overload conditions, especially central hospitals.

Khue said that the improvement of capacity in clinical management of infectious diseases is a priority of the Ministry of Health. He also pointed to various policies and projects in the field.

Since 2012, with the support of the World Health Organisation (WHO), the Department of Medical Examination and Treatment has evaluated the capacity and demand for training in the clinical management of acute respiratory infection, as well as in building training programmes and translating the guidelines of the WHO.

At the event, participants also assessed the real situation and defined orientations for the management of the clinical management of acute respiratory infection and newly-emerging communicable diseases in Vietnam. They also shared their real experience in the field. 

Fine arts exhibition marks VN-Laos, VN-Cambodia diplomatic ties
The Vietnam-Laos- Cambodia fine arts exhibition opened in the central city of Da Nang on September 12.

The event is part of activities to celebrate the 55th anniversary of Vietnam-Laos diplomatic ties, 40 years of the signing of the Vietnam-Laos Treaty of Amity and Cooperation, and the 40th anniversary of Vietnam-Cambodia diplomatic relations.

It displays 55 works by 22 artists, including give from Cambodia, five from Laos and 12 from Da Nang city.

Within the framework of the exhibition, there are tours of Da Nang's tourist attractions like Son Tra Peninsula and Hai Van Pass and Hoi An ancient town in the neighbouring province of Quang Nam, a camp and an exchange for the artists.

The exhibition, which will last until September 26, aims to offer an opportunity for the artists to share experience as well as enhance the friendship between the three countries.

Tay Ninh builds more bridges in border areas

The southwestern province of Tay Ninh on September 12 started the building of five bridges in remote and border districts of Tan Chau, Chau Thanh and Hoa Thanh to support local people.

These are among 21 bridges to be built in the province with a total cost of over 56 billion VND (2.46 million USD) sourced from the Local Bridge Construction and Road Asset Management (LRAMP) project, approved by the Government and the Ministry of Transport.

According to the provincial Department of Transport, each bridge will cost over two billion VND (88,000 USD).

The rest 16 bridges are expected to be built within this year to facilitate locals' travel and agricultural products transport.

The LRAMP project has total funds of nearly 409 million USD in loans from the World Bank.

Under the project, 2,000 bridges are being built in 50 provinces and cities across the nation from 2016-2020.

Rise in deaths from drinking methanol-tainted wine

As per Bach Mai hospital's Poison Center, its doctors have saved many cases of poisoning from wine. They all drank wine that contained poisonous quantities of methyl alcohol.
 
Since the beginning of the year, there has been a rise of hospitalized people relating to methanol-tainted wine. 48 people had been taken to the center; the figure is equal to the whole year of 2016.
Patients are from Hanoi and northern provinces either. The mortality rate fluctuates from 20 percent to 30 percent.

Those who escaped deaths spent hundreds of millions Vietnam dong and most of them suffer nerve and brain damage and visual disturbances such as blurred vision, tunnel vision, changes in colour perception, and temporary or permanent blindness.

HCMC strives to become a regional animal and plant breeding centre

Ho Chi Minh City must meet at least 30% of the market demand for plant varieties and animal breeds if it wishes to become a centre for plant and animal breeding in the Southern region, stated Secretary of the Ho Chi Minh City's Party Committee Nguyen Thien Nhan.

He also emphasised the importance of the links and involvement between farmers, scientists, investors and the government in turning Ho Chi Minh City into an animal and plant breeding centre in the region.

He made the remarks while attending a workshop on applying science and technology to developing agriculture in Ho Chi Minh City, in order to turn the city into an animal and plant breeding centre meeting the demand of the provinces in the South-western and South-eastern regions.

The event was held by the Ho Chi Minh City's Department of Agriculture and Rural Development on September 12.

Secretary Nhan noted that if Ho Chi Minh City wants to maintain agricultural production, it must find solutions in order to increase the income of local farmers. Otherwise, farmers would quit their farm work and the city would be unable to retain the farmland.

"The land area used for agricultural production occupies 55% of the total city's area, but agricultural production contributes only 0.8% to the city's GDP. Meanwhile, other industries make up 99% of the city's GDP but use only 8% of the total land area", Nhan said.

He added that this situation places great pressure on managers as the industry and service sectors also need land to expand and develop.

To enhance the value of agricultural production, the city has identified hi-tech agriculture as its key target and is striving to become a centre of plant and animal breeding in the region, Nhan said.

To achieve this target, Secretary Nhan stressed the significance of the connection between farmers, scientists, the government and investors and the ability of providing at least 30% of the plant varieties and animal breeds for the whole South-western and South-eastern regions.

In addition, he noted that farmers cannot study market demand, requiring the city to undertake this task for them in order to forecast market demand and instruct the farmers.

North-South toll fees too high

If drivers of trucks of 18 tons or 40-foot semi-trailers travel from the northern province of Lang Son to the Mekong Delta province of Bac Lieu, they will go through 29 tollgates on National Highway 1A and pay a total of VND4.8 million (US$211) each, new data revealed on September 11.

The data of the Directorate for Roads of Vietnam under the Transport Ministry shows 29 tollgates are located on the cross-country highway, plus five tollgates on National Highway 14 in the Central Highlands.

A slew of build-operate-transfer (BOT) road tollgates have emerged in recent years, making life more difficult for trucking companies, as they are obliged to pay prohibitively high toll fees. Worse still, they have to pay road maintenance fees, which are collected annually or quarterly. As such, these transport costs have spiked goods prices.

According to the directorate, if drivers travel from Lang Son to Bac Lieu on National Highway 1A, they will have to pay a total toll fee ranging from VND865,000 to VND4.5 million, depending on types of vehicle.

In addition, drivers on National Highway 14 will have to pay a maximum of VND940,000 if they pass through five tollgates in total along this stretch.

VNA/VNS/VOV/SGT/SGGP/TT/TN/Dantri/VNE