VietNamNet Bridge – "It has been five years since our surgery, but I feel like it was recent. I remember the day when I was hospitalized. You, with your loving thick glasses, were the first person I met. And during my days of treatment, you always encouraged my mother and me. You bring hope to me and others and help sick hearts."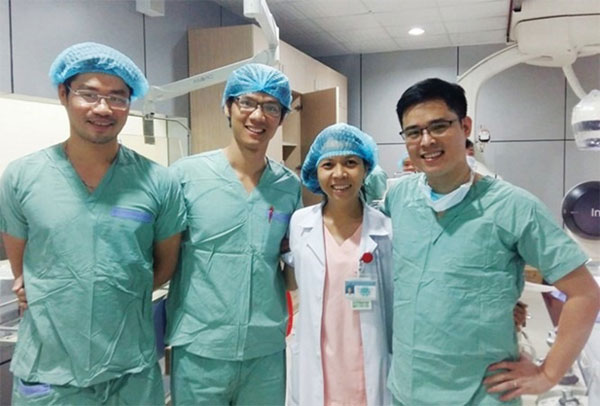 Doctor Dai (first right) and his colleagues pose for a photo after he demonstrated a technique of innate heart disease surgery. — Photo tienphong.vn
This is one part of a letter, among a number of letters from young patients to their loving doctor – Tran Dac Dai, head of the Children's Heart Ward under the E Hospital in Ha Noi.
Many of the letters have spelling mistakes, but all of them are full of emotion and love for the doctor, who clearly plays the extra role of the children's fairy godmother. 
Children's angel
Dai's Facebook page is full of hundreds of messages of gratitude from patients and their families. With the messages are photographs of children with beautiful smiles proving the marvelous thing that Dai has brought to their families. To them, Dai is an angel wearing a white blouse.
The children suffering from innate heart diseases may not have had the opportunity to write such thankful sayings if an unexpected incident had not happened several years ago.
When he was a student, Dai was never interested in becoming a doctor. He dreamt of becoming an agronomist.
At the university entrance exam, Dai, who came from the northern province of Bac Ninh's Que Vo District, was accepted by all four universities. He chose the Hai Phong Medical University, following advice from his relatives.
Dai did not have any passion during his two first years at the university.
In his third year, during a period gaining practical experience at the Hai Phong Paediatrics Hospital, Dai witnessed a boy suffering from serious diarrhoea and subsequently dying. The boy's image made Dai lose sleep all night, as the boy was as small as Dai's nephew. Since then, Dai determined to become a passionate doctor to help limit loss of life.
After finishing his five years at the university, Dai continued to study three more years to become a resident physician.
Once when Dai was in his practical period at the National Paediatrics Hospital, the hospital received 28 patients in serious condition, but had only two doctors and six nurses. The hospital lost electricity one day, and some of the 28 patients were in critical condition, so doctors and nurses had to continuously give them manual ventilation.
Dai remembered that at that time he was very afraid—afraid that he could not fulfill the work and that the children might die. But three years of studying as a resident physician helped Dai become a doctor with a strong spirit, able to handle serious cases.
Passion
Dai remembers deeply the moment that he gave himself a heart ultrasound to distinguish a healthy heart from his pediatric patients' sick hearts.
Dai has often bought pigs' hearts to give them ultrasounds, looking for the similarities and differences with human hearts.
After receiving the resident physician degree, Dai received a scholarship to study for a year in France, learning about innate heart diseases.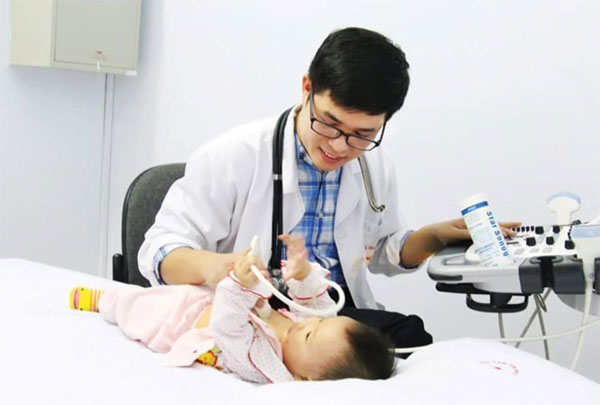 Doctor Dai gives heart ultrasound to a baby. — Photo tienphong.vn
Completing the course, Dai returned to Viet Nam and met associate professor Nguyen Lan Hieu, an expert on innate heart disease, a member of the 14th National Assembly and deputy director of the Ha Noi Medical University Hospital. He also met Professor Le Ngoc Thanh, director of the E Hospital, to express his hope to pursue a specialty in innate heart disease, which is considered to be very difficult.
Speaking about Dai, associate professor Hieu cannot hide his pride.
"The day I met him for the first time was a special day. A baby cried loudly before the surgery, and Dai, very gentle, made the baby smile after only some minutes. I immediately realised that Dai was born to do the work, which is miserably hard and difficult," said Hieu.
Dai understands well the knowledge that associate professor Hieu taught him, and became Hieu's honest colleague.
"Dai does well the work that I dream of doing but have not done, such as taking care of the children with innate heart diseases from the time they are in the womb until after they are born," said Hieu.
"With Dai, I believe in a bright future for Viet Nam's innate heart sector," he said.
Dai said that his biggest motivation is seeing the patients' smiles after they recover. Dai has tried his best to keep little angels alive, and he seems to be born to revive small hearts.
Thai Ha
VNS