Handling super small and skinny houses in Hanoi remains a headache for local officials.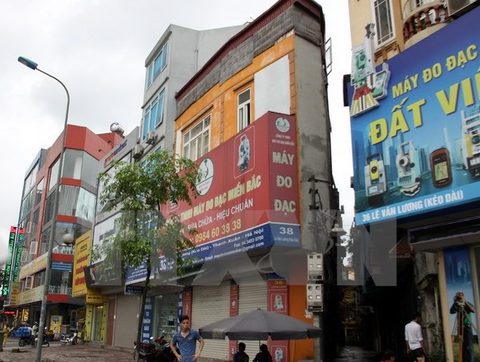 A skinny house on To Huu Street. 
Although the municipal authorities are determined to eliminate these tiny homes, many have been built in very small or oddly shaped land areas, especially along newly-expanded roads.
Districts which have seen the construction of many small houses include Ba Dinh, Cau Giay, Hai Ba Trung and Tay Ho.
Nguyen Thi Nuong, owner of a tiny house on Xa Dan Street, said that after site clearance was issued for expanding the road, her remaining land was just 10 square metres, but it was street-side. She opened a shop here and refuses to sell to make way for a house being built next door.
"I can do business here. I will not sell it."
Tiny and skinny houses were destroying the urban landscape, experts said.
According to Pham Sy Liem, Vice President of the Viet Nam Federation of Civil Engineering Associations, the problem lies in planning management.
He said that the planning had not paid adequate attention to remaining areas of many land slots after site clearance, resulting in the creation of many slots that were too small or out of shape.
Combining the parcels of tiny land with the neighboring slots was not easy due to difficulties in reaching an agreement about prices, Liem said.
The municipal Department of Planning and Architecture said that land areas ineligible for construction permits must be combined with a neighbouring slot. If owners failed to reach an agreement for land combination, the local authorities would revoke the land for public purposes. However, agreeing on compensation costs is a challenge because most tiny houses were street-side with very high prices.
According to Dao Ngoc Nghiem, Vice President of Viet Nam Urban Development and Planning Association, Ha Noi must address this problem from the planning stages, adding that road-side planning was also of significant importance.
Some experts even said that more drastic measures should be taken. For example, the Goverment could auction road-side land slots.
Before 2015, Ha Noi had more than 300 tiny and skinny houses. Now, the number of tiny and skinny houses has been reduced to 132. 
VNS