By 2020, all telecommunication cables in inner-city Hanoi will be underground, the city's Information and Communications Department said yesterday.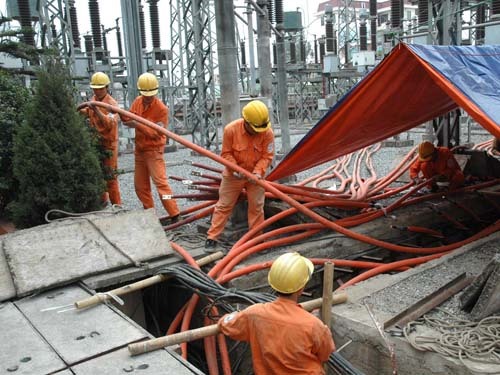 This is a part of the city's planning on telecommunication technical infrastructure until 2020 approved by the municipal People's Committee last week.
Nguyen Tien Sy, head of the Post and Telecommunication Division of the department said that overhead telecom cables on major streets from the city's Ring Road No3 to the city centre would be buried to improve urban beauty and road safety.
Cable lines in new urban areas, industrial zones or along new residential areas will also go underground, he said.
By 2020, half of the bulky antennas installed in Hanoi's Old Quarter and major streets will be replaced by smaller ones.
Sỹ said that in the next three years, the city would install 2,250 new antenna towers, raising total antenna number in the city to about 6,000 so that it could have better 4G network coverage.
Phan Lan Tu, director of Information and Communications Department, said that telecommunication companies should develop technical infrastructure plans matching the city's planning. 
Overhead intertwined electrical wires and telecom cables, locally referred to as 'spider webs', have been a characteristic of Hanoi and HCM City for years.
Fatal accidents and fires relating to street telecom cables and electric wires have been reported in Hanoi, with the latest one happened in Chien Thang Street, Ha Dong District on August 11.
Last November, one person was killed and four others were injured after a power substation exploded and the fire spread to a street vendor nearby on Nguyen Thi Minh Khai Street in Ha Dong District. 
VNS