VietNamNet Bridge – Under the hot noon sun, more than 20 women at Nguyen Thi Thu Ha's sewing workshop seem oblivious of the sweat pouring down their faces as they work at their sewing machines.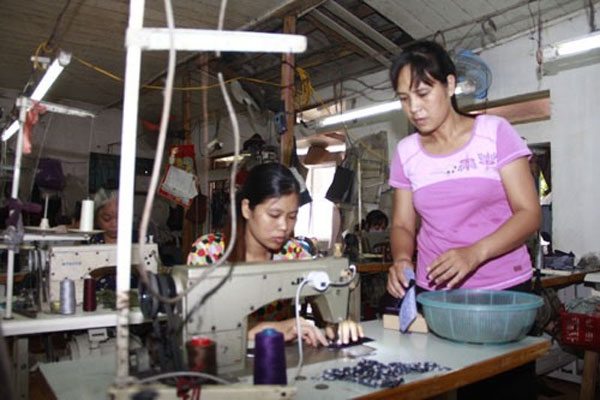 Nguyen Thi Thu Ha (right) guides a worker on how to sew a bag. — Photo hanoimoi.com.vn
The seamstresses in Thach That Commune of the capital's Quoc Oai District are not like most garment sector workers in Viet Nam. At least half are women with disabilities.
Ha, their boss, is too. Her father was a victim of Agent Orange and she suffers some enduring side effects of the toxic herbicide sprayed by American forces in Viet Nam. In addition to her sewing work she heads up the Club of Women with Disabilities in Quoc Oai District.
Sitting by a green teapot, Ha recounts that she started thinking of having her own business in 1999.
In 1998, she was working for a local garment company, pulling night shifts, which she said was very hard for a woman with disability. Sewing was not her first choice but she had to learn it after failing to pass the university entrance exams.
In 2009, with savings from her previous jobs and money borrowed from her family and friends, she decided to open her own garment factory.
Although her capital source was small, "I tried to start a small business at first and hoped that I would have more money from profits to expand."
At first her workshop had only five sewing machines, but with determination and hard work she now owns 25. The main products manufactured at the workshop are leather wallets and bags for export.
In 2010, the district's association of people with disabilities urged her to join. After attending the club, Ha's garment factory started employing two local women with disabilities.
The intention to help people with disabilities work prompted her to expand the scale of her enterprise. She dreamed of creating additional jobs for people with disabilities, but came up against a familar problem: lack of capital.
In 2012, she borrowed VND20 million (US$880) from the Social Policy Bank to buy three more machines. She repaid the loan two years later.
In 2015, she again borrowed VND20 million from the bank. By that time her workshop was growing and providing stable jobs with incomes from VND3 to 5 million a month for women with disabilities.
She now employs 10 disabled women. For the seriously disabled ones she brings her machines to their homes. "The dream seems to have come true and it is like a fire," she said. "I myself am a person suffering from sequelae left by Agent Orange. However, I am much more fortunate than others because I still go to school and can work," she said.
"I think the life of people with disabilities is very difficult. I still help those who are weaker than me to make an income, have a meaningful life, not to be dependent on others. My aspiration is to help as many people as possible, I am just sorry that my ability is limited."
Can Van Cac, chairman of the Quoc Oai District's Association of People with Disabilities is proud of Ha. She has encouraged people, enabled them to integrate into the community, to be confident and contribute to socio-economic development, said Cac.
Since 2012, the association has worked closely with the Social Policy Bank to help 60 households of people with disabilities borrow over VND1.2 billion ($52,800).
"There are so many people in my village who want to invest more money for their income, and I will continue to work hard to expand the sewing factory," she vowed. 
VNS