VietNamNet Bridge – The Ministry of Transport will quickly fix shortcomings related to collecting fees at Build-Operate-Transfer (BOT) toll stations in the country.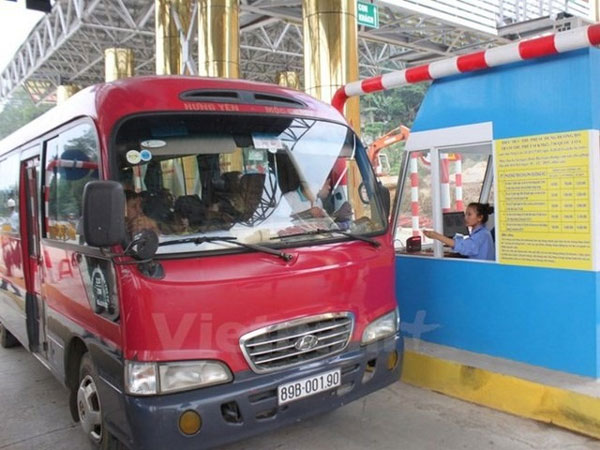 A coach stops to pay the fee at a BOT toll station. 
The move came after many drivers expressed their opposition to the high fees at BOT toll stations.
According to the latest news, drivers were putting small notes into bottles when they paid toll fees at the Cai Lay BOT toll station in Mekong Delta's Tien Giang Province on Sunday afternoon, causing traffic to come to a standstill and resulting in difficulties for fee collectors.
The drivers' action was their way of voicing their disagreement with the high fee at the toll station that officially began operation one week ago.
The fee is VND35,000-180,000 ($1.5-8) each time for a 12-km road.
According to news released by the ministry on Monday afternoon, fees of 28 BOT toll stations in the country would be reduced in the future following the ministry's meeting with BOT's investors to re-check and re-adjust the current fees.
The ministry also said time to pay back capital of investors of 23 other BOT toll stations would be decreased.
In a related move, the ministry ordered the suspension of operations of the Tao Xuyen BOT toll station in Thanh Hoa central province from today.
The toll station was set up to collect fee for a project involving construction of a section of National Highway No 1A, worth VND822 billion (US$36.1 million).
The ministry said, at first, payback time was calculated as 27 years and eight months and the time for the investor to earn profits was an additional three years.
However, after recalculating the project, total investment reduced to VND786 billion ($34.6 million) and the number of vehicles running through the toll station was higher than expected. Payback time was adjusted to only seven years and two months.
Currently, the investor has already collected its investment capital and earned profits in one year. The ministry, therefore, has decided to stop the operation of the toll station.
VNS