VietNamNet Bridge – Many roads and pavements in HCM City have again been encroached by illegal parking areas and street vendors after city authorities halted their campaign to clear the pavements four months ago.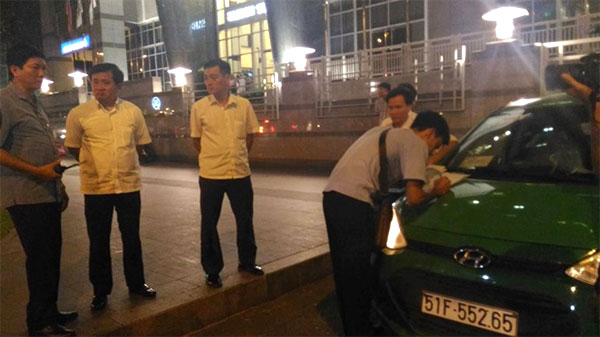 Authorities handle an illegal parking car in HCM City. 
On many streets, including Nguyen Thai Binh, Pho Duc Chinh, Nguyen Hue, Nguyen Trai, Hai Ba Trung, parking violations are rampant, occupying most of the pavements and forcing pedestrians to walk on the roads.
On Nguyen Du Street, the pavement on both sides has been taken over by street vendors from early morning to late at night. Many coffee shops have put tables and chairs out to attract and accommodate customers, leaving no space for pedestrians.
The situation is no better on Dong Du, Ton That Dam, and Huynh Thuc Khang streets. In the area around HCM City's Fine Arts Museum in Nguyen Thai Binh Ward, street vendors are out in full force, despite the ban.
Doan Ngoc Hai, vice chairman of District 1's People's Committee said that the encroachment was even worse four months after the inspection teams paused their pavement clearing drive.
On Monday evening, Hai said he, along with the district's interdisciplinary inspection team, conducted a raid on pavement encroachment on Hoang Sa, Hai Ba Trung, Ly Tu Trong, Nguyen Thai Hoc, Vo Van Kiet, Nguyen Thi Nghia streets.
Hai said cars were parking illegally along the streets and pavements of District 1 regardless of warning signs that have been placed in trouble spots. The result was chaos, making it almost impossible for pedestrians to walk along the road.
Some streets that had been cleared months ago by the inspection teams were now in a worse state than before.
Hai said he proposed the heaviest fines for re-offenders.
He said ten wards of the district seemed to be too lenient, affirming that the inspection teams would tighten up control on all streets regularly until the city's voters are satisfied with the results.
"The pavements of the district must be for pedestrians," he said.
Tran The Thuan, chairman of the committee said that apart from efforts to clear the pavements by authorised agencies, social measures such as allocating areas for street vendors and parking lots for vehicles should be carried out.
Police should be on duty at 13 bridges connecting the suburban areas to the inner city to stop street vendors entering downtown.
Chairman of the city's People's Committee Nguyen Thanh Phong has asked the district to solve the problem comprehensively and to avoid pavement re-encroachment.
More importantly, local authorities at the grass-root levels should get support from residents in curbing the illegal encroachment of pavements, he added.
Figures from the District 1's People's Committee showed that in the first seven months of this year, the committee has spent more than VND800 million (US$35,200) on raids to clear pavements and fined violators more than VND3.3 billion ($145,200). 
VNS