At least seven people have been killed while 27 others remained missing as flash floods swept through several northern mountainous provinces on Thursday according to local authorities.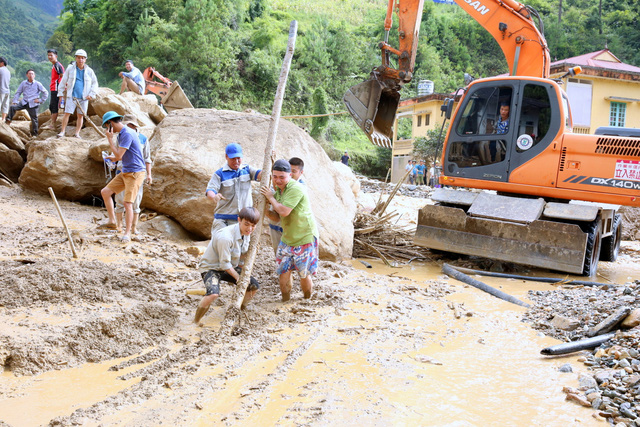 Rescue workers cleared a road which was filled with mud after a flash flood in Yen Bai Province on August 3.
The Central Steering Committee for Disaster Prevention and Control said that reports from authorities in the four provinces of Son La, Yen Bai, Dien Bien and Lai Chau showed that by 5pm on August 3, seven people have died in Yen Bai, Son La, Lai Chau and 27 others remained missing in the area.
The report also said that the flash floods had swept away and damaged 240 houses and many national roads and commune's roads in the area. The total amount of mud slid was estimated at over 33,000 cubic metres.
The flooding has also isolated many residential areas.
The flash floods which were triggered by torrential rains over the past few days in the area occurred on August 2 evening lasted through August 3 morning.
Deputy PM Trinh Dinh Dung arrived at Yen Bai Province on August 3 morning to direct the rescue work.
The northern region is forecasted to have rains and rainstorm from now on to August 6 according to the Centre for Hydro-meteorology Forecast.
dtinews