VietNamNet Bridge – It took a lot of efforts for Nguyen Thi Hoa, a resident of the northern port city of Hai Phong's Tu Doi Village, to learn how to use scissors.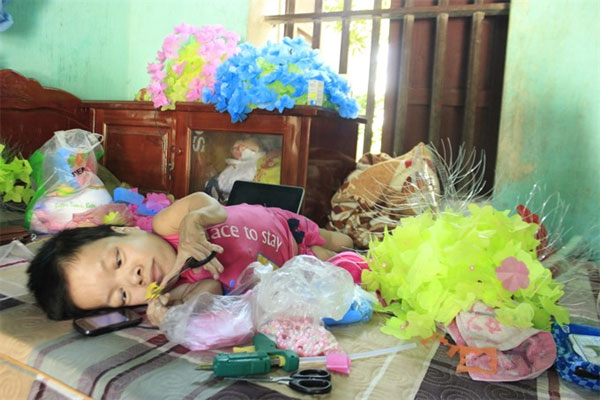 Nguyen Thi Hoa cuts paper flowers to make a bouquet. — Photo tuoitre.vn
Holding a piece of yellow paper in one hand and scissors in the other, the 37-year-old woman cut out identical five-petal flowers, then sewed them onto a plastic bottle and decorated it with colourful beads to make a bouquet.
She did it with ease, but that has not always been the case. At the age of three she succumbed to an illness that stopped her growth and left her virtually paralysed. Weighing only 10kg, Hoa's life has been confined to a small bed.
Determined not to let life pass her by, Hoa learned to make crafts and developed a small brand of handmade crafts. Over the last three years, her craft products have become well known in her neighbourhood, reaching other localities and overseas Vietnamese.
She started the quest by chance.
"A friend brought some handmade flower baskets to me and asked me to sell them on social media," Hoa told the Tuoi tre (Youth) newspaper. "I refused, because I didn't want to use my disability as a tool to ask for sympathy."
"There were people who told me I should go beg for money at festivals and celebrations, but I did not want to do that, either," she said.
It took her a whole week just to learn to hold scissors. Sometimes she cut herself trying to cut perfectly-shaped paper flowers.
She can make two flower baskets a day if she really focuses. Once finished, she took photos of the products and introduced them on social media, where they drew appreciation from her friends.
"There are times when I can't meet orders for customers from the central provinces of Ha Tinh and Ninh Thuan, from HCM City, from foreign countries, such as the US and France," Hoa said.
Hoa's immobility does not hinder her working process. She asks neighbours to help buy materials, such as papers, beads, glue guns and plastic bottles. Her sister-in-law helps her make the products, then packages and sends them to customers by post.
Wanting to share her achievement with other unfortunate people, Hoa along with her parents visits local people with disabilities and invites them to join her in making crafts.  
"My idea is to found a group of craft-makers with disabilities to work together, generating income to support ourselves and lessening the burdens on our families," she said.
"No one is calling me a 'weirdo' anymore," she said. "My life has become more meaningful since I started creating things with my own hands."
Statistics from the Ministry of Labour, Invalids and Social Affairs (MOLISA) in 2015 recorded 7.2 million people with disabilities in the country, accounting for some 9.2 per cent of the total population. Some 65-70 per cent of them were living off financial support from families, relatives, social assistance and charity.
Self-taught writer
Not able to go to school because of her disability, Hoa taught herself to read and write. When she is not making crafts, Hoa writes poems and short stories in the blank pages of her niece's old notebooks.
"When I was little, one day a local veteran came to my house, gave me a notebook and told me that I had to find ways to 'overcome ignorance' by myself," she recalled.
"I had to place my chin on a tissue box whenever I wanted to practice," she said. "After several times clumsily scrawling the letters, I could finally write."
"Hoa has an incredibly positive attitude towards life," said Nguyen Cong Long, an economics student from the Viet Nam Maritime University. "Her craft products are beautifully made. I have helped her sell some of them."
Inspired by Hoa's strengths, a coffee shop owner in the city's inner ward of Lach Tray, some 20km away from Hoa's village, invited her to share her story with a young audience.
Dang Thi Tuyen, the coffee shop owner, is amazed with Hoa's determination to move up in life.
"She said in front of the audience, loud and clear: 'I am a very intelligent person,' which is the most impressive thing I have ever heard from someone with disabilities," Tuyen said.
"She talked about disabilities as if they were an experience, not a burden," she added. "That is the strongest manifestation of the will to live."
Nha Nam
VNS