VietNamNet Bridge – More than 30 people are dead or missing after tragically damaging rains and floods hit northern mountainous provinces over the past three days.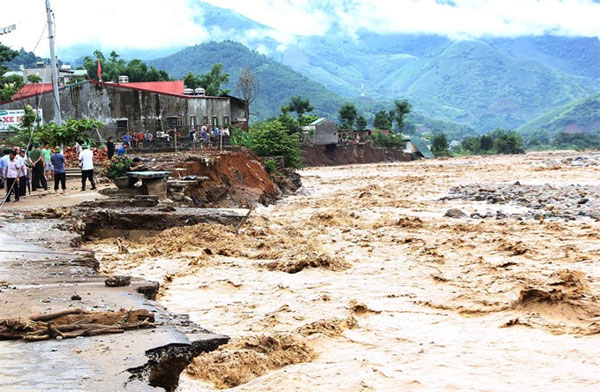 Torrential rains and floods destroy roads in It Ong Town in Muong La District of Son La Province. — Photo: VNA/VNS 
A quick report from the standing office of the Central Steering Committee on Disaster Prevention and Control on Thursday afternoon showed that continuous rains and floods in Bac Kan, Lai Chau, Dien Bien, Yen Bai and Son La killed numerous people.
In Yen Bai Province's Mu Cang Chai District, the number of dead and missing people caused by flash floods was reported to be 15 at Thursday noon. The Nghia Lo General Hospital sent a team of one doctor and two nurses in a fully-equipped ambulance to the district to support the injured.
Son La Province has recorded three deaths, 13 missing and three injured.
Of the missing victims, two from Lai Chau Province's Muong Te District were buried by rocks and stones caused by landslide on their way to a paddy field. Search and rescue efforts continue.
In addition, hundreds of houses collapsed and swept away.
Dozens of hectares of cultivated land were buried and dozens of cattle and poultry were swept away.
The floods have inundated national highways, including National Highway 12, 279B, 279C and 4H in Dien Bien Province, provincial roads including roads numbered 150, 142 and 143, and many other local routes.
The localities are continuing to review and assess damages.
Immediately following the disaster, the local authorities visited and mobilised forces and resources to help people overcome the consequences and stabilise their lives.
According to the Ministry of Agriculture and Rural Development (MARD)'s Department of Irrigation and Dam Safety Management, water reservoirs are generally operated in accordance with the regulation process.
Reservoirs in the northern area reportedly contain a water level of 55-70 per cent of the designed capacity, reservoirs in the northern central region at 70-75 per cent. Hydropower reservoirs are closing all bottom discharge gates, the MARD reports.
The standing office of the Central Steering Committee for Disaster Prevention and Control issued Document No 339 on Wednesday to local steering committees on disaster prevention and control, search and rescue, requesting for closely monitor on the rains and floods, as well as inform the local authorities and people to take respond measures. Local authorities and hydropower plants in affected Son La, Hoa Binh and Tuyen Quang provinces were requested to ensure the safety of the reservoirs.
At the Government's regular meeting on Thursday, Prime Minister Nguyen Xuan Phuc sent a task force to check on the situation at the hard-hit Yen Bai Province.
The team included Deputy Prime Minister Trinh Dinh Dung and officials from the MARD and relevant ministries. 
VNS