Expert: Cars should be restricted first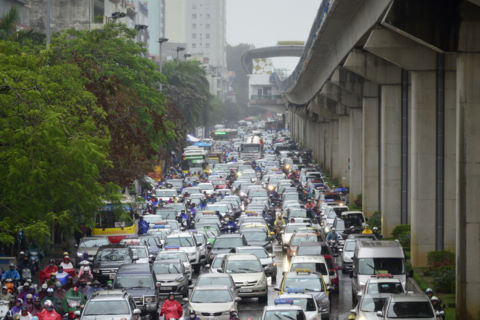 It is necessary to reduce the number of cars on the road in Hanoi and HCMC first, instead of motorbikes, according to Khuat Viet Hung, vice chairman of the National Traffic Safety Committee.
Hung said at a transport seminar organized by Tuoi Tre newspaper on August 1 that an immediate restriction on private vehicles cannot be a viable solution. Instead, the move should be taken in a gradual manner.
However, he stressed, the development of public transit and the restriction of private vehicles are needed to promote sustainable urban transport.
"Cars, instead of motorbikes, should be restricted first. Otherwise local residents will voice their objections, as cars occupy larger road surfaces than motorbikes do," he said.
The HCMC government is focusing on construction of eight metro lines, three tramlines and six bus rapid transit routes, according to Bui Xuan Cuong, director of the HCMC Department of Transport.
He said the municipal government aims for public transit to meet 15-20% of commuting demand by 2020.
The local metro system is forecast to replace buses after 2024, as Metro Line No.1 linking Ben Thanh Market in District 1 and Suoi Tien Park in District 9, and Metro Line No.2 connecting the central station near Ben Thanh Market and Tham Luong in District 12 are scheduled for completion by 2020 and 2023 respectively.
Besides, investors are going through necessary procedures to develop Metro Line No.5 from Bay Hien Intersection to Saigon Bridge in phase one.
The director said the department is drawing up a plan to improve public transit services and put private vehicles under control.
The local government should seek to encourage the people to change their habit from using private vehicles to public transit rather than restrict or ban them, said Nguyen Thi Bich Hang, a transport management expert from the HCMC University of Transport.
$852.7 mln approved for health care-population program in 2016-2020
The Prime Minister has approved VND19,380 billion ($852.7 million) for the health care- Population program in the period of 2016-2020. 
The program includes eight contagious disease and common non-communicable illness prevention project; the expanded immunization project; the population and development, food safety project; HIV/AIDS prevention project; safe blood and hematologic disease prevention, and project to keep track on medical media.
The program's aim is to early detect diseases, to control large outbreaks as well as cut infection and mortality rate of dangerous contagious diseases and restrict rising common uncommunicable rate, illness of students to protect public health.
As per the program, around 20 percent of oral cancer, cervical cancer, colorectal cancer could be early detected in the first stage, ensuring the immunization proportion of 95 percent for kids under the age of one and most of cities and provinces have markets to sell safe food.
The program targets to minimize the dengue infection and death rate under 0.09 by 2020.
Phone app helps report waterways violations
The Vietnam Inland Waterways Administration (VIWA) has launched a free mobile phone application, called Viwa Alert, which allows users to report water traffic law violations.
If a Viwa Alert user witnesses illegal actions at a port or during administrative procedures, they can take photos and send them directly to VIWA.
A VIWA representative said based on reports collected, the body would take suitable solutions to facilitate passengers and service providers.-
Quang Ninh to fund health insurance fee for poor households
Quang Ninh authorities will sponsor households classified in the multidimensional poverty category to obtain health insurance, starting from January 1, 2018.
According to the provincial Department of Labour, Invalids and Social Affairs and Health Department, most of the beneficiaries are members of ethnic minorities, islanders, families of armed-forces personnel, and those who get social protection. 
The northern province of Quang Ninh currently has 1,814 poor households, of which 462 multidimensional poverty households without health insurance will be funded next year.
By December 31, 2016, 81.7 percent of Vietnam's population or about 75.9 million people had joined health insurance.
ASEAN students and young professionals in Hanoi for workshop
 Vietnam the sixth-highest source of foreign students in the US
From August 1 to August 4, 80 students and young professionals from the ten ASEAN countries will attend the Young Southeast Asian Leaders Initiative (YSEALI) Generation: ECommunity! workshop in Hanoi.
Those attending were selected for the prestigious workshop based on their outstanding track record and interest in economic engagement at the community, national, and regional levels. The workshop will feature expert panel discussions, case study challenges, and several relevant site visits, all of which aim to inspire and buttress their ability to contribute to sustainable economic growth in their communities and the ASEAN region.
The YSEALI Project is funded by the US Department of State, with the Kenan Foundation Asia and the Center for Sustainable Development Studies (CSDS) partnering to combine their respective strengths to produce a curriculum and agenda that will give participants core knowledge about the ASEAN Economic Community (AEC) and its impact on trade and development, as well as enhance their leadership and soft skills to enable them to have a greater impact on their home communities.
Speaking to participants during the opening ceremony, the US Ambassador to Vietnam, H.E. Ted Osius, highlighted that "there are nearly 410 million people under the age of 35 in the ASEAN region. You are the ones who are going to shape policy in your countries and the region in the future, the ones who are going to drive the economy and promote positive change for a more prosperous and inclusive society."
During the workshop, they will participate in role-playing activities in which they will be challenged to view ASEAN economic questions from the perspective of diverse stakeholders, helping them experience the multiple viewpoints that go into ASEAN policy development.
On the final day, a model ASEAN summit will be held, where participants will demonstrate the content knowledge and skills they developed over the first three days to collaborate with their peers to develop regional policies.
Ms. Phan Kieu Anh, Country Program Manager of Kenan in Vietnam, said "At the YSEALI Generation: ECommunity! workshop our young participants will create a high energy and enthusiastic learning environment, benefiting from leading experts and through exchanging ideas. The workshop will help them define how they can engage with government, business leaders, and community organizations to contribute to economic and social development at the community, national, and ASEAN levels."
5,000 people to take part in fundraising walk for AO victims
As many as 5,000 people will participate in a fund-raising walk for Agent Orange (AO) victims and disadvantaged disabled people at Đầm Sen Cultural Park in HCM City this Saturday morning (August 5).
Volunteers and members of Việt Nam Red Cross Society (VNRC) as well as local residents will join the 3km-walk to call for social support for providing health care services and improving living conditions for AO victims
The event, which is organised by VNRC's HCM City chapter, also marks Agent Orange Day which falls on August 10.
Last year, the event raised more than VNĐ 1.3 billion (US$57,300) to help nearly 2,850 AO victims such as granting regular subsidies, scholarships, wheelchairs and vocational training for AO children.
Hanoi enhances ties with Sweden, Norway, Austria
Hanoi is seeking measures to intensify relations with Sweden, Norway and Austria, especially in planning management, transport development and environmental protection.
A delegation from the city led by permanent Vice Chairman of the municipal People's Council Nguyen Ngoc Tuan visited the three European countries from July 21-31.
In Sweden, Tuan talked with Margareta Björk, First Vice Chairwoman of the Stockholm City Council, during which they exchanged experience in issuing planning-related policies, planning management and urban development and protecting the environment.
Stressing Sweden has a lot of experience in housing development and management, Tuan asked the Council to support Hanoi in this field.
In Norway's Oslo city, the delegation was received by Vice Mayor for Business Development and Public Ownership Geir Lippestad.
Tuan emphasised that Hanoi hopes to boost cooperation with Oslo in planning, transport and environmental protection.
He also suggested the city encourage its businesses to invest in Hanoi, and proposed establishing an information exchange channel to maintain the two sides' fine relations.
Meanwhile, in Austria, the delegation visited Vienna's urban and environmental management agencies to learn from their experience.
Strict fines for violators in animal health sector
The highest fine for violations in the animal health sector is VNĐ100 million (US$4,400) for organisations, and VNĐ50 million ($2,200) for individuals, under a new Government decree.
Individuals or organisations that produce veterinary medicines banned in Việt Nam are subject to the fine.
People using these products will be fined VNĐ8-10 million ($350-440).
The decree also includes violations in preventing animal diseases, quarantining animals, slaughter, hygiene, medicine management and veterinary practice.
The lowest fine, VNĐ1-2 million ($40-80), is for deliberately not reporting the death of animals because of infectious diseases to local authorities.
People transporting animals that have died because of infectious diseases, or those who dispose such dead animals into the environment will be fined VNĐ5-6 million ($220-260).
Those transporting living animals infected with dangerous diseases from an affected area without permission will be fined VNĐ15-20 million ($660-880).
Antibiotic resistance in livestock threatens Vietnamese health and livelihood
Improper use of antibiotics in breeding will result in antibiotic resistance and residues in food that causes more potential risks for consumers' health and livelihood. This was stated at a conference on antibiotic management in Hanoi on August 2.
Hosted by the Ministry of Agriculture and Rural Development (MARD) in collaboration with the US Agency for International Development (USAID) and the Food and Agriculture Organisation (FAO) of the United Nations, the workshop aims to implement Vietnam's National Action Plan for management of antibiotic use and antibiotic resistance in livestock and aquaculture for the 2017-2020 periods.
With funding from USAID, this plan was developed with technical assistance from FAO to orient agricultural activities and operations of agencies under the MARD, as well as supplement the Ministry of Health's National Action Plan for Drug Resistance during 2013-2020. The plan is expected to contribute to reducing the risk of drug resistance to the community in relation to the use of antibiotics in livestock and aquaculture in Vietnam.
The National Action Plan has specific objectives of reviewing, and implementing regulations regarding policies related to antibiotic resistance and antibiotic use in livestock and aquaculture.
Another objective of this plan is to raise awareness concerning the use of antibiotics and the risk of antibiotic resistance formation for technicians and professionals working in the field of agriculture and food, as well as farmers and consumers; applying good practices in medical examination and treatment, professional practice in animal feed production, and employing the best practices in breeding and aquaculture; monitoring the use of antibiotics, antibiotic residues and antibiotic resistance in livestock and aquaculture along with facilitating interdisciplinary collaboration on antibiotic resistance management.
Speaking at the conference, Deputy Minister of MARD Vu Van Tam stated that the abuse of antibiotics in livestock and aquaculture has also caused serious consequences, such as high antibiotic residues and increasing difficulty in the treatment of some diseases for livestock due to antibiotic resistance. Improper use of antibiotics would also result in antibiotic residues in food that harms consumers.
In addition, the overuse of joint antibiotics for both healthcare and veterinary usage also poses a threat to the emergence of serious drug resistance in Vietnam. Meanwhile, the sanctions and legal corridors in antibiotic management are still inadequate, making the antibiotic abuse more complex.
Against this backdrop, the best implementation of the National Action Plan requires coordination from the MARD and its subordinate units, as well as with the relevant Ministry of Health, Ministry of Industry and Trade, Ministry of Natural Resources and Environment and local People's Committees across the nation, Tam stated.
He also called on for further cooperation and technical and financial support from international organisations, research institutes and the private sector to join efforts to reduce the use of antibiotics and to prevent threats from antibiotic resistance.
Representatives from international organisations highly value Vietnam's efforts in controlling the use of antibiotics for a sustainable agriculture, also as an act of expressing Vietnam's strong commitment to combating antibiotic resistance as made by the World Health Organisation.
Stressing the importance of the launch of the Action Plan, deputy director for USAID Vietnam, Craig Hart, said that enforcement is needed to ensure the plan's success. Actions need to be based on the best evidence and in accordance with international practice, he added.
As antibiotic resistance is a strategy that the US is also working on, in the coming time, the country commits to provide support to Vietnam in terms of technical capacity in implementing management of antibiotic use in livestock and fisheries, focusing on upgrading laboratories and facilitating residue analysis, stated Craig Hart.
Jong-ha Bae, FAO chief representative in Vietnam, said that antibiotic resistance threatens the health and livelihoods of Vietnamese people, while also threatening the sustainability of agricultural and food production systems.
Farmers, veterinarians and veterinary medicine sellers should share responsibility by using antibiotics in a more responsible manner, whilst finding alternatives to maintain animal health and productivity, such as biosafety improvement and good practices in animal husbandry, suggested Jong-ha Bae.
FAO is actively coordinating with the MARD' Department of Animal Health to implement a programme on antibiotic residues monitoring and antibiotic resistance in livestock and fisheries in Vietnam, as well as equipping technical equipment for Vietnam in efforts to control the use of antibiotics in the coming time, added Jong-ha Bae.
At the event, the MARD announced that the ministry has banned the use of antibiotic feed for growth purposes since 2018. By 2020, the use of antibiotics for the prevention of animal diseases will also be banned.
The MARD will also work on a list of antibiotics for animals and people while also increasing measures to limit the use of joint antibiotics for animals and humans.
Children in Bac Ninh to benefit from school milk programme
The northern province of Bac Ninh has decided to splash out more than 420 billion VND (18.5 million USD) on a school milk programme for more than 557,000 pre-school and primary pupils during 2017-2020.
Of the total, 210 billion VND (9.25 million USD) will come from the provincial budget, some 105 billion VND (4.62 million USD) by milk supplying businesses and 105 billion VND (4.62 million USD) from parents. Disadvantaged students will receive free milk.
Per the programme, pre-school and primary school students will receive three 180 ml milk bottles per week for nine months.
In the 2017-2018 academic year, some 139,000 local children, including more than 94,000 pre-school children and 44,000 primary students, will benefit from the programme.
The school milk programme was launched nationwide on September 28, 2016. It targets providing all pre-school children and elementary pupils in poor districts with milk by 2020, meeting 90-95 percent of their energy demand and increasing the heights of school boys and girls by 1.5 and 2 centimetres, respectively.
As many as 60 countries worldwide have responded to World School Milk Day launched by the United Nations Food and Agriculture Organisation, including Japan, the Republic of Korea, the US, the UK and Thailand.
Đà Nẵng City portal works effectively
The Đà Nẵng City portal received more than 500 questions in the first half of this year, reaching 141 per cent compared with the same period last year, according to the municipal People's Committee.
The results were announced at a conference on Monday to sum up the portal's work in the first half of this year and finalise the working plan for the latter half of this year.
Most questions are related to right use of certificates, tax policy, trade register and social insurance.
During the first six months of 2017, the portal published nearly 2,000 stories, of which 152 were translated into English and Japanese. The stories were about the city's policies and provided information serving the demands of residents and enterprises.
The portal also joined hands with concerned organisations to hold workshops on labour, work safety, housing and property ownership rights.
Speaking at the conference, deputy chairman of Đà Nẵng City People's Committee Hồ Kỳ Minh asked the city portal and portals of other organisations in the city to continue to develop multimedia functions and implement dialogues between municipal authorities and residents.
Plans to develop the city portal and portal security should be prepared, he said.
Committee mulls Judicial Records Law
The National Assembly's Committee for Judicial Affairs yesterday continued its sixth plenary session to discuss amendments to Law on Judicial Records.
According to a Government statement, since the law's implementation, judicial record card issuance has basically met public expectations and solidified judicial record cards' role in State and social management. 
However, regulations on the database of judicial records have limitations. In particular, the issuance of judicial record card No. 2, issued at the request of individuals who want to know their judicial records, has been abused.
The draft law on judicial records proposes removing regulations related to judicial record card No. 2 issuance to protect the rights, benefits and secrets of individuals.
Nguyễn Công Hồng, deputy head of NA's Judicial Affairs Committee said that the draft law does assess the impacts of judicial record card removal. In fact, demand for the cards is increasing for visa requests, marriages, settlements, labour export and job applications.
Công said the card removal may harm Vietnamese citizens' rights.
Many participants proposed keeping judicial record card No.2, adding that there needs to be many judicial record cards at different levels.
NA deputy Nguyễn Bá Sơn said that information technology should be used to improve the judicial record database. The current national database lacks connections among localities.
Lê Thị Nga, the committee's chairwoman, concluded that the draft law's compiling committee must produce a comprehensive assessment of the draft law's impact on citizens, those who leave the country, get married with foreigners and work and study overseas.
She ordered the consideration of removing judicial record card No.2 and proposed adding judicial records for legal entities.
Quan họ performances promote tourism
Quan họ (love duet) singing on boat will be held every Saturday evening in northern Bắc Ninh Province, Nguyễn Tử Quỳnh, chairman of the provincial People's Committee, said.
The performances will be staged on two lakes in front of office buildings of the provincial Committee of the Party and People Council at 8pm.
The provincial Department of Culture, Sports and Tourism takes charge of organising the performances, aimed at popularising quan họ not only among local tourists, but also foreigners.
Quan họ is an art form that combines various elements, including music, lyrics and costumes, and features the distinctive culture of people in the region formerly called Kinh Bắc. It was recognised by UNESCO as an intangible cultural heritage of humanity in 2009. 
The singing represents different kinds of relationships -- the relationship between male and female singers as romantic lovers, the relationship between two friendly villages and the relationship between performers and the audience. Each element helps define quan họ, give it life and meaning, and the resulting harmony is so much more than just a beautiful song.
Kon Tum, Lao southern localities enjoy fruitful cooperation
The Central Highlands province of Kon Tum and southern provinces of Laos have enjoyed fruitful partnerships in recent years through Party, State and people-to-people cooperation.
Kon Tum is located in the Cambodia-Laos-Vietnam Development Triangle, with four districts and 13 communes along the shared border with Laos.
Since 2012, the province has sent 1,807 officials to southern Lao localities, while receiving 1,005 officials from Attapeu, Sekong, Salavan and Champasak of Laos.
Kon Tum and southern provinces of Laos have also actively implemented cooperation contents of the Development Triangle region that were given during the meeting of the Cambodia-Laos-Vietnam Development Triangle Joint Coordination Committee in Attapeu and Sekong.
Meanwhile, Kon Tum has used 6.2 billion VND (272,738 USD) from its local budget to support southern Lao localities, while presenting five sets of computers to the Vietnam-Laos Friendship School in Attapeu in 2015. 
Currently, three Kon Tum businesses are investing in Laos with total investment of 327.8 billion VND.
Kon Tum helped train 25 students from Laos in 2011-2014, and currently hosts 50 others.
Also, Lao southern provinces have assisted Kon Tum in searching for and repatriating 31 sets of remains of Vietnamese soldiers who died in Laos during wartime.
In the future, Kon Tum and the four Lao southern localities will strengthen their ties through implementing signed agreements and encouraging businesses of both sides to invest in each other, especially in agro-forestry production and processing. 
They have agreed to upgrade the Bo Y-Phu Cua border gate and work closely in ensuring border security.