VietNamNet Bridge - On July 29, a supermarket in District 1, HCM City, handed over a diamond worth over VND150 million ($7,500) to a customer – Ms. Bui Thi Minh Thien – who dropped the diamond at the supermarket.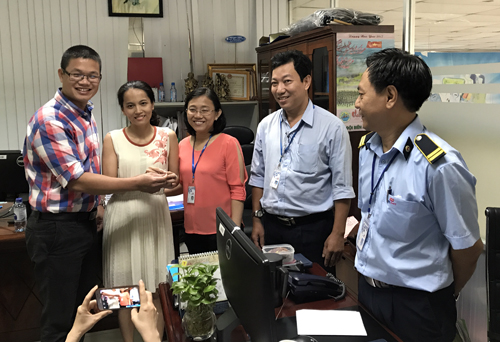 A supermarket representative returns the diamond to the customer (second left).
Earlier, an employee at the supermarket - Ms. Nguyen Huynh Ngoc Han - saw a woman struggling to find something under the floor. Han came to ask for help but the woman did not answer.
While folding clothes of the supermarket, Han saw a white stone bead. Thinking that it  dropped from clothes sold in the supermarket, she put the bead in a small basket. After work, when she was eating at the supermarket's food zone, Han heard about a customer who had reported dropping a diamond at the supermarket.
Han thought that the "bead" that she had picked up earlier was the diamond, so she gave it to the supermarket's manager.
Taking the stone to a jeweler's at the supermarket for checking, the 'bead' was confirmed as a diamond worth of more than VND150 million ($7,500). Checking the camera in the supermarket, Thien was determined as the one who dropped the diamond.
Thien said that while trying clothes at the supermarket, the diamond fell out of her ring. 
Mai Lan