VietNamNet Bridge – Ms. Nguyen Thi Dinh, 76, is considered the person who has the longest hair in Vietnam. Her hair is over five meters long. Since the age of 19, Dinh has never cut or wash her hair.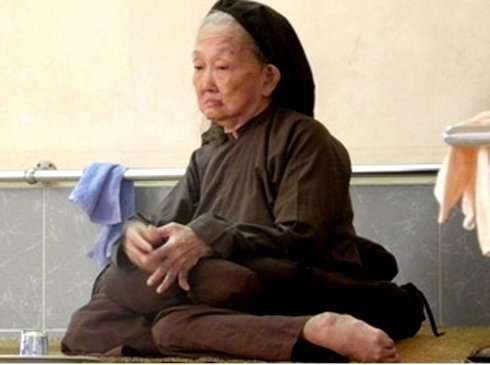 Ms. Dinh's 5-meter hair is covered by a cloth bag.
Ms. Dinh now lives at the Hue Phuoc temple in the southern province of Ben Tre.
The temple's Venerable Thich Tri Duc says that many people go to his temple to not only worship Buddha, but also to see Ms. Dinh's extraordinary hair.
The monk says that the temple sometimes welcomed up to 400-500 visitors a day. On average, around 200 people go to the temple each day.
There are many "legends" about Ms. Dinh. Some people believe that it is a miracle that her white hair is still sweet-smelling, though she has not washed it for nearly 60 years.
Ms. Dinh is a woman of very few words, with a kind face. She always asks visitors to not take photo or film nor touch her hair. She says that she feels tired when hundreds of people come to see and try to touch her hair every day.
Venerable Thich Tri Duc says that some local people took advantage of Ms. Dinh to sell tickets to visitors and to perform superstitious acts.
The local chief of police Phan Thanh Nhan affirms that Ms. Dinh is a normal woman. She is only special to not cut or wash her hair the age of 19.
Nam Nguyen