VietNamNet Bridge – People often say it's not easy to change one's habits, but a man from Cu Pua Village in the central province of Quang Tri has succeeded and inspired others to follow.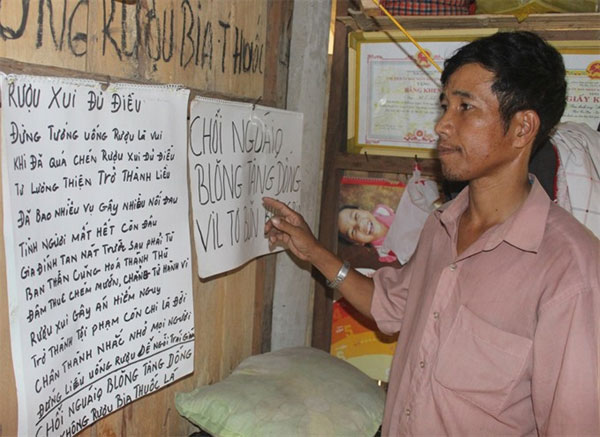 A big sign that says "No drinking at home – Drink-free village" is hung at a prominent spot in Ho E Not's house. - VNS Photo Duy Loi
Ho E Not, 44, said the villagers in Dakrong District used to consider tobacco and alcohol indispensable. Most men and women smoked cigarettes and drank alcohol, whatever the occasion. "It had become a custom. Drinking when celebrating new crops, at weddings and funerals," he said.
Not was no exception. At the age of ten, he started smoking and drinking, growing addicted to both.
After getting married, Not continued drinking every day. To have money for alcohol and tobacco, he didn't hesitate to sell the little rice left in the family rice basket.
Until one day he saw his children crying out of hunger. He also started noticing that many people suffered poverty and traffic accidents as an effect of alcohol abuse, and his conscience was awakened, Not recalled.
"Villagers trusted me as I was the only person in the village that had finished the sixth grade (out of 12). I also inherited my father knowledge in curing normal diseases like dysentery, digestive disorders, gastritis and colitis."
Thus, he decided to give up smoking and drinking to set a good example.
Ghosts in forest
Since 2002, he has been serving as the village health official and is determined to build a village free of alcohol. A big paper sign with the motto "No drinking at home – Drinking-free village" hangs in a prominent spot in the middle of his house.
Everything did not go smoothly at the beginning. Many people considered him crazy.
He set out to convince villagers of the harmful effects of tobacco and alcohol. At public gatherings he explained that smoking and drinking were the main reasons for chronic diseases such as liver and lung cancer. Contrary to their belief, "ghosts in the forest" were not the cause, he told fellow members of the Van Kieu ethnic minority.
Besides, smoking and drinking accounted for much of the family expenditure, he said, adding that the money should be spent wisely.
Thanks to his efforts, the number of addicts dropped substantially. Many have copied the "No drinking at home – Drinking-free village" sign and it now hangs in almost every house.
Apart from dissemination of information about the harmful effect of smoking and drinking, Not worked with other village elders to issue regulations for smokers and drinkers. Accordingly, their families were cautioned and told they would not receive State support if they violated the rules.
To encourage compliance, gifts were handed out by local authorities.
Women rejoice
Ten years have passed. 
Cu Pua villagers are no longer seen drinking. Soft drinks are offered at weddings, funerals and festive holidays and Ho E Not is a local hero.
Overjoyed at their husbands' devoting time to cultivation to increase the family's income, women in the village voted him the head of the Cu Pua Village Women's Association.
Not's contribution to the village did not stop with his teetotaling campaign.
Seeing villagers walking over 1 kilometre to the national road No 9, he has mobilised villagers to contribute VND68 million ($3,000) to widen and pave the road, helping ease transportation access.
Not has donated over 2,000 sq.m of land to build a primary school and kindergarten, as well as community houses for villagers. "I have no money so I decided to donate land. Although my children have grown up, children of other villagers can learn at the schools," he said.
"Thanks to Not's efforts, Cu Pua has become the only smoke and drinking free village in Quang Tri Province," said  Ho Van Phoi, head of Cu Pua Village. The number of traffic accidents had declined since villagers don't drink on festive occasions and holidays.
"The lives of the villagers have changed," Phoi said.
With 15 years devoted to improving villagers' living condition, Ho E Not has been granted dozens of certificates of merits. He also had a chance to report his experience at a ceremony to honour village heads and elders who made outstanding contributions to the cause of national construction and defence.
Commenting on the role of heros like Not, Trieu Hong Son, a former official of the Committee for Ethnic Minority Affairs, said village heads and elders play an important role in raising people's awareness of long-embedded habits. They understand the community's culture, speak the same language and have the same customs, making it easier for them to persuade others, he explained.
"Village heads and elders disseminating information about State policy, legal and social issues have a strong impact on villagers as they are the best example and the most effective 'bridge'," he said. 
Bui Duy Loi
VNS