VietNamNet Bridge – Water levels are rising quickly in areas adjacent to Cambodia in Dong Thap Province, weather forcasting and local authorities have reported.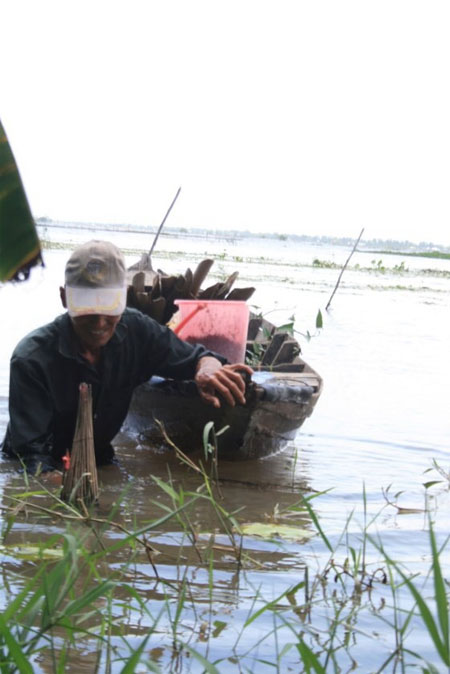 Farmers and fishermen in the Mekong Delta are prepared to work hard during the upcoming flood season. Photo sggp.org.vn
According to the National Hydro Meteorological Forecasting Centre, the water level is currently 2.33 metres at Tan Chau Station at the Tien River and 1.95 metres at Chau Doc Station at the Hau River, 0.2-0.3 metres higher than the same period last year.
The water level is forecast to reach its peak of 2.9 metres at Tan Chau and 2.45 metres at Chau Doc today and tomorrow, respectively, about a half metre higher than the same period last year.
Farmers and fishermen have been waiting for the annual flooding season to earn more money as the water is expected to wash away saline residue and protect aquatic resources.
Farmers living in coastal areas in Ca Mau, Bac Lieu, Soc Trang and Kien Giang provinces are relieved that water is slowing from the Mekong River as they will not have to face drought or saline intrusion, which occurred last year with devastating consequences.
For the last few days, farmers have been catching linh fish, a specialty caught during the flooding season in the Mekong Delta.
Pham Ut, 70, who lives in Dong Thap Province's Hong Ngu District, which borders Cambodia, said the soil had become impoverished this year.
Ut usually plants three crops a year, but he decided to plant only two crops this year to wait for the water to enter the closed embankment, as required by district authorities.
"For many years, farmers who grew three crops a year faced low productivity because of the exhausted soil, and the fishery resources also became depleted. I hope the flood season this year arrives soon so we can take advantage of it," Ut said.
In the past, farmers in the Mekong Delta struggled to find ways to "live with the floods", including resettling to other areas, if necessary.
To cope with flooding, the government has issued many policies to give loans to farmers to rebuild or improve their houses.
Closed dikes have also been built to help farmers protect their rice fields from flooding.
However, water from the Mekong River has been decreasing in recent years in Delta.
For many years, the region has had no flood season, causing a decline in fishery resources and production losses.
Traditional crafts such as knitting nets and building of fishing boats have also become rare.
Ut and many farmers like him in the Mekong Delta are concerned that countries through which the Mekong River traverses are continuing to build dams at a fast pace, causing unpredictable impacts on the lower Mekong River. 
VNS