Tens of flights in Vietnam will be adjusted to avoid the storm Sonca which is making landfall in several northern central provinces according to local airlines.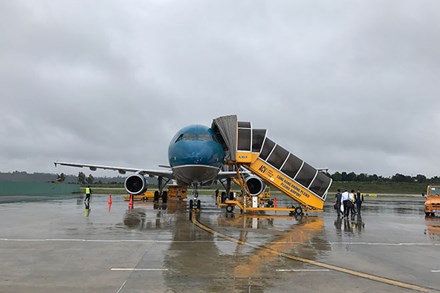 A Vietnam Airlines plane.
The national flag carrier Vietnam Airlines (VNA) and the Vietnam Air Services Company (VASCO) have announced that they will adjust flights at Tho Xuan, Vinh and Dong Hoi airports on July 25 to ensure safety as the storm is forecasted to strike provinces from Thanh Hoa to Quang Binh.
VNA will cancel four flights between HCM City and Vinh City, two flights between Hanoi and Vinh and two between HCM City and Thanh Hoa City. Two other flights, VN1264 and VN1265, between HCM City and Vinh City will take off two hours and 45 minutes earlier than scheduled.
Vasco will cancel two flights, 0V8591 and 0V8590 between Hanoi and Dong Hoi cities.
According to the airlines, the cancelled flights will be moved on July 26. But they also said that it would depend on the weather and advised passengers to closely keep informed.
Dtinews