VietNamNet Bridge – Participants at a conference about developing transport infrastructure in the northwest region on Thursday in Ha Noi agreed that transport infrastructure construction has not met demand and thus has not yet created strong foundations for economic and social development.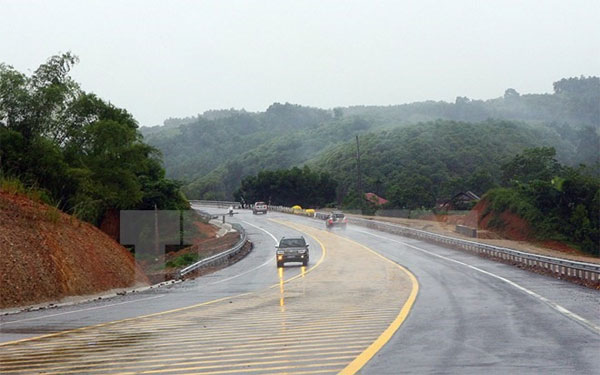 The highways connecting Ha Noi with Yen Bai and Lao Cai, Thai Nguyen and Bac Giang have been completed and put into operation. — Photo: VNA/VNS
Nguyen Van Binh, head of the Party Central Committee's Economic Commission, underscored the significance of the effort to complete important transport projects in the past, saying that such work will fuel socio-economic development and ensure national defence-security in the region and the country. 
However, he said there were still a number of shortcomings regarding the region's transport infrastructure, with many becoming degraded and not yet proven to be socially and economically efficient. Many projects are lagging in terms of progress, causing difficulties for localities.
Deputy head of the Steering Committee for the Northwestern Region Nguyen Canh Viet said due to its geographical characteristics, the northwest region often experienced heavy rains and landslides. Thus it is often difficult to conduct construction work and maintain transport infrastructure.
He said road transportation plays the most important role in the region with 3,718 out of 6,730km of national highway completed. 
The highways connecting Ha Noi with Yen Bai and Lao Cai, Thai Nguyen and Bac Giang have been completed and put into operation while projects on the construction of Hoa Lac – Hoa Binh and Thai Nguyen – Cho Moi roads are underway. 
Meanwhile, railway, waterway and aviation transportation remain limited. With a total length of nearly 700km, the railway system is yet to meet demand. 
Binh agreed with nine measures and recommendations by ministries, agencies and localities to develop regional transport infrastructure between now and 2020. 
Binh stressed the need to accelerate the building of highways linking Hoa Lac and Hoa Binh, Thai Nguyen and Bac Kan, Bac Giang and Lang Son City in the Build-Operate-Transfer (BOT) model. The State Bank must direct commercial banks to offer more loans to the Hoa Lac – Hoa Binh project. 
The transport ministry must improve procedures to build routes linking northern mountainous provinces with the Noi Bai – Lao Cai highway, accelerate negotiations on projects using official development assistance between now and 2020, including Lai Chau – Yen Bai, Yen Bai – Ha Giang and Lang Son – Cao Bang roads. 
It was asked to direct ministries and agencies concerned to soon complete procedures to launch the construction of the Lang Son City – Huu Nghi border gate highway. 
The ministry was assigned to partner with the ministries of planning and investment, and finance to arrange funding for the upgrade of Dien Bien airport and consider building Lao Cai airport in BOT model. 
Binh also agreed with a waterway upgrade plan, focusing on Viet Tri – Yen Bai route. 
The Vietnam Railways Corporation was urged to renovate technology, improve services and effectively tap existing railways in the region. 
VNS