The clinic where the US man died while undergoing excess skin removal in HCM City does not have permission for carrying out the surgery according to the local Department of Health.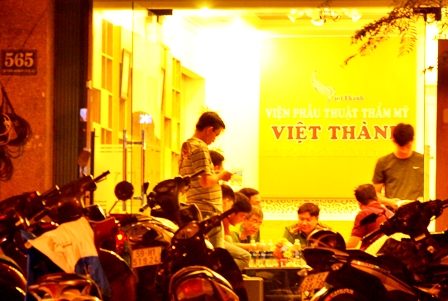 Police investigates the death of an American man while having cosmetic surgery at Viet Thanh Beauty Clinic in HCM City on July 19.
The department confirmed on Thursday that Viet Thanh Beauty Clinic at 565 Su Van Hanh Street in District 10 did not have permits which allowed it to carry out the surgery but it violated and caused the death of the 53-year-old American man, Edward Hartley on July 19.
The clinic has been temporarily suspended for the violation, the department said.
According to the clinic's owner, doctor Nguyen Viet Thanh, Edward Hartley came on July 19 morning and said he wanted to remove excess skin near his waist and back after losing some 40 pounds. After checkups, doctor Thanh told him to come back at 4pm for the surgery.
But 15 minutes after the staff at the clinic gave him an injection before the surgery, the man suddenly had convulsions and fainted.
Thanh and his staff immediately carried out emergency procedures and called for support from doctors at nearby Trung Vuong Hospital who came after 20 minutes but the man died at 5 pm the same day.
The man's body has been taken to HCM City Forensic Medicine Centre for investigation.
The papers and equipment relating to the surgery of the man has been seized for further investigation.
dtinews