VietNamNet Bridge – For Doan Thi Hoa, happiness is seeing the smiles of her students overcoming their disabilities to work and earn a living.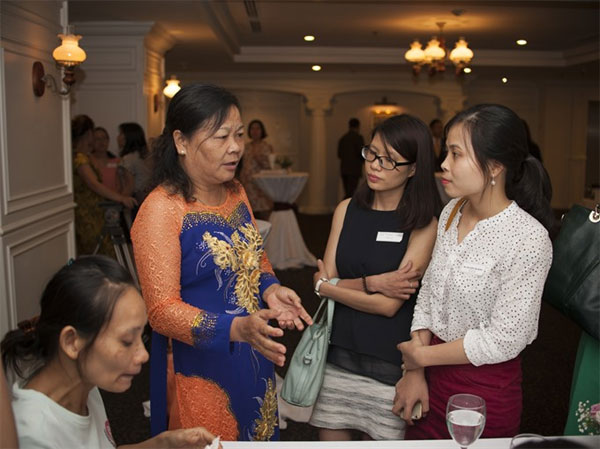 Doan Thi Hoa talks to guests, following the ceremony launching the collaboration of her Charity Vocational Training Centre with Sunway Hotel Hanoi last month. 
Ten years ago, many people said she was crazy in selling a 200sq.m plot of her family's garden in Thanh Trì District to establish a vocational training centre for the disabled nationwide. But she has never regretted the decision.
Valuable skills
Hoa was a true farmer. She spent days working in gardens and rice fields to earn her living. Life was difficult but ever since she was young, she played an active role in charity activities by giving free lessons to physically disabled children in Ha Noi. She was haunted by the images of innocent children suffering and dreaming of escaping poverty despite physical disabilities.
A trip to HCM City ten years ago changed her life.  
"I went to HCM City to offer gifts to disabled children. And then I asked the children: 'Are you happy to receive gifts?'" Hoa says.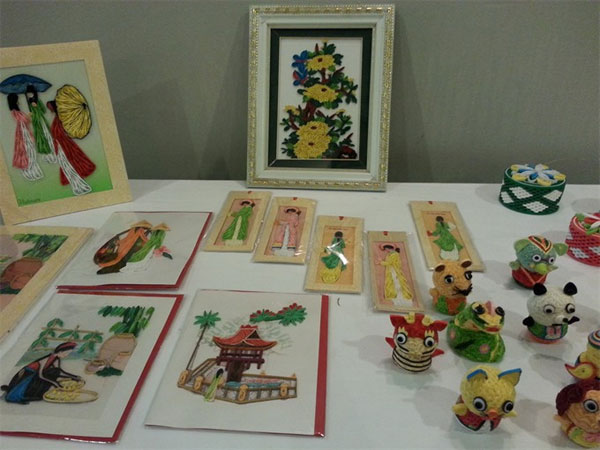 Delicate art: Some quilling (paper filigree) products made by disabled students from Quynh Hoa Vocational Training Centre. 
One child answered: 'We are very happy, but we know that we can't continue receiving gifts like this, the gifts will run out. So we dream of having a job to earn a living'.
"I kept thinking about the child's answer. I asked myself what I could do to turn their dreams into reality," she confides.
And then, she had the idea of opening a vocational training centre for disabled children with her modest savings.  
Initially she faced opposition to the project from her family, but after witnessing her determination they relented and agreed to support the good cause. 
In August 2007, the Quynh Hoa Charity Vocational Training Centre was founded on her family's land in Thanh Oai Village, on the outskirts of Ha Noi.  The centre is comprised of two areas: A 112sq.m workshop and an area covering 67sq.m to provide accommodation for her students.
She borrowed VND35 million (US$1,540) from her relatives to buy a sewing-machine and other necessary equipment to teach jobs to the first 15 disabled students, coming from Huu Hoa Commune and neighbouring regions.  
"At first, my husband was unfamiliar with the fact that many new people were living in the house. Family life has undergone a lot of changes. But after some time, the students became closer to my family and now we miss their laughter whenever they are absent from our home," Hoa says.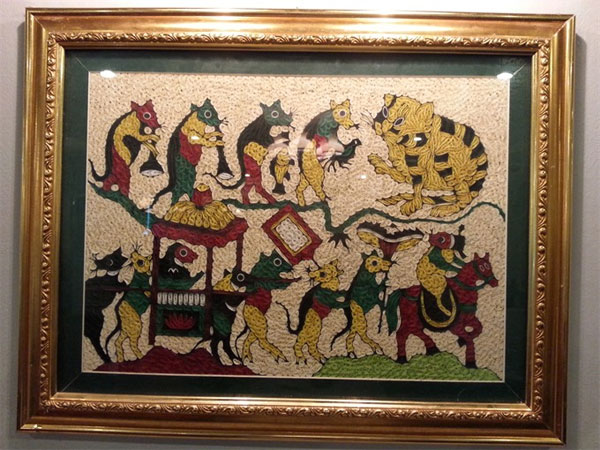 Talented artists: A painting titled "The wedding of mice" made by quilling (paper filigree) by the disabled students at the Quynh Hoa Centre.
She studied jobs that she could teach to her students: sewing, embroidery, making silk flowers, and votive papers.
The centre struggled at first. Products made by the students could not be sold. To be able to continue to feed them, and teach them, Hoa was forced to sell another corner of the garden.
Hoa says that later, thanks to the determination of both teachers and children at the centre as well as support from the authorities, charitable organisations, donors, companies, university students and the media, the centre managed to overcome their financial trouble.
The centre currently houses 60 students aged from 10 to 40 years old. It provides vocational training, career orientation and job opportunities to underprivileged children and adults from all over the country, including the children of Agent Orange victims, disabled and homeless youngsters. All training courses are free, covering a broad range of skills such as sewing, embroidery, silk flower making, knitting, mat making, etc.
In 2010, quilling (paper filigree) was added to the centre's training curriculum and became a popular skill among the students. They make quilling products such as pictures, cards and jewelry boxes, which have become popular among both domestic and foreign customers.  This helps them earn their own living.
Hoa has tried hard to find a market for their products. Most recently, she cooperated with Sunway Hotel Hanoi to sell the students' quilling crafts. From June, these products have been selected and presented as souvenirs to customers in the hotel and are on display in the hotel lobby.
"I am deeply touched by the kindness and generosity of Hoa when she devotes herself to helping unlucky people," says Leslie Chiyoma, Sunway Hotel Hanoi's general manager, explaining why he chose this centre for this cooperation project.
Second mother
More than just a teacher, Hoa is a second mother to her students.
Pham Thi Be, 40 years old, said that she was among the first students at the centre.
"Here life is very good. I have a job, a house, and a family."
She has also managed to save money.  
"With a card sold at VND20,000 (80US cents), I can keep VND4,000 for myself. I don't have to pay for meals and accommodation. It's Hoa who has provided us with everything," she says.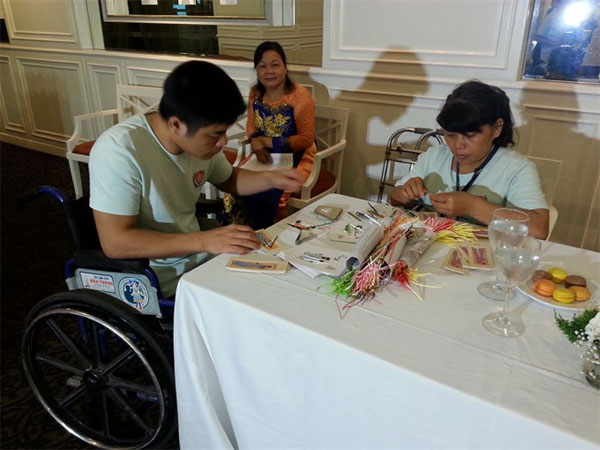 Earning a living: Some students from Quynh Hoa Vocational Training Centre create quilling (paper filigree) products.
Nguyen Van Dat, 20, gets around on his wheelchair and says that he wants to stay here for a very long time as he appreciates Hoa and his living.
"She takes care of us as if we are her children. She taught me important skills and made me believe in myself. I feel much more confident now," he says.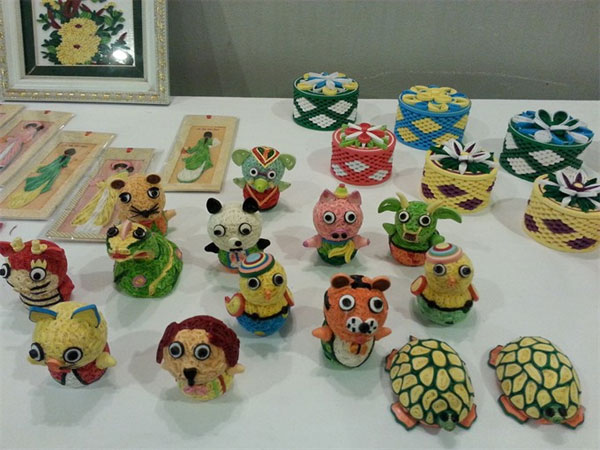 Colourful creatures: Some quilling (paper filigree) products made by disabled students from Quynh Hoa Vocational Training Centre. – Photos: Bach Lien/VNS
Bach Lien
VNS