Hundreds of women are seeking out fake wedding and husband-for-hire services to avoid societal pressure to get married.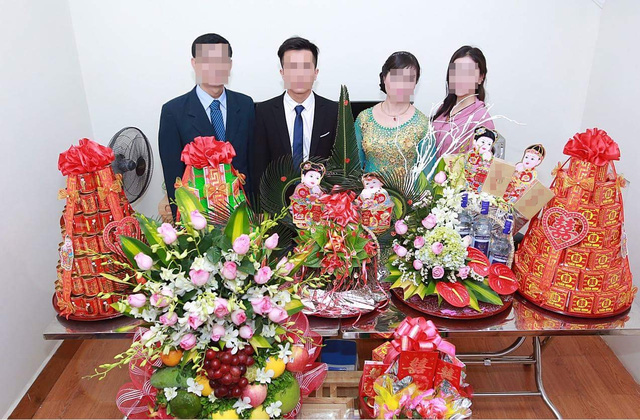 A fake wedding costs hundreds of millions of VND
The prices are varied depending on the customers' requirements but usually cost hundreds of millions of VND to hold a proper wedding with the groom-for-hire and extras as his family and relatives.
Nguyen Xuan Thien, a service provider in Hanoi, said he held 100 fake weddings and about 300 grooms were hired each year. Customers must pay VND30m (USD1,300) to VND100m for a complete package or VND1m to VND3m a day to hire a husband.
The customers will be required to sign a contract clarifying that they are not allowed to have sexual intercourse with their hired husbands. Of course, the weddings are not legally recognised. The service provider will write a story for each customer and provide new names, phone numbers and Facebook addresses for the husbands.
The men must meet various requirements from customers such as having good manners, education and good look. "Depending on the case we hire different actors. For example, a wealthy family will have higher demands. The groom's father and mother must also have good education and jobs," Thien said.
Before the wedding, the hired grooms and the customers will rehearse the scripts and the grooms' houses must be at least 100km away from the customers' houses. The customers can end the service after their weddings or continue hiring the husbands for special occasions later.
"Our warranty is ten years. But the daily price later will be high depending on the request," Thien said.
Thien agreed that this is an unusual and controversial service. However, his customers suffer. Most women who seek out this service have unwanted pregnancies, were betrayed by their lovers or are lesbians and want to avoid stigma in their hometown.
"There was a woman who was already in the fifth month of pregnancy when suddenly her lover married someone else. Her family told her to abort the child or get married. She came to us at the end so that her child wouldn't be fatherless and she could keep face for the family," Thien said.
In another case, a lesbian woman came out unsuccessfully to her old-fashioned family. She was forced to get married and sought out this service.
Despite nine years of experiences, Thien said they still faced unexpected situations like forgetting the bribe's name. There are many times the customers' families caused trouble after finding out the truth.
Two brothers of a bride tried to destroy the office in 2010 because they thought their sister had been scammed. They were shocked after finding out that their sister had an unwanted pregnancy with a married man.
In most cases, the customers will try to talk and tell their families the truth after giving birth. 
"The existence of this service just shows how severe the prejudices are. If those women hadn't had fake weddings, they would have had to abandon their children or move somewhere else far away," Thien said.
dtinews