Hoi An prepares for int'l silk and brocade festival
The central town of Hoi An is preparing for the 2017 International Silk - Brocade Festival at Silk Village from June 11 to 13 to honour artisans, traditional craft villages and famous silk and brocade making sites at home and abroad.
Part of the sixth Quang Nam Heritage Festival, it will see silk producers from Vietnam, China, the Republic of Korea, Japan, Thailand, Italy, Germany, Australia and France showcasing their latest silk and brocade products.
Local and foreign designers are expected to introduce their new fashion collections at the event.
Visitors will also have the opportunity to watch silk fashion shows featuring 18 collections by local and foreign designers.
The sixth Quang Nam Heritage Festival will take place from June 7 to 14 in the towns of Tam Ky and Hoi An and some other parts of the province.
It will include an international chorus contest from June 7 to 11 featuring more than 1,000 artists from 10 countries and territories, an international kite festival from June 8 to 11, the Quang Nam Heritage Fair from June 9 to 14, the World Windsurfing Championships from June 11 to 14,  and an international food festival from June 12 to 14.-
Thai Binh removes 250 kg wartime bomb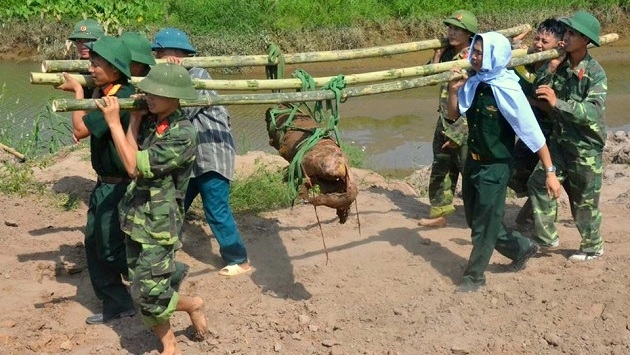 Sappers in the northern province of Thai Binh safely defused a 250-kg bomb left from wartime on June 5.
Local residents in Hung Ha district's Cong Hoa commune found the bomb on June 4, when upgrading a dyke section along the Luoc River.
After receiving information on the whereabouts of the explosive device, local authorities had laid siege to the dangerous area and deployed troops for safeguarding.
The bomb was moved to a safe place on the same day and defused the next day.
An estimated 800,000 tonnes of unexploded bombs and mines leftover from wartime are buried over 20 percent of the country's territory, mainly in the central region, according to the Ministry of Labour, Invalids and Social Affairs. Leftover wartime bombs and mines have claimed about 42,130 lives and injured 62,160 others across Vietnam.
It is estimated it will take 100 years and 10 billion USD to clear post-war mines remaining in Vietnam, the ministry said. 
The Vietnamese government approved a 2010-2025 national programme on tackling post-war bombs, mines and unexploded ordnances on April 21, 2010, known as Programme 504. Its goal is to use national and international resources to minimise the effects of UXOs on social-economic development, defence and security, while ensuring safety for people and helping victims reintegrate into society.
Seminar spotlights 55 years of Vietnam-Laos special ties
A seminar was held in Phan Thiet city, the south central province of Binh Thuan, to look into the five and a half decades of the special friendship and comprehensive cooperation between Vietnam and Laos.
The event was held by the Ho Chi Minh National Academy of Politics, the Vietnam Academy of Social Sciences, the National Academy of Politics and Public Administration of Laos, and the Lao Academy of Social Sciences.
Deputy Director of the Ho Chi Minh academy Le Quoc Ly said in the initial period of the fight against colonialism, the two countries formed a military alliance to combat the common enemy. Volunteer soldiers of Vietnam came to join the Pathet Lao armed forces in the struggle. 
The two sides' undaunted fighting spirit, sacrifice and close coordination took the countries' resistance war against colonialism to glorious victory, which was marked with the signing of the Geneva Accords in 1954, he noted.
Thongsalith Mangnomek, Director of the Laos's National Academy of Politics and Public Administration, said the Lao People's Revolutionary Party and the Communist Party of Vietnam have maintained solid relations as seen in the issuance of harmonious policies on the countries' solidarity. The cooperation and special solidarity between the two Parties and States are flourishing with the assurance of leaders of both countries.
In the face of complex and unpredictable global situation and each country's development demands, Vietnam and Laos give the top priority to promoting their traditional friendship, special solidarity and comprehensive cooperation to a new level under the motto of pragmatism, quality and effectiveness. 
They also agreed to bring economic ties on a par with the sound political relations, and enhance Government-to-Government, locality-to-locality and business-to-business partnerships to boost connectivity and mutual support between the two economies, he added.
It was reported at the seminar that Vietnam's investment in Laos has amounted to nearly 4 billion USD since 1989. Bilateral trade exceeded 800 million USD in 2016. Vietnam has continually supported its neighbouring country in poverty reduction and national development. The two sides have also worked to bolster transport connectivity and facilitate trade and investment cooperation.
Kien Giang strives to develop sustainable tourism
The southern province of Kien Giang has stepped up efforts to turn tourism into its key industry by 2020.
According to the provincial Tourism Department, Kien Giang welcomed more than 2.4 million tourists in the last five months, 42.4 percent of year's plan and up 3.6 percent year-on-year. Of the number, foreign visitors increased more than 13 percent.
Kien Giang hosted the National Tourism Year - Phu Quoc - Mekong Delta in 2016, which helped the province to improve its tourism products and attract more visitors.
Tran Chi Dung, head of the department stressed that the province is striving to build on the momentum from the National Tourism Year. The province has called for more investment as well as improvement in services and human resource quality, along with building tourism products.
In the first five months of 2017, more than 850,000 tourists came to the province's Phu Quoc island, a rise of 30 percent year-on-year, said Huynh Quang Hung, Vice Chairman of the People's Committee of Phu Quoc district.
Phu Quoc is expected to receive about two million people this year, mostly during Miss Grand International 2017 in October, Christmas and New Year 2018, Hung added.
Kien Giang province has built its tourism brand as a safe and friendly destination for domestic and foreign visitors. It also hopes to complete a tourism development plan and implement essential infrastructure.
In addition, the province has focused on mobilising resources to improve key tourism zones and repair local relics, as well as build more cultural and sport centres.
Quang Ninh: two historical places named national relic sites
Don Cao Dong Trieu (Dong Trieu military post) and An Bien Temple in Dong Trieu town, the northern province of Quang Ninh were recognised as national relic sites at a ceremony held in the locality on June 4.
The event was organised to celebrate the 72nd anniversary of the Fourth Revolutionary Base-Tran Hung Dao base or Dong Trieu Base (June 8, 1945).
At the ceremony, Deputy Minister of Culture, Sports and Tourism Dang Thi Bich Lien noted the historic values of the two relic sites. 
An Bien Temple was built to commemorate General Le Chan, a native Dong Trieu woman, who contributed to the two Trung sisters (Hai Ba Trung)' uprising against Han Chinese invaders in 40 B.C.
Meanwhile, Dong Trieu Base was important in the period before the August Revolution.
Some of Don Cao Dong Trieu has been destroyed. The remainders include houses of French soldiers, prisons, blockhouse systems and tunnels.
Dong Trieu has huge potential to develop cultural and spiritual tourism, the deputy minister stressed, adding that Dong Trieu town and Quang Ninh province need to improve communication works to raise public awareness of protecting historical relic sites so the sites can become tourist attractions.
Pu Luong Nature Reserve protects rare animals
The management board of Pu Luong Nature Reserve in Bac Thuoc district, north central Thanh Hoa province, has implemented a research project to preserve the Asian black bear and palm civet between 2017 and 2019.
The project aims to record the number and distribution of the two animals, food resources and possible threats to devise measures to move them off the list of endangered species.
Director of the management board Le The Su said the three-year-old project will invite experts to provide inspection and preservation training for 20 officials.
A dozen workshops will be held to raise local awareness of protecting the rare animals.
The number of Asian black bears and palm civets at Pu Luong has declined due to illegal hunting and deforestation.
An Asian black bear weighs 80-180kg with round-shaped ears, a white V-shaped chest and a short tail.
A palm civet has a pale yellow or buff-grey body with 4-5 black bands on its back.
WB approves 72.52 million USD loan for Da Nang infrastructure
The World Bank (WB) has approved a loan of 72.52 million USD for infrastructure projects in the central city of Da Nang from its International Development Association.
The city said the fund would help support the city's infrastructure projects, including a separated sewage discharge system for coastal tourism sites of My An and My Khe area in Son Tra Peninsula.
The fund will also support integrated bus and Bus Rapid Transit network and Intelligent Transport System (ITS) projects and upgrades to the bypass road system of the Da Nang-Quang Ngai Expressway in Hoa Vang district.
The city also asked the WB to increase its funding for wastewater treatment and drainage channel projects.
The city's efforts to treat wastewater have been lacking, with seven of 15 wastewater gates discharging water into the sea untreated.
Da Nang has met deadlines for development projects funded by the WB over the past many years.
In 2013, the WB agreed to provide 202 million USD for a 272-million USD sustainable development project to help improve the city's Bus Rapid Transit network, build new roads, and revamp the existing drainage system.
Charity gala raises support for children with heart diseases
A charity gala in Hanoi on June 4 raised more than 21 billion VND (924,800 USD) to support disadvantaged children with heart diseases.
The event, held by Vietnam Television (VTV) and military-run telecommunications group Viettel, was part of the VTV's Operation Healthy Heart programme, now in its ninth year. It took place amidst the Action Month for Children, drawing officials, doctors and philanthropists.
Speaking at the gala, National Assembly Chairwoman Nguyen Thi Kim Ngan said the programme has given a bright future to poor children with congenital heart diseases.
She also applauded donations from VTV's Tam long Viet (Vietnam's heart) fund, Viettel and domestic and foreign sponsors who have funded 120 billion VND (5.28 million USD) for heart surgeries for 3,500 disadvantaged children over the past nine years.
On the occasion, the "Operation Healthy Heart" programme and the Vietnam Red Cross Society launched a texting campaign until July 13 to call for assistance for the children. People can send their support by texting "TTCE" to 1409, with each message donating of 18,000 VND (0.8 USD).
The programme expects 3,000 children to receive surgeries and 30,000 others to have heart disease screening from now to 2020.
Statistics from the World Health Organisation show that there are 44,600 children under six years old with congenital heart diseases in Vietnam. About 60 percent of them are from low-income families.
Some 8,000 – 10,000 children are born with congenital heart diseases in Vietnam each year. Fifty percent of them have serious diseases and need immediate surgery.
General Association of Vietnam-Belgium convenes congress
The General Association of Vietnam-Belgium (GAVB) convened its Congress at the Vietnamese Embassy in Brussels, Belgium on June 4.
In his speech at the event, Ambassador to Belgium Vuong Thua Phong lauded the GAVB's efforts to develop relations with both domestic and foreign organisations and maintain sound cooperation with the authorities of the host country.
The Vietnamese Embassy in Belgium is always ready to support the association's activities, he said.
The ambassador suggested that the GAVB promote communication works to attract more Vietnamese overseas in the coming time, and praised the association's plan to set up chapters in Belgium's localities to expand its activities.
In its 2014-2017 tenure, the GAVB paid special attention to connecting with associations of Vietnamese people in other European nations like Germany, the Czech Republic and the Netherlands. It also organised many cultural and sport activities for he Vietnamese community in Belgium.
At the congress, Vietnamese expats suggested the association should have its official headquarters to facilitate its activities.
A new executive board with nine members was elected at the congress with Huynh Cong My re-elected as Chairman for the GAVB's new tenure.
Exhibition spotlights Vietnam's sea, island culture heritages
An exhibition on Vietnam's sea and island culture heritages opened on June 9 in Tam Ky city as part of the 6th Quang Nam Heritage Festival 2017.
The event is designed to provide visitors an overview on Vietnam's sea and islands throughout historical periods through a number of documents, ancient maps, records of the Nguyen Dynasty affirming Vietnam's sovereignty over Truong Sa (Spratly) and Hoang Sa (Paracel) archipelagos. 
Also on display are ancient items featuring the country's sea and island cultures as well as festival costumes and working tools of people in coastal regions, helping visitors gain a better understanding about the life of fishermen. 
In addition, cultural heritages, sea and island tourism, folk performances and sea products of coastal localities are displayed at the exhibition, jointly held by the Ministry of Culture, Sports and Tourism, the People's Committees of Quang Nam and central coastal localities.
The event, which runs through June 14, also provides an opportunity to localities to accelerate cultural exchanges and share experience in managing cultural activities, while promoting Vietnam's cultural values as well as sea and island tourism potential.  400 role models nationwide commended at Hanoi ceremony
A commendation ceremony for 400 exemplars in various fields across Vietnam was held by the Central Council for Emulation and Reward in Hanoi on June 10.
Vice President Dang Thi Ngoc Thinh, First Vice Chairwoman of the central council, said the emulation movement has spread among people from all strata and in all spheres, which has helped the nation to successfully carry out socio-economic development tasks.
She said the 400 role models, introduced by localities, ministries, sectors and central organisations, represent millions of collectives and individuals nationwide who are devoting themselves to their work and study, thus substantially contributing to national development and protection.
About 88 percent of the honoured models are individuals while the remaining are collectives.
The role models come from all walks of life, from farmers who excel in their farm work, war veterans who have helped one another escape poverty, and outstanding workers. Notably, there are many young talents who were born in the 90s and are dynamic in the country's integration period.
The oldest among the exemplars is the 71-year-old Vu Van Thuan, who made outstanding contribution to the new-style rural area building in Hai Duong province. The youngest is Huynh Hoang Khanh, 14, who is an excellent student inventing a number of useful ideas at the Him Lam Ethnic Minority Boarding School of Hau Giang province.
In his speech, Party General Secretary Nguyen Phu Trong said aside from the 400 role models at the ceremony, there remain countless unsung examples in numerous areas across the country.
They are driven by patriotism, the resolve to enrich themselves and the homeland, and the aspiration to grasp new scientific and technological knowledge, he said, describing them as the core of the emulation movement.
He also asked the Central Council for Emulation and Reward, ministries, sectors, localities, the Vietnam Fatherland Front and organisations at all levels to launch widespread emulation movements to arouse people's patriotism and national pride.
Action month urges joint efforts to assist drug users
A ceremony was held in northern Bac Giang province on June 10 to launch the Action Month for Drug Prevention and Control, calling for joint efforts to assist drug users.
The event is also Vietnam's response to the International Day Against Drug Abuse and Illicit Trafficking (June 26).
This year's action month aims at intensifying drug prevention, control and detoxification, urging more attention to and less discrimination against drug addicts, and encouraging the community to support drug addicts in rehabilitation and integration.
In his opening speech, Minister of Labour, Invalids and Social Affairs Dao Ngoc Dung said the drug situation remains complicated, noting that there are more than 210,000 drug users nationwide, over 70 percent of whom are under 35 years old and 35 percent have previous convictions and offences.
Drug production and trafficking are increasing, and the use of synthetic drugs is surging among young people, he added.
Deputy Prime Minister Truong Hoa Binh said one of the causes behind the drug problems is the inconsistent viewpoints and low awareness of authorities and people on drug abuse and detoxification. The incomplete legal system and relevant mechanisms and policies for the work also hinder the drug fight, while communication activities have not achieved desired effectiveness. 
He added that the mobilisation of domestic and foreign resources for the drug fight failed to meet demand.
The Deputy PM requested ministries and sectors to fine-tune relevant mechanisms and policies, and enhance educational campaigns to raise public awareness and encourage people to denounce drug crime. Meanwhile, grassroots authorities need to help drug users to rehabilitate and integrate into the society.
He also called on businesses, organisations and religious followers to support drug combat efforts and provide jobs for rehabilitated persons.
After the ceremony, hundreds of officials and civil servants of Bac Giang province took part in a parade to convey the messages of the Action Month for Drug Prevention and Control and the International Day Against Drug Abuse and Illicit Trafficking.
Toll exemption for certain vehicles in Quảng Bình
Certain types of vehicles will be exempt from paying toll at Quán Hàu Toll Station and toll stations belong to transport infrastructure investor TASCO in the central province of Quảng Bình, said Nguyễn Văn Huyện, director of the Directorate for Roads of Việt Nam. 
The toll exemption was expected to be effective this month, according to Huyện.
Vehicles eligible for the waiver include Type 1 and Type 2 vehicles owned by permanent residents of and organisations or enterprises headquartered in districts of Quảng Ninh, Lệ Thủy and Đồng Hới City, Quảng Trạch District and Ba Đồn Town as well as public buses running on the route, he said.
Type 1 vehicles include cars with less than 12 seats and trucks weighing less than two tonnes, he said.
Type 2 vehicles include cars with 12 to 30 seats and trucks weighing from two to four tonnes.
The People's Committee of Quảng Bình Province is responsible for directing concerned authorities to identify the number of vehicles eligible for the waiver.
The decision was made following the province's request to remove toll fee for vehicles at toll stations on National Highway 1A which pass Quảng Bình Province.
Residents from Lệ Thủy and Quảng Ninh districts and Đồng Hới City have often complained to local authorities that they did not use BOT sections but still had to pay the fee.
Last Thursday locals caused a congestion on National Highway 1A for many hours when they gathered at the stations with their vehicles to protest against the high toll fee.
Provinces, cities must strengthen management of overloaded vehicles
The number of overloaded vehicles plying on roads is high because of the mismanagement by provinces and cities, Nguyễn Văn Huyện, director of the Directorate for Roads of Việt Nam (DRVN), said.
Besides this, they are not making use of the mobile weighing stations, he added.
Reports by the DRVN have shown that from April 21 until May 20, inspectors of local departments of transport used mobile weighing stations to check more than 26,300 vehicles, and discovered that more than 2,600 violated weight norms. The inspectors then withdrew more than 1,000 driving licences and imposed administrative fines of VNĐ26.6 billion (US$1.2 million).
The DRVN's hotline system received reports from residents that many oversized and overloaded vehicles were plying in different provinces and cities, damaging highways, such as the highways No 18, 1, 20 and 27.
Director Huyện has asked provinces and cities that do not use mobile weighing stations to immediately operate them, especially in the localities with main highways, including Hà Giang, Bắc Kạn, Sơn La, Bình Định, Đắk Nông and Bình Thuận.
Inspectors from the local transport departments and the Roads Management Department must strengthen their check on ports, big plants and enterprises in industrial zones and construction materials mines. They must conduct patrols regularly on roads with large number of lorries and give strict punishment to those violating the rules, he said.
Hanoi to face water shortage in summer
Hanoi is expected to face water shortage of up to 100,000 cubic meters a day during this summer, the municipal Department of Construction has announced.
The shortage is caused by lower supply from a local water plant, the department director Le Van Duc said on June 9.
All water plants in Hanoi have a combined capacity of around 925,000 cubic meters per day, according to the department.
One new facility with a capacity of 30,000 cubic meter a day was at Bac Thang Long Water Plant last year. However, this fails to increase the total capacity of the city, as the water source, the Da River, currently runs low.
With water demand normally increasing by 12% during the hot summer, it is estimated that many parts of the city will experience water shortage, the department admitted.
The shortage ranges from 70,000 to nearly 100,000 cubic meters per 24-hour period.
The affected areas include Buoi Street in Ba Dinh District and Thuy Khue Street in Tay Ho District.
Clean water supply is also expected to fall short for residents living on streets including Hang Buom, Tran Nhat Duat, Hang Tre, Hang Gai, and Hai Ba Trung in Hoan Kiem District.
Several streets in Dong Da District including De La Thanh, Lang, and Thai Thinh 2 will also be affected.
Officials of the municipal Department of Construction have asked employees of all water plants citywide to run their facilities at maximum capacity in order to alleviate the coming problem.
The department said it may supply clean water to affected areas by tank trucks, if necessary.
Landfill operator notorious for causing Saigon stench fined US$66,000
Vietnam's environment ministry has fined the operator of a major landfill site in Ho Chi Minh City more than VND1.5 billion (US$66,100) for illegally discharging sewage.
Vietnam Waste Solutions, Inc. had failed to build sewage treatment facilities and had discharged sewage that exceeded safety limits, authorities said.
The company has been ordered to treat the remaining sewage stored at the site by August.
The 138-hectare (341-acre) Da Phuoc site is about 20 kilometers (12.4 miles) south of the city center and is the culprit behind a stench that has plagued the city's southern suburbs for months.
The smell gets particularly bad overnight and during the rainy season between July and September.
Many residents, including those in the affluent Phu My Hung area, filed complaints last year saying that the stench had become unbearable.
The city's largest landfill site was put into operation in 2007 with total investment of more than US$107 million, and currently treats 5,000 tons of garbage daily.
Authorities plan to move the waste disposal facility out of the inner city to a new site that is under construction in Long An Province, about 60 kilometers away.
They have also pledged to spend more than VND1 trillion (US$44 million) over the next four years as part of broader efforts to solve the odor problem, including covering the costs of relocation and planting new trees.
The city said it will also encourage investors to provide waste management services to collect and recycle between 1,000 and 2,000 tons of solid waste per day.
Vietnamese in Qatar unaffected by diplomatic crisis: envoy
Amid diplomatic tensions between Qatar and its neighbors, Vietnamese citizens living and working there are somewhat worried but their lives "remain stable," the Vietnamese embassy has said.
Ambassador Nguyen Hoang said the embassy has been active in keeping the community updated and has "urged local people to stay calm and closely watch the developments of the situation." 
According to the embassy, nearly 2,000 Vietnamese people are living and working in Qatar, including 1,800 unskilled workers in construction companies. 
The rest works in aviation services, sanitation and beauty care. Meanwhile, nearly 20 families of Vietnamese doctors, engineers working in universities, research institutes as well as oil and gas groups, live in the capital of Doha.
Hoang said he would coordinate with Vietnamese and Qatar agencies to protect Vietnamese citizens and their properties.
A group of Arab powers cut ties with Qatar on June 5 accusing it of supporting Islamist militants and Iran, according to media reports.
Saudi Arabia, Egypt, the United Arab Emirates and Bahrain first made the move, and then Yemen, Libya's eastern-based government and the Maldives joined later. Transport links have been shut down, triggering supply shortages.
Nguyen Trung Hieu, who works in Qatar and serves as a liaison for the Vietnamese community, told VnExpress that the situation remains stable.
"I have seen no change," he said. "Last night, when our family went to supermarket, we still found ample supplies. Food prices are stable."
Qatar, a small peninsular nation of 2.5 million people that has a large US military base, has denounced the diplomatic cut-off, saying it is based on lies. It has often been accused of funding Islamists, as has Saudi Arabia.
HCM City plants trees in response to World Environment Day
The Ho Chi Minh City Department of Transport and District 2 People's Committee held a tree planting ceremony today (June 10) in response to World Environment Day.
All told, approximately 160 variegated trees were planted in District 2 at the park under the Saigon Bridge on Nguyen Van Huong Road.
Tran Quang Lam, deputy director of the HCM City Department of Transport said the planting not only responds to World Environment Day but is part of activities to turn the City into a green and clean urban metropolis.
He noted that the City plans to plant roughly 7,000 trees this year and to cover some 200,000 square metres with green trees and other vegetation over the next several years.
VEF/VNA/VNS/VOV/SGT/SGGP/Dantri/VET/VIR