In his document, Vietnamese Prime Minister ordered to have strict penalty on illicit sand exploiters.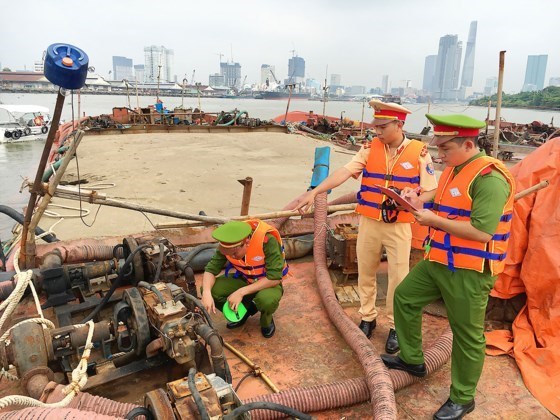 Environmental police are inspect a sand dredging boat 
Relevant agencies will prosecute some cases as examples to deter others from illegal exploitation. Local authorities will be authorized to grant sand exploitation certificates and they will be in charge of supervising and impose penalties on violators.
In addition, the PM asked to strengthen researches and manufacturing alternative materials for local demands.
When it comes to the erosion in coastal embankment in the Mekong delta province of Ca Mau, the PM said that in many years, erosion has happened seriously in many localities nationwide, especially in the Mekong delta region. By statistics, around 1,794 eroded places are reported in 59/63 cities and provinces with the length of 2,300km while it is 700km eroded places along river dykes in Mekong delta.
The Mekong Delta mangrove forests declining at alarming rate and averagely, over 500 hectare of forest in the region has been destroyed annually.
The government has sent its directive to remedy the circumstance. From 2011 till now, a large amount taken from the state budget has been spent to fix 37km eroded beach. Apart from which, VND652 billion is spent to repair 23.8km eroded places in Ca Mau.
Basically, constructions of embankments in the coastal area really worked. Nevertheless, because of asynchronous investment, several constructions were degraded; accordingly, erosion still takes place affecting people's lives and threatening the coastal embankment system and infrastructure.
It requires huge spending for erosion, salinity intrusion and mangrove forests declining in the Mekong delta according to the Prime Minister. It is an urgent mission; yet, it needs overall solution.
At first, the government directed to monitor and evacuate people to safer shelters. At the same, local administrations should not allow construction of houses in erosion-prone areas as well as tighten control over sand exploitation.
SGGP