VietNamNet Bridge – Medical experts are warning against what they see as an anti-vaccine campaign that is being waged on social media.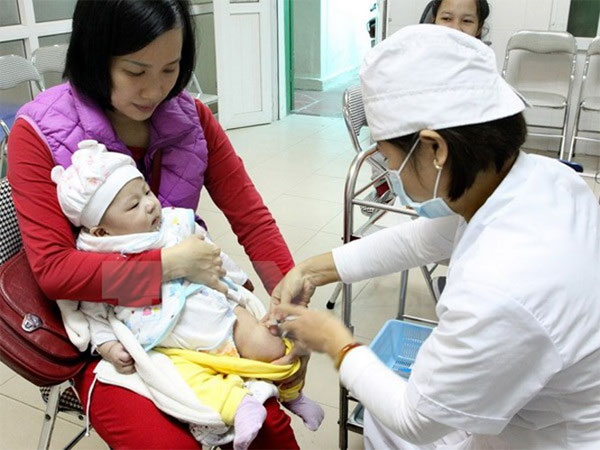 A doctor administers the Quinvaxem vaccine at the Truong Dinh Ward Clinic in the capital city's Hai Ba Trung District. — Photo: VNA/VNS 
A social media group with some 9,500 members, mostly parents of infants, has been debating whether or not to get children vaccinated. 
Many parents have expressed concerns about cases in which children have suffered abnormalities and complications after getting vaccinated, with some on them proving fatal.
On March 25 last year, a five-year-old in northern Ninh Binh Province's Yen Thang Commune died after experiencing high fever, convulsions and panic attacks five days after getting the meningococcal (against meningitis) vaccine from a local clinic.
On March 6 the same year, a four-month-old in southern Dong Nai Province's Thanh Phu Commune died four hours after getting the Quinvaxem vaccine (a combination vaccine for diphtheria, tetanus, pertussis, hepatitis B) at a local clinic.
Several parents have posted their belief that it is better to let children's immune system develop normally rather than having through vaccinations, the Tien Phong (Vanguard) online newspaper reports.
The concerns about vaccine safety have been reinforced by some severe cases of Japanese encephalitis over the last month.
These cases have seen children having epileptic attacks and even dying after being vaccinated, the report says.
Groundless fears?
However, pediatricians say such concerns and views are groundless, and likely to harm children far more than any real or imagined negative effects of vaccines.
Some 80 per cent of children being treated at Children's Hospital Number 1 in HCM City have not been vaccinated, noted Doctor Truong Huu Khanh, head of the hospital's Department of Infection and Neurology.
"Abandoning vaccines will cause a disaster of diseases," Khanh said, referring to the 2014 measles epidemic in Viet Nam, believed to be triggered by parents who did not get their children vaccinated.
"Side effects of vaccines occur in some children because each child has a different mechanism that reacts differently to vaccines," he added. "It is better to minimise the side effects than abandon vaccines."
Without vaccines, child mortality would increase and those who survive diseases would have to live with disabilities for the rest of their lives, he warned.
Dr Phan Trong Lan, director of the Pasteur Institute in HCM City, said that based on national reports on the effectiveness of vaccines, authorities would not continue using vaccines that are harmful to citizens, especially children.
Lan said he understood mothers' concerns on seeing abnormal physical symptoms appear in vaccinated infants, as well as their eagerness to find the cause of those symptoms.
"They have doubts, they seek information from everywhere. And before they can conclude what is right and what is wrong, they stop believing in the importance of vaccines for young children," he said.
"However, this is most dangerous, robbing children of their most important opportunity to prevent diseases," he said.
"For example, some 84 per cent of children under six are at risk of dying from pertussis (whooping cough) without vaccines."
VNS