The north and the northern part of central region is likely to see rainstorms of varying degrees this weekend, the weather office says.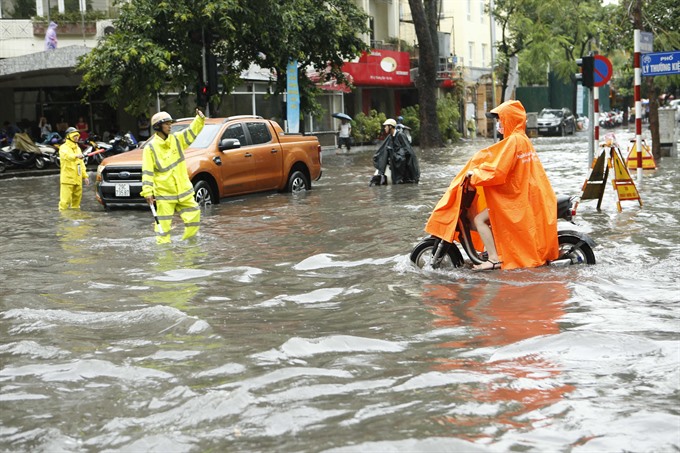 A downpour earlier this week flooded several streets in downtown Hanoi. 
The National Centre for Hydro-meteorological Forecasting said the downpours will be caused by a cold front in China pushing a trough of low pressure down to this region.
The rainfall could be accompanied by hailstorms, strong gusts, and whirlwinds.
The centre also forecast heavy downpours and thunderstorms for the capital city of Hanoi.
Widespread precipitation in the northern region might last 4 days, until June 20, causing average maximum temperatures to stay at a comfortable 30-33 degrees Celsius.
The high rainfall could also see water levels rise to 2-4 metres on the Thao and Lo rivers.
The centre warned northern mountainous provinces to watch out for flashfloods and landslides, especially on small rivers. It said northwestern provinces like Lai Chau, Son La and Dien Bien should be on extra alert for such calamities.
On the other hand, most of the central region (from southern Thanh Hoa to Binh Thuan) will continue to experience the sweltering heat of 36-37 degrees Celsius.
Central Highlands and the southern region can expect scattered showers during the evenings, while daytime temperatures remain at 29-32 and 31-34 degrees Celsius, respectively.
VNS