HCM City is struggling to persuade rural residents to undergo vocational training but also to provide jobs to those that do train.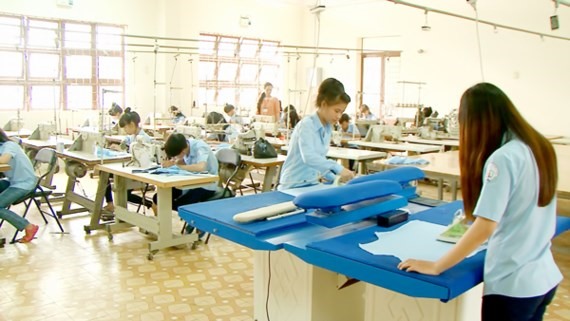 A vocational course for rural labourers in HCM City. 
Though most rural workers have irregular jobs with low incomes, they refuse to attend vocation training courses or switch to other work, according to Chu Thị Hồng Nhung, deputy chairwoman of Tân Thới Nhì Commune in the outlying Hóc Môn District.
Her commune offers training in various vocations such as hairdressing, car driving and baby-sitting but very few people attend the courses.
Võ Lê Phi Vũ, deputy chairman of Bình Chánh Commune in Bình Chánh District, said "rural workers are happy with low-paying jobs as long as they can make ends meet".
"Many of them earn just enough for subsistence," he said.
But he pointed out that as their families' breadwinners they were afraid of quitting their current jobs to take up vocational training.
"Though trainees get tuition and travel subsidies, they cannot earn enough to support their families," he said.
This year the commune had been assigned a target of providing vocational training for 281 workers, but only 33 rural people turned up, he said.
"Ten of them are taking agriculture-related courses, and the rest are learning IT, driving and automotive maintenance and repair," he said.
Nguyễn Thị Liêm, head of the Bình Chánh District Labour, Invalids and Social Affairs Office, said young people were not interested in agricultural courses, leading to a shortage of young workers in the sector.
Most rural people farming vegetables, orchids and ornamental fish in the district are old, while young ones work in the Lê Minh Xuân and Vĩnh Lộc industrial parks and Pouyen company, she said.
A plan announced by the city People's Committee envisages training around 13,000 rural people in the 2017-20 period.
At least 80 per cent of them are expected to get new jobs or continue in their old ones with better salaries after completing training.
The plan is being implemented in 12 districts -- Hóc Môn, Củ Chi, Nhà Bè, Bình Chánh, Cần Giờ, Bình Thạnh, Gò Vấp, Thủ Đức, Bình Tân, 8, 9, and 12.
In the first five months of this year a total of 3,008 rural people were trained.
On-demand vocational training
Short-term training courses fail to equip trainees with the skills enterprises require, according to Liêm.
Vocational training centres do not keep pace with the progress made in equipment and production technologies by industry.
Phạm Công Tấn, head of the Hóc Môn District Labour, Invalids and Social Affairs Office, said nearly 100 rural people will be trained in baby-sitting to meet the demand from more than 1,000 nurseries in the district.
Last year 55 attended training and got jobs at private nursery schools, he said.
Depending on the demand from enterprises, around 670 people would be trained this year to work in the  textile and garment sector, he said.
Nguyễn Văn Lâm, deputy director of the city Department of Labour, Invalids and Social Affairs, said local authorities should provide training that meets the needs of enterprises and the labour market.
Authorities in communes should learn about the labour needs of companies and offer training and introduce workers to the labour market, he said.
His department would recommend that city authorities should provide more financial support to families of trainees to encourage more rural residents to take up vocational training to get better jobs, he said. 
VNS