VietNamNet Bridge – Residents and urban planning experts have expressed their support for a proposal put forward earlier this week by the Department of Transport in HCM City to lease pavements for commercial operations.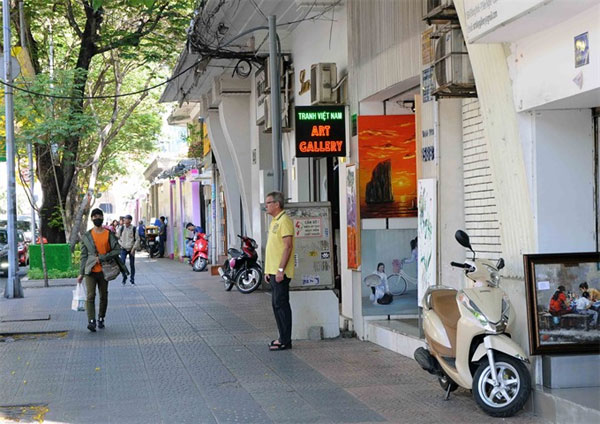 A pavement on Nguyen Trung Truc Street in HCM City's District 1 is clear two months after a tough campaign to reclaim clogged pavements for pedestrians. — Photo: VNA/VNS
The proposal emerged more than two months after authorities conducted a tough campaign to reclaim clogged pavements for pedestrians.
In Ha Noi, Hai Phong City and Ho Chi Minh City, authorities levied strict fines for illegal parking and vending activity, in some cases demolished construction that encroached on pavements, and tore down illegal billboards.
The general public praised the crackdown, but street vendors and businesses were upset about the damage to their livelihood.
Under the HCM City proposal, people who want to use the roadsides and pavement for parking and commerce can pay a fee, which would vary from district to district.
The fee for using a square metre of pavements per month would range from VND20,000 to VND100,000 (US$1.1-$4.4)
The suggested parking fee would be VND15,000 to VND40,000, depending on the time and area.
"I'm glad to hear about this information. If I can pay to use the pavement, I won't have to be worried each time the authorities come by and clear us off and take away all of my property," said Hai Huong, 50, a street vendor in District 3.
A café shop owner on Tran Quang Khai Street, who declined to be named, said he was more than willing to pay the fee. "VND100,000 is not too much for us, and we don't have any other choice – we need the space to do our business," he said, adding that the proposal was reasonable because pedestrians do not need the whole pavement on which to walk.
Some others complained that the fee was too high.
"I couldn't earn that much to pay for the fee. It's unreasonable," said Tran Thi Hang, a food vendor at Le Lai Street.
Meanwhile, Vo Kim Cuong, former director of the Department of Planning and Architecture, said he also supported the idea. "It's essential that we reclaim the pavements for pedestrian and make them clean and clear. But residents also have the right to do business legally. According to principles of urban financing, those who benefit from part of the urban area will have to pay for it. So it's obvious that those who can make money from the pavement have to pay a certain fee," he said.
"The good side of this idea is that it helps the State to properly and transparently manage those paying fees to use the pavement and avoid illegal acts by some individuals," he added.
Pham Sanh, an urban planning expert, agreed. "However, if we want to lease the pavement we need a re-planning, a sustainable replanning. Clear criteria about how the pavement can be used and how we would collect the fee must be set out," Sanh said.
Regarding the collection of pavement use fee, Sanh said local authorities should not be involved. "The People's Committee should assign a department to do this, for example the finance department. The department will be responsible for carrying out studies, making plans, and collecting fees. Local authorities would only supervise and support when needed," he said.
Le Minh Triet, director of the Sai Gon River Tunnel management centre, said his agency would work with the Department of Transport on the application of modern technology to collect pavement fees.
At present, the city administration collects fees from businesses on 345 thoroughfares, which use a part of the pavement and roadway for parking.
The Department of Transport said that charges will be used to repair roads and harbors. Charge levels will be publicised on the collection booths and related agencies' websites. 
Source: VNS