VietNamNet Bridge – Pork without clear origins will not be allowed to be sold in HCM City's two main wholesale markets--Hoc Mon and Binh Dien--starting next month, the city administration has announced.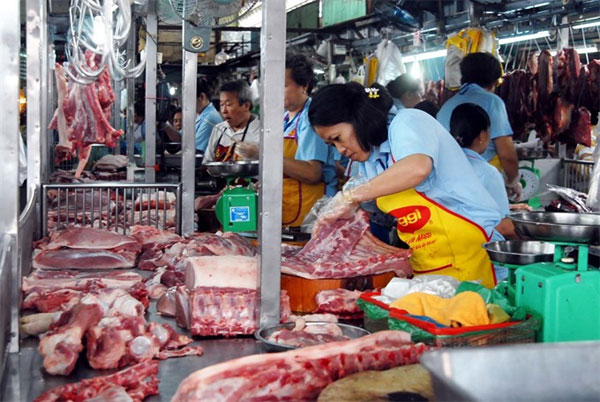 A meat market in HCM City. — Photo: VNA/VNS
The city will closely control the origin of pork at wholesale markets at first, and after July 30 the policy will be applied to other food products, deputy chairman of the city's People's Committee Tran Vinh Tuyen told a meeting with the city's Food Safety Management Board and officials from 24 districts on Wednesday.
From September 15, pork without clear origins would not be sold in the city at all, he said.
"In reality, even traceable foods might not be safe foods, but we must know their origin to control and then make the next step of choosing clean and safe food."
Tuyen also called on all district authorities to submit detailed plans to eliminate unplanned pavement markets by July 15.
These markets are the main source of unsafe foods, he said.
They are found mostly in export processing zones and industrial parks where many low-income people live.
The Department of Industry and Trade should have more mobile shops selling price-stabilised goods in these areas to meet the needs of those people, he said.
The city seeks to eliminate pavement markets by June next year, a difficult task but one which the city is determined to accomplish, he said.
Tuyen also ordered relevant agencies to soon put an end to illegal slaughter of animals and counterfeit goods.
But if the problems persist, the chairmen and vice chairmen of the districts must take responsibility, he warned.
Also at the meeting, he told the Food Safety Management Board to think of certifying unsafe trading establishments and shops that do not meet food safety regulations.
He said this would be more effective than issuing food safety certificates. 
Source: VNS