VietNamNet Bridge – Holding a long ladder, Paul George Harding gave a smiling hello to a group of young students who were scraping dirty advertisements pasted on the walls of Nguyen Ngoc Vu Street.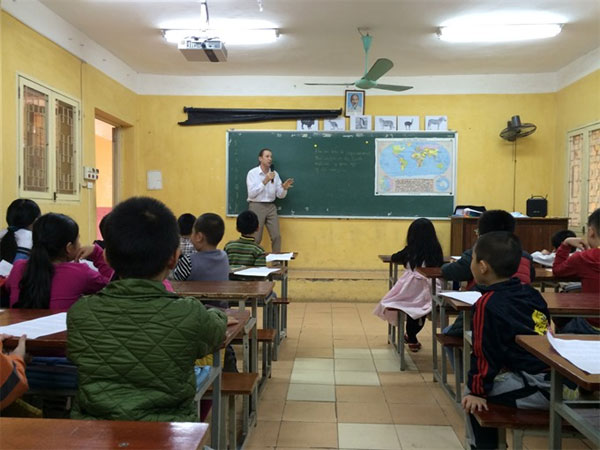 Paying it forward: Paul George Harding has taught English for free over the past two and a half years.— Photo courtesy of Paul
The  elderly man immediately joined the team, quickly climbing on the ladder to scrape the illegally advertised telephone numbers and dirty marks from the top of the walls.
Some children in the neighborhood ran outside from their houses, joyfully saying hello to Paul and joining in on the work.  Around here, everyone affectionately calls him "teacher Paul".
The 69-year-old has become a familiar face to these children and to his entire neighborhood.  Over the last 2 and a half years, he has given free English classes to students of all ages in Ha Noi.
"I came back to Viet Nam to do something positive to cover the negative things I did when I was a soldier," he said. 
Since early May, when he learned of the Vietnamese government's decision to punish and fine anyone found to be hanging advertising boards on trees, electric poles or traffic lights, he decided to launch a campaign to keep Ha Noi clean. He decided to devote himself, along with his students, to remove advertisements pasted on walls and electric poles on Nguyen Ngoc Vu Street and neighbouring areas in Trung Hoa ward of Cau Giay district and then paint the walls.
"We want to support Government efforts to put an end to those illegal advertisements. We work with volunteers from our class and from neighbourhoods to help make the neighbourhood nicer," he said
"Teaching English is my primary mission. But when opportunities come along, I do something else beneficial for the people of communities… I am happy that I can help".
It almost goes without saying that locals highly appreciate his actions.
"We are touched by his good heart and his sincere love for Viet Nam," said Bui Cong Cap, head of the living quarter number 8 of Trung Hoa Ward.
"Inhabitants here took part in the campaign to clean the street with him. I am also a war veteran, and I understand that we should move toward the future and forget the past. Paul has tried hard to further build bridges of friendship between our two countries, Viet Nam and the US."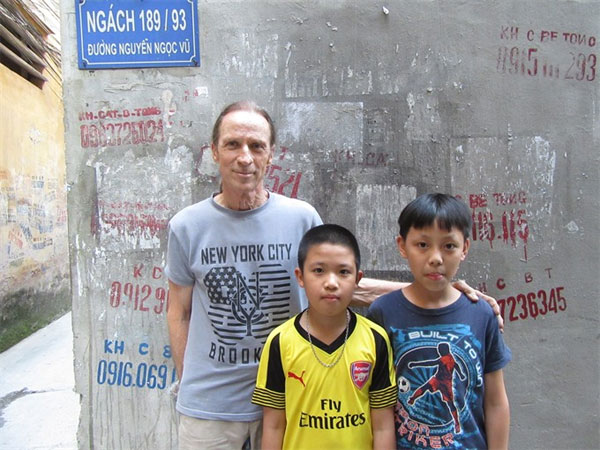 Friend and mentor: Paul George Harding with children on Nguyen Ngoc  Vu Street. —  Photo: Bach Lien/VNS
Teach English for free
Since December 2014, Harding has been teaching students, pre-schoolers and the elderly to improve their English speaking and listening skills.
He teaches them how to pronounce English words correctly and how to carry out an interview in English. His daughter flew from the US to come to Ha Noi to teach in the class with him for the last three months, along with other US and Vietnamese volunteer teachers.
His lecture focuses on various domains in life, but the main lesson mentions Viet Nam's history. He has spent years exploring Viet Nam's history and loves collecting books about national heroes including Ho Chi Minh, Nguyen Van Troi and Dang Thuy Tram. He also regularly visits the Viet Nam National Library to collect more information for his lesson plans.
He hopes that English teaching in history will help everyone understand the importance of the country' history and conserve the memories of revolutionary heroes who bravely sacrificed for the independence of the country.
Initially, he had only 6 students. Now the number is up to more than 450, including 7 year-old children and 69 year-old retirees.  
The first six months the classes were totally free, and Harding continues to teach for free, but students have to pay a modest sum VND150,000 (US$6.6) per month) to pay for the rent fee of the place where classes are held.
"I have 8 lessons per month with teacher Paul, and I enjoy them very much. We work in small groups, and Paul teaches us to pronounce each word correctly. He is very devoted and funny," says Hoang Kim Ngan, a student from Cong Doan (Trade Union) University who has been in his class for four months.
Concerning the reason he moved to Viet Nam to give free English lessons, he said he wants to compensate for what he and the American army did to this country.
"Now I am retired, my children all grown up, but I always feel guilty for having participated in the war, having come and made war against the people of Viet Nam. I realise that it was not the war that I thought it was. And I always think of Vietnamese people that I saw, who suffered injuries, lot of children who lost their parents, and people taken in prisoners…and I ask myself where are they now, did they survive, how are their lives today. I was wondering what became for them", he said in his deep voice.
"As I am getting older now, and now I am a grandparent. I want to do something positive and meaningful for the rest of my life to help Vietnamese people, because they suffered a lot during the war."
He remains haunted by his war memories.
"My war memories are the terrible suffering of Vietnamese people, especially of Vietnamese young children, and of young Americans who were here because the government required them to be here. They also suffered from engaging in the war.  I was too young. I was only 19 years old," he said.
Harding said that before coming back to Viet Nam in 2014, he was concerned that Vietnamese people would hate him. 
"In my country we had the civil war in 1861, and over a hundred years later people from the South and from the North still have anger, conflicts over the war. So I expected animosity in Viet Nam," he said.
"But when coming here, I only received compassion and friendship. I've never heard an angry word from Vietnamese people," he said with emotion in his voice.
Safe to say, Harding much prefers his latest 'tour of duty' in Viet Nam.
"I am very busy with teaching. It's the best job I've had," he said laughing.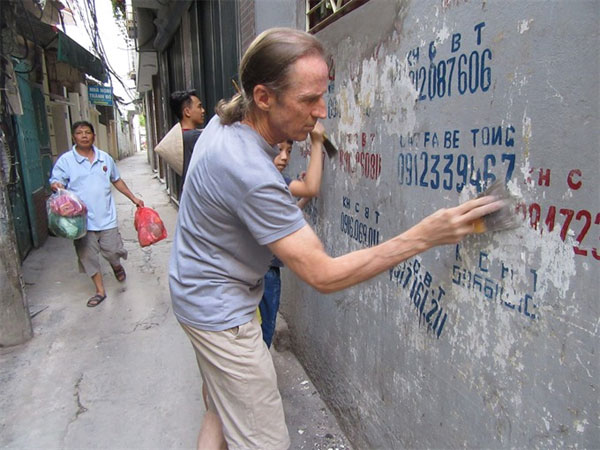 Elbow grease: Paul George Harding and local children scrap dirty advertisements pasted on walls along Nguyen Ngoc Vu Street.— Photo: Bach Lien/VNS
VNS