A 46-year-old woman, who has lost her two legs in a traffic accident 21 years ago, has dedicated her strength, youth, and extraordinary power to the blind over the past many years. She has been the first to establish an audiolibrary for the blind in Vietnam.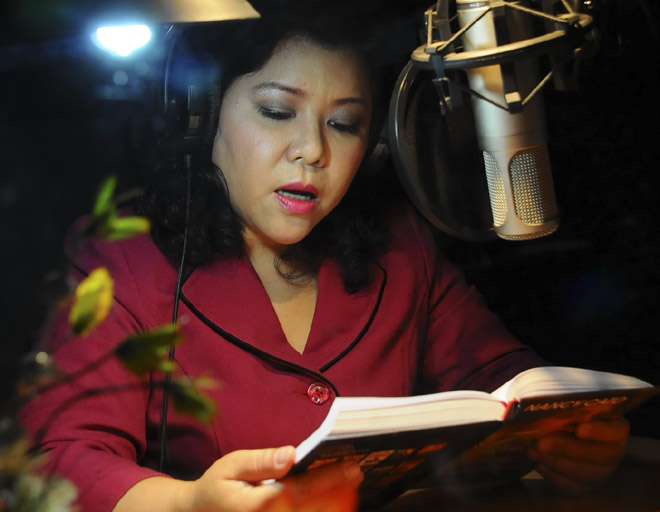 Nguyen Huong Duong, director of the Audio Books for the Blind and the Ho Chi Minh city based Audio Books for the Blind Charity Fund.
She is Nguyen Huong Duong, director of the Audio Books for the Blind and the Ho Chi Minh city based Audio Books for the Blind Charity Fund, one of the 30 individuals and groups honored at the "Vietnam Glory – Imprints of the 30-year Doi Moi" ceremony, which took place on May 20.
Life without legs does not seem an obstacle for Nguyen Huong Duong. But she always shows her optimism and life aspirations. She looks younger than her age with smiles frequently on her lips, and she has such an emotional voice that no one could think she has ever undergone bad luck and unhappiness.
Remembering her difficult times after the accident, Duong told her story: "I used to be a tourist guide. When the accident deprived me of my two limbs, I felt I lost everything. I even wanted to finish my life. Knowing my thinking, my dad asked me to live for him and my mom."
She said that her parents gave her the power to have self-confidence to live on. After having experienced 7 surgeries and many treatments at hospital for 3 years, Duong stepped out of the darkness and restarted her life.
It seemed as though life had brought Duong to the idea "Audio Books for the Blind" by chance. In 1998, when she was at Nguyen Dinh Chieu School in Ho Chi Minh City to read books for blind children there, she found out that children there enjoyed her voice.
"Then I think I should make cassettes – the kind of books to tell stories to the blind. My family supported my idea", Duong said.
The energetic woman then recorded textbook programs, making up audio books and then published them online so that blind people across the country could access knowledge. The first audio book library for the blind was born that way.
For the first time in the country, blind people could learn on radio and the internet by listening to a warm, inspirational voice. The book brings not only a brighter life to the blind, but also a great happiness for Nguyen Huong Duong.
"There was a blind person with a Master degree who told me that the book has been a revolution for the blind. For 19 years, the audio books has helped over 150 blind students enter colleges and universities and study with normal students there. Of them three got Master degrees, and one finished PhD program," she proudly said, adding that she would devote her entire life to making audio books for the blind.
The library "Audio Books for the Blind" in Vietnam serves for free about 2 million blind people, 99 branches of the Blind People's Association and schools for the blind nationwide.
From 1998 to 2016, the library recorded 1,667 titles, printed out 379,792 cassette copies and CD-MP3 audio books in various fields, including history, culture, literature, science and medicine.
The library also offer schoolbooks for students from 1st grade to 12th; textbooks and training documents for undergraduate and postgraduate students at college and university(upon request of blind students). Of which, 1,025 titles can be found online at sachnoionline.com.
Besides, from 2001 to 2016, her fund mobilized 2,114 "Anh Sen" scholarships for poor children at blind schools and blind people's schools in HCM city; 645 "Huong Duong" scholarships for blind students in tertiary education.
With her great contributions to disabled people, Nguyen Huong Duong has been awarded the Second Class Labor Order; Certificate of Merit from the Prime Minister.
PSNews