VietNamNet Bridge – Over the past eight years, Nguyen Thuy Nga has carried her best friend and classmate, Nguyen Thi Mai Gai, to school every day, over a distance of more than four kilometres.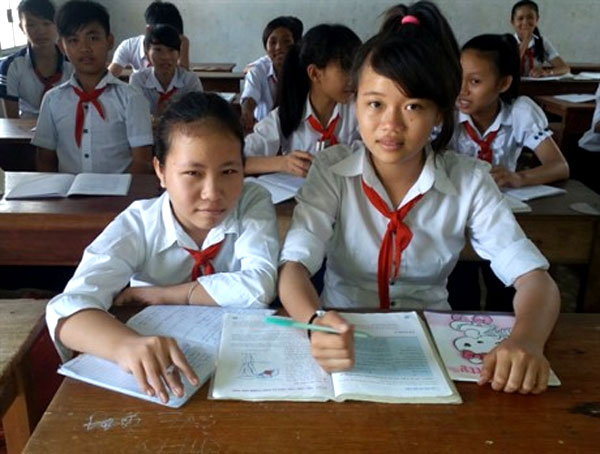 Hitting the books: Nga (right) helps her friend, Gai, with her study at school. - Photo baomoi.com
"I have always been ready to be by Gai's side and take her everywhere she wants. Unfortunately, due to a deformity, she is unable to use her legs. So, I wanted to become her 'legs'," says Nga, a ninth-grader at the Cat Hai Secondary School, in the southern province of Binh Dinh.
Gai is the oldest child of four and was born with a deformity in her legs meaning she is unable to walk. All of Gai's daily activities need the support of her parents and grandmother.
"I couldn't go out like other people, which made me feel very sad. My parents were too busy earning a living, so they couldn't take me out very often either. Gradually, I got used to it, and just stayed at home all day," Gai says.
The years passed until the day the six-year-old was due to start primary school. Unlike most of her classmates however, this little girl was filled with feelings of both happiness and anxiety.
The excitement of beginning school was short lived, as Gai was met with strange looks from the other students. The young girl was overwhelmed with depression.
"I hugged my mother and asked her to take me home whenever I went to class. She had to console, encourage and persuade me until I agreed to stay in school," she recalls.
During break time, while the other children were playing around happily, Gai sat alone with nobody to talk to. That was before a fellow student named Nga came up to her and asked if she wanted to be carried to the playground. When class ended, Nga carried her new friend on her back to the school gates, where Gai's mother was waiting.
After that first encounter, Nga asked her parents if she could take Gai, whose house was nearby, to school. Seeing the good will she had towards her unfortunate friend, Nga's parents supported the idea. Ever since then, the little girl has dropped by her friend's house everyday before class to take her to school on her back.
On rainy days, Gai's parents drive her to school, but Nga still waits at the school gate, ready to take her friend into the classroom. Not only becoming Gai's "legs", Nga has been supportive of all her friend's activities, and the two young girls have developed a strong bond.
"My primary school was over a kilometre from my house, but Nga always showed up to take me to school. Then when we attended secondary school, which was even further away, she kept accompanying me to class. Sometimes I see her sweating buckets, and I feel so moved and speechless," Gai says.
"Whenever classmates teased Gái for her deformity, I reported it immediately to the teacher and told them to cut it out. When my teachers check homework, I take Gai's notebook to them. I also like to help her with difficult exercises. Being able to help her with such small things makes me very happy," Nga says.
The image of the slender girl carrying her close friend on her back has touched many hearts, including those of teachers and schoolmates. Some of them, after seeing their beautiful friendship, also wanted to help Nga take Gai to school every day.
To teacher Vo Ke Chien, principle of the Cat Hai Secondary School, the first day of the 2013-2014 school year was unforgettable.
"I came to school very early. Standing on the lobby and looking at the school gate, I saw a student carrying another on her back. At first, I thought they were playing a game, but later on I learned that student Nga took her classmate to school like that every day since they attended primary school, I felt so moved. I often praise their friendship and encourage other students to follow their example," he says.
A beautiful friendship
Like Gai, Nga is also the eldest child from a poor family. Both her parents work as farmers, struggling hard to make ends meet and cover their children's tuition. Sometimes, her mother sells sugar-cane juice on the street to earn a little extra.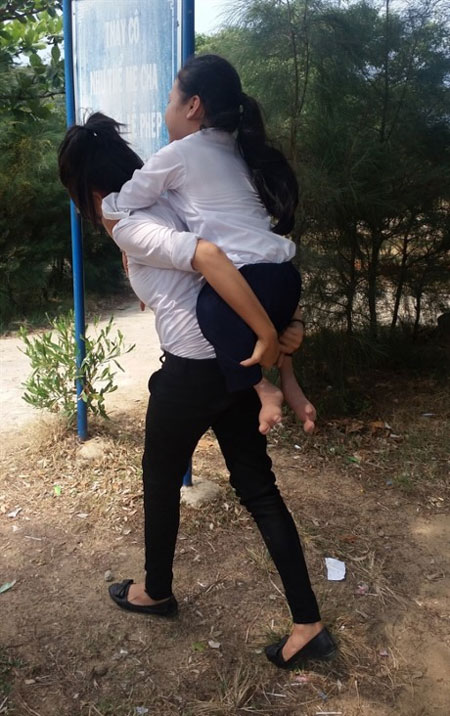 Labour of love: Nguyen Thuy Nga has carried her classmate, Nguyen Thi Mai Gai, on her back to school for eight years. -- Photo baomoi.com
"Though my family is not well-off and both of us have to work long hours, we are still proud and happy to see our daughter studying hard and frequently helping others, particularly carrying her friend to school," says Nga's mother, Nong Thi Xuan Thiet.
It moves Gai's mother, Mai Thi Lac, to tears whenever she see the two friends making their journey to school.
"Having such a good friend like Nga is great for my daughter," she says. "Despite suffering from a physical disability, she has always tried to perform well at school. We love her very much, and encourage her to overcome her disadvantages and attend school every day.
"My mind was put at ease when Gai made friends with Nga. Words are not enough to thank Nga for what she has done for my daughter. They have such a beautiful friendship," she adds.
Not only in the classroom, Nga also regularly visits Gai's house to help with homework. Whenever Gai's sick, Nga brings her notes from the lessons and explains them so that Gai can catch up.
Recently, after years of saving, Gai's parents have managed to purchase a motorbike to drive her to school. Nga still waits at the gate, ready to walk into class together.
The two friends have received a lot of support from kind-hearted benefactors and local authorities, both financially and morally, every year. Particularly, Nga has been presented with a new bicycle, helping to make the journeys she takes on her own quicker and easier.
"Our school has encouraged Nga and Gai's to help each other in their studies. All of us, teachers and students, admire Nga's dedication to her friend, and the beautiful bond they have developed," says Principal Chien.
Anh Huong
VNS