Residents should expect flooding when there is heavy rain as just 23 of 40 flood-prone sites have been rehabilitated, according to the HCMC Steering Center of Urban Flood Control Program.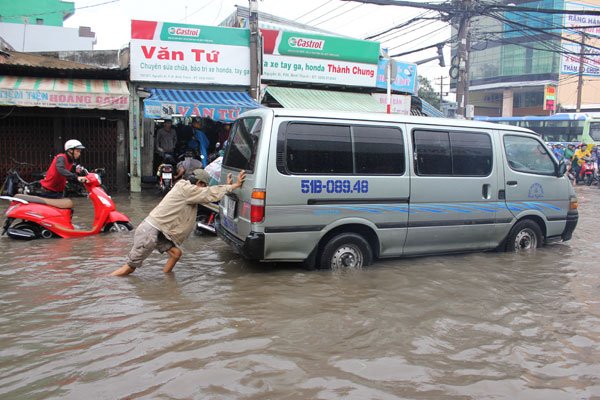 A man pushes a minivan that breaks down on a flooded street in HCMC. Residents should expect flooding when there is heavy rain this year
Flood control projects are still underway at 17 sites in the city. This explains why torrential downpours on Monday led traffic on many roads to grind to a halt because of heavy flooding.
Among the projects is phase one of a flood tide control project which will build six flood gates, three pumping stations and an eight-kilometer dyke along the Saigon River. According to Trung Nam Group, the investor of the project, the project is about 40% complete and will be ready in April 2018.
The project will benefit about 6.5 million people living in a vast basin area covering ​​about 570 square kilometers.
The steering center is implementing 35 other flood control projects. Nine of them will be completed within the first half of 2017, reducing flooding on roads such as An Duong Vuong Street in Binh Tan District, Do Xuan Hop Street in District 9 and other streets in Binh Thanh, Hoc Mon and Thu Duc districts. Meanwhile, 11 projects are scheduled for completion in the final half of the year and the remainder after 2017.
However, many projects in the flood control plan have yet to get off the ground due to financial constraints. For instance, the Rach Tra (Tra canal) tide control project has not been allocated funding. If it gets funding, it could be finished by 2019.
A project to build a dike along the Saigon River from Vam Thuat to Kinh rivers is being prepared and the city government is calling for investment in the project through public-private partnership (PPP).
For a flood control project on the left bank of the Saigon River from Cau Ngang canal to Thu Thiem new urban area, the Steering Center of Urban Flood Control Program is in the process of finding contractors and working with consultants to determine the project's location and with districts 2 and Thu Duc to pay site clearance compensation for affected families.
Major projects for dredging canals to improve drainage are included in the flood control program but no finances have been arranged for them.
A project to prevent flooding at Tan Son Nhat International Airport is expected to start in the first quarter of 2018. In the short run, the Steering Center will dredge along a canal inside the airport to reduce flooding in this rainy season.
Construction of a water reservoir, another important anti-flood project for Tan Son Nhat International Airport, has yet to begin due to land-related difficulties.
The southern weather center said this year's rainfall in HCMC could be high at the beginning of the rainy season.
SGT