Hanoi once again faces a shortage of water as the hot summer approaches.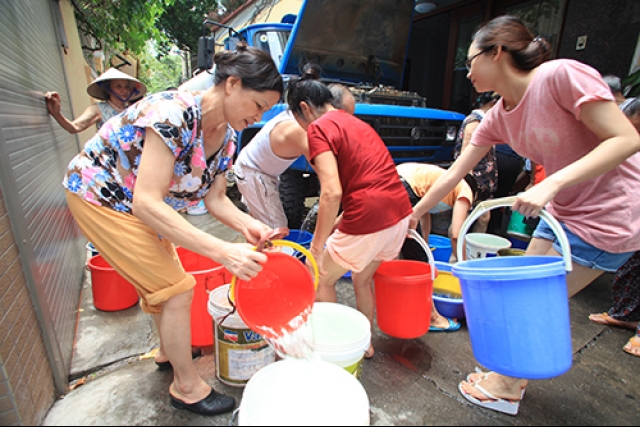 The shortage may be as much as 70,000-100,000 cu m every day, according to the Hanoi Department of Construction.
Taps may well run dry as demand increases over the hot summer months, particularly in densely populated areas such as Ba Dinh, Dong Da, Hoan Kiem, and Tay Ho districts.
Water plants in the city are designed to pump around 900,000 cu m of water each day, but demand during summer usually increases 10-12 per cent to more than 1 million cu m.
Authorities also expressed concern that the situation could become much worse if the notorious Song Da pipeline ruptures again.
The Song Da plant provides more than 200,000 cu m a day, accounting for nearly one-quarter of the clean water supply in the city, which is home to 4.6 million people in central districts. 
But the pipeline, which cost $70 million to install, has broken at least 20 times since it opened in 2009, most recently in October last year.
2017 is expected to feature a longer summer and erratic climate conditions. Water suppliers have been asked to prepare water trucks and tanks in populated areas to deal with the problem.
In order to ensure water supply for the central urban area and parts of outlying districts, Mr. Nguyen Bao Vinh, Director of the Hanoi Clean Water Co., said the company has already implemented cooperative schemes with other suppliers to rotate water supply schedules to make sure no areas are deprived of water for too long. 
In cases of local shortages, the company has prepared a fleet of water trucks, with higher priority given to hospitals, schools, the armed forces, and residential apartment buildings.
"Our hotline will be operational around the clock to receive reports on water supply interruptions as well as water quality to make a timely response," Mr. Vinh said.
Mr. Hoang Van Thang, Director of the Ha Dong Clean Water Co., said it has upgraded or replaced a number of old underground pipes that are prone to ruptures.
All water suppliers said they would do their best to meet the rising demand for water. 
However, unplanned incidents regarding infrastructure, caused by extreme weather, could still occur, and in such cases emergency protocols are in place to provide sufficient water to residents.
Customers are also urged to be wise and conservative in using water, which would reduce the chance of their water supply being interrupted. 
VN Economic Times