Police in Hanoi handle 3,500 cases of traffic violations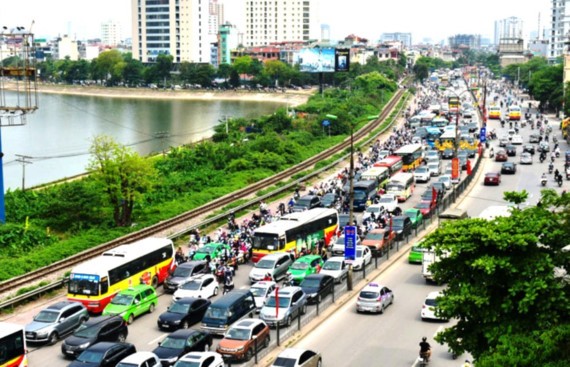 There were four accidents killing four people and injuring two others from April 29 to May 2. The figure has reduced two accidents and one death compared to same period last year.
During the four-day holidays, traffic police handled 3,551 cases of  traffic violations, issued fines totaling VND1 billion (US$43,975), impounded 115 cars and revoked 192 driver's licenses.
Head of police station in Hanoi Colonel Dao Vinh Thang said that generally traffic in the holidays in Hanoi maintained order though there have been traffic gridlocks in streets Giai Phong, Phap Van, the National Highway 1B and streets leading to bus stations My Dinh, Giap Bat, Nuoc Ngam because of the increased number of holiday-makers flocking in and out.
Quintessence of Vietnamese craftsmanship honoured

The 2017 Hue Traditional Craft Festival, themed 'Quintessence of Vietnamese Craft' was held from April 28 to May 2 in Hue city, gathering the participation of craft villages from cities and provinces across the country.
The event has helped to preserve and promote the cultural values of traditional Vietnamese crafts and craft villages, enhance the trade efficiency of traditional crafts while fostering socio-economic development and incorporating handicrafts with tourism as well as domestic and foreign markets.
Over the past six seasons, the Hue Traditional Craft Festival has honoured many long-standing crafts in Hue, as well as many localities across the country. This year's festival was organised in a traditional space with 30 Vietnamese old houses arranged along the Perfume River, called Kingpost houses, which are considered as Hue's woodcarving masterpieces.
More than 320 artisans, most of whom are 'Golden Hands' artisans, folk artisans and meritorious artisans from 40 craft villages participated in the event. Many of Hue's well-known traditional craft products and craft villages across the country, including embroidery, jewellery, fine arts carpentry, brass foundry, pottery, conical leaf hat-making, paper flower and embroidery painting were featured at the event, along with a number of cakes and traditional dishes of Hue.
The highlight of this year's event was the opening of the XQ Embroidery Museum in Hue, which showcases nearly 400 works, artefacts, photos and documents related to embroidery, embroidered painting, double-sided embroidery pieces and thread sculptures. The museum is expected to help preserve cultural features and become an attractive tourism highlight in the cultural space on Le Loi road in Hue city.
Each craft village has countless historic stories, 'golden hand' artisans and characteristic products. Among the participant villages at the 2017 Hue Traditional Craft Festival, My Thien pottery village at Chau O commune, Binh Son district, Quang Ngai province was considered as a special craft village. According to historical documents, the village's products were used during the Nguyen Dynasty as royal items or gifts. Later on, the village faced the risk of being lost altogether. The traditional craft is currently preserved by only two artisans. Artisan Ngo Dao Giang said, "Participating in the Hue Traditional Craft Festival is an opportunity to promote the craft of pottery. Life has changed, but traditional values still play an important role in modern life.".
The Hue Traditional Craft Festival focused on demonstrating traditional crafts, which offers visitors a chance to experience the steps to create traditional products. Meanwhile, the organising board selected characteristic products featuring traditional elements. In addition, visitors and local people also met well-known artisans from traditional craft villages across the country. Visitors also became involved in the process of making Ao Dai (Vietnamese traditional long dress). The festival also hosted a number of tours visiting garden houses in Thuy Bieu and Kim Long wards in Hue city and Phuoc Tich pottery village.
According to Pham Thi Quynh Dao, Deputy Head of the festival's organising board, the showcasing areas of similar villages were located close together so that the villages had a chance to meet and exchange. Additionally, visitors could compare the villages' products and gain an understanding of the diversity of traditional villages throughout the country. The festival also offered investment opportunities to craft villages.
The festival featured key activities such as an Ao dai fashion show on the city's iconic Truong Tien bridge, an exhibition honouring artisans and traditional crafts at Ly Tu Trong park, a hot-air balloon festival, a Hue cuisine festival and numerous other activities to popularise the tourism industries of a number of localities on Nguyen Dinh Chieu walking street.
According to the Standing Vice-Chairman of the Hue municipal People's Committee, Nguyen Dang Thanh, the festival has become a great event and a place for nationwide artisans to gather, meet and exchange. During the international integration process, besides restoring Vietnamese handicraft products, it is necessary to build prestigious brand names of handicraft products to compete on the international market. The festival also aims to honour traditional crafts, artisans and unique products of high quality and cultural value, towards boosting the development of the economic, tourism and service sectors of Thua Thien-Hue province in particular and Vietnam in general.
Holiday surge for hospitals
More than 6,500 people were admitted to hospitals in HCM City over the recent four-day holiday because of traffic accidents, physical fights, and food poisoning, among other reasons, according to the city's Health Department.
From April 29 to May 1, of the 39,886 people visiting hospitals for emergencies or health check-ups, 825 cases were due to traffic accidents, 174 to fighting incidents, and 37 to food poisoning, among others.
Most people involved in traffic accidents had been drinking too much alcohol and driving over the speed limit.
Doctors at 57 hospitals in HCM City carried out 1,012 operations, with 11 for traumatic brain injury, the department said, adding that there were a total of 25 deaths.
Dr. Nguyen Dinh Phu, Deputy Director of People's Hospital 115, said that three people died at People's Hospital 115 on May 1.
The city's Preventive Medicine Centre said there were no major Zika or hemorrhagic fever outbreaks during the holiday. 
The number of traffic accidents surged in Hanoi as well, with Viet Duc Hospital taking most cases.
Dr. Tran Ha Phuong of Viet Duc Hospital said that, of the 365 patients admitted to the hospital as of May 2, 215 of them had been involved in traffic accidents.
Though five operating rooms were open during the holiday, many patients had to wait due to an overload, she said, adding that there were about 30 surgeries performed in each room per day. 
Nghe An province saw a similar circumstance, with the number of patients increasing by 200 percent during the holiday.
Nghe An Friendship General Hospital, Orthopedics Hospital, and Hospital 115 admitted over 500 patients, with 40 percent of them due to traffic accidents while others suffered heat stroke and alcohol poisoning, among other causes.
Dr. Ngo Van Thiet of Nghe An Friendship General Hospital said that people need to avoid engaging in outdoor activities in the hot weather and to refrain from driving after drinking alcoholic beverages.
Experts share experience in enforcing labour safety regulations

National and international experience in building policies and operating an occupational accident insurance fund for labourers in non-textured area was highlighted at a conference held in Hanoi on May 4.
The two-day conference, themed "Sharing experience in effective enforcement of occupational safety and health regulations ", was held within the action plan of the ASEAN-Occupational Safety and Health Network (ASEAN-OSHNET) period 2016-2020. It is a crucial forum to respond to the action month for labour safety and hygiene, launched by the Vietnamese government for the first time.
Speaking at the conference, Deputy Minister of Labour, Invalids and Social Affairs Doan Mau Diep affirmed that enhancing cooperation with international organisations and foreign countries in labour safety and hygiene will be a key priority of Vietnam, especially when the country has a law on occupational safety and hygiene.
State agencies should promptly accumulate experience in effectively enforce the law on occupational safety and hygiene, build policies on the compensation fund for work-related accidents and diseases, he stressed.
According to Professor Le Van Trinh from the Vietnam Occupational Safety and Health Association (VOSHA), occupational accidents and diseases cause irreversible economic damage to workers, employers and society. 
The World Health Organisation (WHO) and the International Labour Organisation estimated that economic costs of work-related injuries and illness are equivalent to 3-5 percent of a country's Gross Domestic Product (GDP), Trinh said.
Participants at the conference suggested that policies on operating the occupational accident insurance fund for workers should ensure flexibility in administrative procedures and compensation while financial supports for poor and near-poor households should depend on the country's socio-economic development and state budget in each period.
In addition, due attention should be paid to training courses to raise public awareness of labour safety and hygiene, they recommended.
Asia Golf Tourism Convention 2017 set for Da Nang

The Asia Golf Tourism Convention 2017 (AGTC 2017) will take place at Furama Resort Danang in the central city of Da Nang from May 7 to 13, organized by the International Association of Golf Tour Operators (IAGTO).
The convention is expected to attract 650 delegates from 36 countries and territories, including golf tour operators, tourism enterprises, and hotels. Mr. Peter Walton, Chief Executive of IAGTO, said that AGTC 2017 is an opportunity to promote high quality tourism to Da Nang and help local enterprises with networking and seeking cooperation with international partners.
Various activities will be held within the framework of AGTC 2017, such as a three-day conference on golf tourism, an international conference on golf tourism in Da Nang, and fact-finding trips to golf courses and destinations in the city and nearby Hoi An ancient town. 
A Golf Awards Ceremony will be held, to honor countries and regions with outstanding achievements in golf development, as voted by IAGTO members, including travel agencies and professional golf operators from 60 different countries.
According to figures from IAGTO, the golf industry, with about 56 million golfers around the world, has been ranked the third-largest driving force for tourism movement in Asia. There are 169 golf travel companies that are members of IAGTO that wish to expand in Vietnam. Expenditure on golf tourism is estimated to be higher than for other types of tourism, according to IAGTO.
Viceroy Hotel Group to anchor in Vietnam

The Viceroy Hotel Group is thrilled to share a first look at the upcoming Viceroy Da Nang Vietnam, an iconic five-star hotel found in the heart of the soon-to-open Cocobay entertainment and hospitality hub. The hotel is set to open in 2020.
"We are immensely proud to partner with the Empire Group in this remarkable venture," said Mr. Bill Walshe, CEO of Viceroy Hotel Group. "As we forge new territory we are not just making an entrance. We are shaping a vision while creating a new groundbreaking destination."
The project of more than 700 luxury hotel rooms, suites, and condos will make guests and residents feel truly at home. For a distinct nightlife and culinary twist, expect eight restaurant, lounge, and bar concepts plus meeting and event spaces, including three ballrooms. Pools flanked by private cabanas will be hot social scenes as well as relaxation spots. And, for a true escape, the hotel will leave guests renewed at a full-service spa and wellness oasis.
"This is Viceroy's first foray into Asia's most highly-anticipated market, which is being created from the ground up," said Mr. Anton Bawab, Regional President of Viceroy Hotel Group. "The mix of culture, nightlife, and hospitality that will come to life here will solidify Viceroy Da Nang Vietnam as a must-visit destination."
Cocobay is ideally located near the ancient town of Hoi An, just 20 minutes from Da Nang International Airport. Its master plan features a convention center, an opera house, a sports arena, a beach club, retail stores, and numerous nightlife and dining destinations. Soaring above the entire scene is Viceroy Da Nang Vietnam, recognizable by its twin towers joined at the top by a "crystal bridge", on which guests can take in panoramic views of Da Nang and the ocean.
Viceroy Hotel Group inspires travelers with one-of-a-kind authentic lifestyle experiences that bring together provocative design and intuitive service in sought-after locations. A leader in modern luxury, Viceroy's vibe-led hospitality is guided by its brand promise of "Remember to Live"; an affirmation to create lifelong memories for each and every guest.
Viceroy's destinations are segmented into three distinct portfolio tiers to help travelers find exactly the kind of experience they're looking for. The Viceroy Icon Collection properties include epic hotels and resorts in Dubai, Abu Dhabi, Beverly Hills, Riviera Maya, Snowmass, and St. Lucia, with upcoming openings in Chicago, Algarve, Buenos Aires, Istanbul, Panama, Cartagena, and Vietnam. The Viceroy Lifestyle Series hotels and resorts are found in attitude-led destinations including New York, Santa Monica, and Zihuatanejo, with an upcoming opening in Serbia. The Urban Retreat Collection properties in San Francisco and New York have an independent spirit and bold, eccentric personalities.
Viceroy Hotel Group is a member of the Global Hotel Alliance (GHA). DISCOVERY, a unique loyalty program, offers exclusive benefits and experiences to members at over 550 hotels around the world.
Fusion Maia Danang named one of the world's best luxury honeymoon destinations

Fusion Maia Danang, Asia first spa inclusive resort, has been named among the World's Best Luxury Honeymoon Destinations for 2017 by one of the top Canadian travel agencies, Flight Network.
The resort was the only one in Asia named by the agency.
"With a surprising all-spa inclusive concept, and providing breakfast anytime and place, Fusion Maia Danang is a perfect place to enjoy your honeymoon," Flight Network wrote. "Each villa has a private swimming pool and your personal fusionista will help you create a memorable honeymoon experience!"
"Here, you and your partner can lock yourselves away in your own private villa and pool or you can ask the staff to serve you breakfast on the beach to watch the sunrise together. At Fusion Maia, your dream honeymoon comes to life."
"We are touched that we have been named as one of the world's best honeymoon destinations," said Ms. Michelle Ford, Fusion Maia Danang General Manager. "It is such an important memory in life, so we take the responsibility very seriously to create a truly memorable and unique experience."
She added that Da Nang has transformed into one of the most attractive destinations in the world. The city will host the APEC 2017 Economic Leaders week in November and this is a once-in-a-lifetime opportunity for it to boost its tourism on the international stage.
The award-winning Fusion Maia Danang is the first resort in Asia where spa and wellness is included in the daily rate, guaranteeing a minimum of two daily treatments from the extensive spa menu, plus inclusive wellness activities such as the signature Fusion Flow Yoga, tai chi, and meditation.
This five-star beach resort offers 80 pool, four spa, and three direct beachfront villas. Every room is a villa boasting its own private pool and courtyard garden. It has a chic atmosphere of relaxed luxury unmatched by its peers.
Fusion Maia dedicates itself to the art of relaxation. With a simple design, down-to-earth five-star service and a surprising all spa-inclusive concept, Fusion Maia Danang has perfected the art of relaxation!
Elevated highway proposed to ease traffic pressure at Tan Son Nhat airport

An elevated highway connected to Tan Son Nhat International Airport in Ho Chi Minh City is expected to begin construction at the end of the year, with capital investment estimated at VND2.6 trillion (US$114.3 million).
The project will be executed under a PPP (public private partnership) and is among five other project planned by the city to construct elevated highways in an effort to curb traffic congestion.
A public-private partnership is a government service or private business venture funded and operated through a partnership of government and one or more private sector companies.
The construction of the elevated road leading to Tan Son Nhat was proposed by the 319 Corporation, which is managed by the Ministry of National Defense, Dong Mekong Company Ltd, and Dong A Infrastructure JSC.
The structure will be 3,240 meters long at completion, starting at the T2 international terminal of Tan Son Nhat Airport, passing T1 domestic terminal, then running along Thang Long and Phan Thuc Duyen Streets, passing over Hoang Van Thu Park, and splitting into two branches before landing on Hoang Van Thu and Nguyen Van Troi Streets.
According to Hoang Dinh, project director from Dong A Infrastructure JSC, the highway will create a convenient and fast way for vehicles to exit the airport.
Along with other projects to expand and upgrade the facility, the construction of an elevated highway will help solve congestion at the entrance of the facility and improve the level of service to passengers, Dinh said.
The road can also be linked to Elevated Highway No.1, an under-utilized project which leads to the city's center, the director continued.
Nguyen Van Tam, deputy director of the Ho Chi Minh City Department of Transport, said that the agency had been tasked with evaluating and gathering feedback for the scheme before submitting a report to the Municipal People's Committee.
Regarding funding for the project, the three developers estimated costs to be in the vicinity of VND2.6 trillion (US$114.3 million), of which VND450 billion (US$19.8 million) will be provided by the local state budget for land clearance.
The project is considered an attractive investment proposition for commercial banks, while its financial plan also includes regular maintenance in order to achieve continuous service upon its completion.
According to Dinh, implementing the construction under a PPP contract is necessary and suitable in the current economic climate, in which funds from the city's coffers are limited.
The director also asserted that the design of the highway will take into account urban aesthetics and the architecture of the airport.
The area of land required to be cleared, about 50,600 square meters, will only impact a few buildings and a small portion of Hoang Van Thu Park, he elaborated.
The project's developers and relevant agencies are currently expediting procedures for the construction to be approved in the third quarter of 2017.
Work is expected to begin in the fourth quarter of 2017 and the elevated road is scheduled to be put into operation by early 2019.
Nghe An veterans denounce local priest' violations

The executive board of the War Veterans' Association in the central province of Nghe An has issued a document denouncing the serious illegal actions of priest Dang Huu Nam.
The document claimed that Nam, head of Phu Yen Diocese in An Hoa commune, Quynh Luu district of Nghe An, incited Catholic followers to join marches and protests outside  the church's campus. He used preachings in the church to distort the country's history and offend the honour and dignity of people who sacrificed their blood to safeguard the nation during days the country was holding activities to pay tribute to people and soldiers who fell down for national independence and the historic victory on April 30. 1975
Nam aimed to deny the revolutionary achievements of the Party, nation and people of Vietnam, angering people, harming national unity and disturbing social order and security in the locality, according to the association.
The document also included the allegation that Nam directed children to stand under the heat of the sun holding banners as human shields to veil his bad actions.
The Nghe An War Veterans' Association also stressed that Nam's activities violated the Constitution and the law of Vietnam and infringed on the UN Convention on the Rights of the Child.
Nam's words and actions deeply offended the honour and dignity of millions of Vietnamese people who died to protect the country, the association said.
Representing veterans who fought for the nation's independence, liberation and peace and representing some 173,000 members of the Nghe An War Veterans' Association, the association's executive board claimed that all of Dang Huu Nam's words were completely fabricated, treading the revolutionary achievements of the nation underfoot.
The executive board requested Dang Huu Nam to abide by the law of Vietnam and fulfill his responsibility as a Catholic priest to popularise Catholic doctrine and immediately stop his activities inciting local Catholics to break the law, causing social disorder and harming national unity in the locality.
Dang Huu Nam should apologise to veterans of Vietnam in general as well as locals and veterans in An Hoa commune, Quynh Luu district in particular, for his words and activities defaming the country's history, the board demanded.
It also asked the Government to work with the Vatican and the Vietnam Episcopal Council to tackle Nam's violations, while suggesting authorised agencies take legal measures against him.
Vietnam, France share experience in developing bailiff services
The Ministry of Justice (MoJ) and the French National Chamber of Judicial Officers held a discussion on May 3 to look into bailiff services in Vietnam and France's experience in this field.
Do Hoang Yen, Director of the MoJ's Department of Judicial Support, said 13 provinces and centrally-run cities in Vietnam are piloting bailiff services while 12 other localities have registered for providing these services.
Bailiff services have helped improve the quality of judging and enforcing civil verdicts, she said, adding that they are a positive legal tool for people to protect their own rights and interests when engaging in civil, economic and commercial transactions.
She acknowledged shortcomings in existing bailiff activities, pointing to bailiffs' limited capacity and experience which is partly attributable to a shortage of professional training and a code of ethics of bailiffs.
To increase the state management of and create a more favourable legal corridor for bailiff services, the MoJ plans to build a circular guiding the implementation of some articles in the Government's Decree on the organisation and activities of bailiffs, and another circular on ethics of bailiffs.
Accordingly, the draft guidance circular will simplify as many relevant procedures and papers as possible. The Academy of Justice will be in charge of giving training in bailiff activities. Meanwhile, the draft circular on bailiffs' ethics aim to raise awareness, morality and prestige of the bailiff profession.
At the discussion, French experts said in their country, the minister of justice is responsible for appointing bailiffs and deciding the establishment of a bailiff's office. Bailiffs in France must adhere to their profession's ethics in both work and life since they have certain power given by the State.
The discussion was an occasion for the MoJ to learn from France's experience in developing bailiff services so as to fine-tune related regulations in Vietnam in the time ahead.
Vietnamese official attends ILC's 69th meeting

Vietnamese Ambassador Nguyen Hong Thao attended the 69th meeting of the United Nations International Law Committee (ILC) that opened in Geneva on May 1.
Participants at the session, which runs until June 2, will discuss a wide range of issues, including the immunities of State officials from legal proceedings abroad, the permanent application of international conventions, the protection of environment amidst armed collision, the preservation of the ozone, and crimes against the humanity.
ILC was set up in 1947 with the mission of promoting the codification and development of international law. The body is specialized in drafting international conventions and studying major issues of the international law as well as laws on relations among countries.
ILC currently has 34 members who serve in a five-year tenure. They are mostly scholars, diplomats and lawyers with great experience in researching, lecturing and practicing international law. They operate independently with the country introducing them.
Vietnamese Ambassador to Kuwait Nguyen Hong Thao was the first Vietnamese representative at the agency. He was elected as a member of the ILC for the 2017-2021 tenure in November 2016.
Ambassador Nguyen Hong Thao is an expert in international law. He used to be deputy head of the National Border Committee, head of the negotiation team on border agreements with neighbouring countries, and a legal advisor to the drafting process of Vietnam's 2012 Law of the Sea.
Thao is also a seasoned diplomat with 40 years of experience. He was Vietnam's Ambassador to Malaysia in the 2011-2014 tenure.
Son La, northern Lao public security forces strengthen ties

Public security forces of Vietnam's northern province of Son La and northern Lao provinces affirmed the priority they give to bilateral traditional friendship, special solidarity and comprehensive cooperation, during a working session in Son La on May 3.  
The event was held during a visit to Son La by a delegation of the Lao Ministry of Public Security's representative office in Vietnam and the public forces of Lao northern provinces, part of celebrations for the 55th anniversary of the bilateral diplomatic ties (September 5) and the 40th anniversary of the signing of the Vietnam-Laos Treaty of Amity and Cooperation (July 18). 
Reviewing joint work over the past years, they said both sides have partnered effectively in border management and the fight against sabotage plans by hostile forces and all kinds of crime, especially cross-border drug crimes. 
At the session, they vowed to contribute to lifting the Vietnam-Laos bilateral ties to a greater height.
Vietnam becomes official member of AALCO

Vietnam was warmly welcomed as a latest official member of the Asian-African Legal Consultative Organisation (AALCO) at its 56th Annual Session on May 2 in Nairobi, Kenya. 
Addressing the event, Vietnamese Ambassador to India Ton Sinh Thanh thanked the AALCO Secretariat and member nations for their support for Vietnam's admission. 
He stressed that Vietnam appreciates the organisation's efforts to make it easy for the member states to discuss international legal issues related to the interests of Asian and African countries, thus giving recommendations to the countries as well as conveying the AALCO's viewpoints to the UN and other international organisations. 
Vietnam has made all-out efforts to contribute to strengthening Asia-Africa cooperation since 1955 when it took part in the first Asia-Africa Conference in Bandung city, Indonesia (Bandung Conference), Thanh said. 
He reaffirmed as an official member of the AALCO, Vietnam commits to enhancing links with other member countries and the Secretariat of the organisation to deploy intra-group cooperation activities in line with its Statutes and Statutory Rules. 
Vietnam also wants to learn from other AALCO member countries' experience in international legal issues, he added. 
At the conference, participants focused their discussion on how to fight violent extremism and terrorism, regulations and treatment of refugees, atmosphere protection, international criminal justice exemption for State officials, and international law on cyberspace, which are also under discussion at the UN, especially the International Law Commission (ILC) and the UN General Assembly's Sixth Committee. 
Vietnam officially became the 47th member of the AALCO on February 24, 2017, marking a new development step in the country's international integration, especially in legal sector. 
AALCO, originally known as the Asian Legal Consultative Committee (ALCC), was constituted on 15 November 1956. It is considered to be a tangible outcome of the historic Bandung Conference held in Indonesia in April 1955. 
As the only international organisation in the world promoting solidarity among Asian and African countries in the field of international law, AALCO has involved the codification and development of international law. It gave opinion to the completion of the 1982 UN Convention on the Law of the Sea (UNCLOS 1982).
The organisation now groups 47 member nations in both Asia and Africa.
Hue holiday fest fetes VN craftsmanship

A festival to highlight and celebrate Vietnamese craftsmanship opened in Hu? yesterday evening with a ceremony bathed in music and light.
Speaking at the opening ceremony of the Hu? Craft Village Festival, Nguy?n Van Thành, chairman of the city's People's Committee, said the event aimed to honour the quintessence of Vietnamese craftsmanship and enhance craft production in light of modern needs.
"The event is also to create chances for stronger co-operation in craft production and trade towards the making of products that can be sold at home and abroad," said Thành, who is also head organiser of the event.
The five-day festival has attracted the participation of many craft villages and artisans from different parts of Vi?t Nam.
They are presenting at least 13 major crafts in the country including paper paintings, lantern-making, paper flowers, bronze casting, knitting of mats, embroidery, glass paintings, kite making and traditional weaving.
It will showcase 2,000 products including bamboo lamps, tea pot trays, chairs, table sets, lanterns, and decorative rattan pieces.
An added feature is instant training sessions by skilful and experienced artisans for those interested in learning to make the items.
Hu?'s history of royal patronage saw many crafts flourish, including embroidery, which is kept alive till today by many families whose ancestors once served royalty.
This year's festival will feature 200 embroidery shops and facilities in the city, showing off their excellent skills and outstanding products.
Hu? conical hats, with transcription of poems under the leaf layers are another attraction at the event.
The work done with bamboo and rattan in Bao La Village, where production has shifted from farming tools to furniture and decoration items, is also on display.
Festival goers can also admire pottery and terracotta products from the north, fabric woven by the H're people in Qu?ng Ngãi Province, as well as baked bricks and mosquito-fern mats from southern Vinh Long.
An áo dài fashion show on the city's iconic Tru?ng Ti?n Bridge, with the gowns featuring prints of famous paintings by 20 prominent artists of the city, will be a festival highlight.
The collection is now exhibited in a park called the Áo dài Garden.
Those wearing the country's traditonal dress during the festival days in the city will get free rides around the city on decorated cyclos.
The festival expects to attract residents enjoying the long weekend that celebrates National Reunifiction Day and May Day.
Is homeschooling a rising trend in Vietnam?

While homeschooling is still foreign to most Vietnamese parents, two brothers in Ho Chi Minh City have been undergoing the educational method for years with flying colors.
The brothers, Dang Thai Anh, 14, and Dang Nhat Anh, 19, have dropped out of formal classes after finding their school curricula too stressful and the traditional schooling environment unsuitable for their development.
They are now taught at home by their father Dang Quoc Anh, a former university professor who has given up his job to be a full-time dad.
"I objected the idea at first, as I believed kids their age should be taken to school," said the brothers' mother Le Thi Thanh, who is also a professor at the Institute of Posts and Telecommunications in Ho Chi Minh City. "But over time I became fed up myself with the strenuous experience the boys were getting at school."
"The last straw was when the homeroom teacher of my older son made him and nearly 20 of his classmates spend their break time in front of the headmaster's office revising a lesson they had failed to memorize," Thanh recalled. "I couldn't come to terms with such punishment, for it does more harm than good to students in general."
According to Thanh, when her older son was still in school, he would spend every night doing homework until 10:00-11:00 pm and wake up at 6:00 am the next morning to go to school.
"The curriculum was ridiculously heavy, and his teachers assigned too much homework," Thanh said.
The parents finally decided they had had enough after Nhat Anh's first year in high school, and allowed the boy to pick up homeschooling from then on.
As for their younger son Thai Anh, trouble came as early as in his middle school years.
"In his class, those who attended after-hours classes held by their teacher were exempted from oral tests, while those who didn't were given as many as ten pages of homework every day," said their father Dang Quoc Anh. "If he failed to finish it, he would be punished in class by doing squats."
"There were even times when the teacher would give him low marks on an English exam despite his answers being correct," Anh said.
As he has a particular passion for science, Thai Anh would often mention black holes, antimatters, and astronomy in conversations with his classmates, for which he was always labeled a 'freak,' the father added.
Both Thai Anh and Nhat Anh are now revising for the International General Certificate of Secondary Education (IGCSE), an English language curriculum developed by the University of Cambridge International Examinations.
Apart from academic knowledge, the boys also excel in English, with the younger brother having earned IELTS band 8.5 at the age of 13 and the older brother scoring 8.0 on the same test in 2015.
They also take music classes where they learn to play musical instruments to develop necessary appreciation for the fine arts, their father said.
If he passes the IGCSE this month, Nhat Anh will be going abroad to continue his study, while Thai Anh has already been enrolled in an international school in Ho Chi Minh City, he said.
"Every educational method has its advantages and shortcomings that we have to accept," Quoc Anh said. "Both Nhat Anh and Thai Anh have their flaws that we are trying our best to make up for."
According to Dr. Nguyen Kim Dung, deputy director of the Institute for Education Research at the Ho Chi Minh City University of Education, homeschooling has yet to be formally recognized in Vietnam at the moment, though the trend has started to pick up speed among families with good educational backgrounds.
"In the hands of well-educated parents, homeschooling can be extremely beneficial as the curriculum is more personalized to the characteristics of their children," Dung said. 
"In reality, however, a homeschooled child can experience social shock when they encounter people who may not be as understanding and ideal as their parents. Therefore, it is necessary that parents who wish to homeschool their children be ready to provide them with  social skills as well as academic knowledge."
Kindergarten kids grow clean vegetables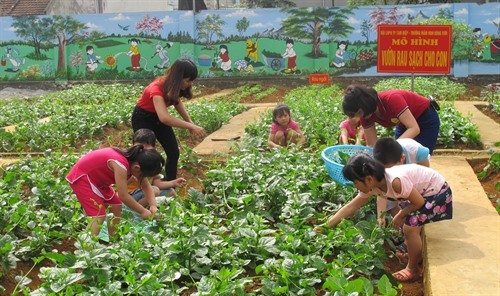 For the past three months, the Tam Điệp City Women's Association in the northern province of Ninh Bình has been cultivating a vegetable garden for kindergarten students. The project aims to provide clean and fresh veggies for the children.
Tạ Thị Pha, chairwoman of the Tam Điệp City Women's Association, said that the garden was not only beautiful to look at, but also supplemented the children's daily lunch with healthy produce.
Chairwoman Pha said that since last year, the city women's association had been developing plans to implement the vegetable garden model in kindergartens across the city, with the aim of improving the quality of children's lunches and teaching them how to grow their own vegetables.
After studying the soil of different kindergartens, the city women's association chose the Bắc Sơn Kindergarten as the location for their pilot programme.
On an area of 300sq.m, the kindergarten's management team collaborated with the association to buy small plants, fertiliser and a watering system. The vegetables were planted and cultivated by members of the association.
After a successful three months the model has been expanded to a further six kindergartens in the city.
During the implementation stage, workers, teachers and parents were eager to get their hands dirty and help with the project, said Pha.
Different kinds of vegetables are planted based on the season, including water morning glory, basella alba, chayote, cucumbers, tomatoes and potatoes.
Previously, large areas at the kindergartens had been left unused causing waste and environmental pollution. Now the area has been spruced up for the vegetable garden, providing an attractive landscape and clean environment.
At present, workers and teachers at the kindergartens take turns as caretakers of the gardens.
Each plot is between 300-700sq.m, and does not use any herbicides or pesticides.
Dương Thị Thủy, principal of the Đông Sơn Kindergarten in Đông Sơn Commune, said, "Seeing that their children are given clean vegetables during meals, parents are very happy and enthusiastic to join in with the work of planting and taking care of the vegetables."
The garden in the Đông Sơn Kindergarten has grown to 700sq.m. The school plans to expand the garden to 1,000sq.m in the future.
Nguyễn Thị Hiền, a teacher at Đông Sơn Kindergarten, said, "The clean vegetable garden helps the children learn about the natural world outside of lessons. They can join in the planting, cultivating and harvesting of the vegetables, and then enjoy the fruits of their labour. All of this makes the garden more meaningful."
Chairwoman Pha said that the women's association hoped to expand the garden project to all kindergartens and primary schools in the city. 
Huế police officer dies while stopping speeding vehicle

A police officer in central Thừa Thiên - Huế Province's Huế City died after a speeding motorbike crashed into him on Tuesday afternoon, the city's Traffic Police Department confirmed on Wednesday morning.
Sergeant Võ Duy Khánh, 30, was badly injured while trying to stop the motorbike on the byway of National Highway 1 that bypasses Huế City, but was instead hit by the vehicle. He was rushed to the Huế Central Hospital for treatment but died later.
The motorbike driver was also injured. The case is under further investigation.
Earlier last month, a police officer in Hà Nội was injured while chasing a motorbike rider who was carrying goods in excess of regulations. The rider ended up pulling the police officer while attempting to flee. 
Fire destroys storehouse in HN's Bắc Từ Liêm

A fire on Tuesday night destroyed a storehouse covering more than 600sq.m, used to store material to make advertisements and posters in Hà Nội's Bắc Từ Liêm District.
The storehouse is located in a residential area in Phú Diễn Ward.
The fire allegedly started at around 10.30pm. People living near the storehouse said they heard some explosions but failed to extinguish the fire with personal fire extinguishers.
Ten fire engines and nearly 100 firefighters joined in to douse the fire.
By 6.30am on Wednesday morning, the fire was stamped out completely.
The police are investigating the incident to determine the cause of the fire.