Deputy Minister of Agriculture and Rural Development Hoang Van Thang on Tuesday led a ministry delegation to survey landslide in Cho Moi district, An Giang province, where 16 houses were swept into the Hau river on Sunday.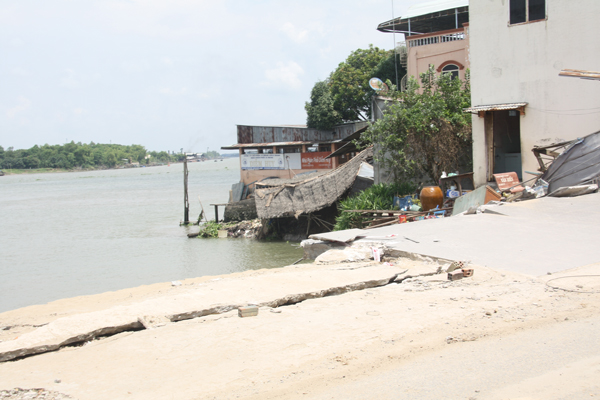 The serious landslide sending 16 houses into the Vam Nao river on April 22 is feared to expand in An Giang province 
Chairman of the district People's Committee Truong Trung Lap said that 260 meter long river bank is vulnerable to landslide. 
After the Sunday accident, local authorities have been removing 108 households and their properties out from landslide prone areas, set up notice boards and arranged personnel to watch over the area.
 The district has given VND1.1 billion (US$48,000) in financial assistance and raised an extra of VND80 billion for 58 households who have already evacuated from the landslide area to stabilize their lives. 
Dr. Tran Ba Hoang, head of the Southern Institute of Water Resources Research, said that confluence of the Hau and Nam Vao rivers has created eddies, causing the landslide. 
Deputy head of the Water Resources Department under the Ministry of Agriculture and Rural Development, said that surveys showed that the area's terrain is weak and unstable while local people have built riverside multi storey houses. That combined with flow changes and expanding eddies has put the area in high danger of landslide. 
Rampant sand exploitation 
Deputy minister Hoang Van Thang said the Sunday landslide was serious and complicated with large property damage. 
Landslides might be caused by climate change and hydropower dam construction in the upper reaches of the Mekong river. The dams have held back a huge volume of sand and alluvium, negatively affecting riverside and coastal areas in the Mekong Delta. 
In addition, riverside works and extensive sand exploitation have contributed in spreading landslide.  
Citing scientists' estimation, Mr. Thang says that the Mekong Delta loses about 500 hectares of land due to landslide a year. The Government has paid much attention to and instruct a slew of measures to cope with the issue.
After the survey, the Ministry of Agriculture and Rural Development will advise the Government on solutions to deal with the landslide along the Vam Nao river. 
Mr. Nguyen Huu Thien, ecological expert, said that 50 percent of 700 kilometer coast in the Mekong Delta has seen landslide at different levels. According to statistics, coastal landslide reached 50 meters a year in many places in Bac Lieu, Ca Mau and Kien Giang provinces. 
Besides negative impact from hydropower dams, sand exploitation in the Delta has resulted in a loss of 200 million tons of sand a year in the Tien and Hau rivers, contributing to the currently severe landslide. 
Therefore, authorized agencies must have an overall plan on sand dredging in the two rivers to prevent the resource from running depletion and consequences later on.
SGGP