VietNamNet Bridge – The debate will never end, but that is the nature of the topic: should we get involved or intervene in a mugging or a theft, especially in giving chase on a vehicle, or in cutting off a thief by knocking him off a vehicle?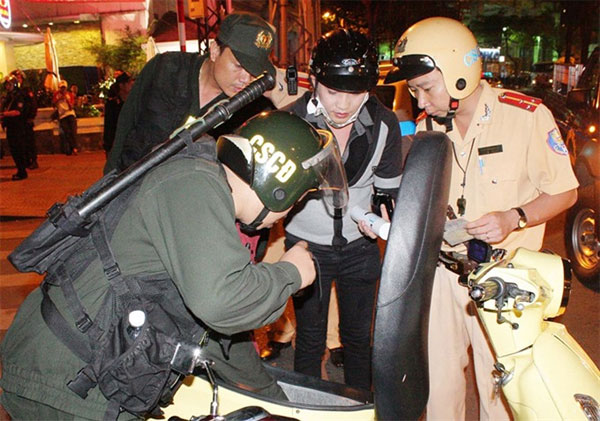 HCM City police search a motorbike after midnight on Tran Huan Nghiep Street, District 1 during a campaign to curb crimes at spots notorious for crime in the city. (Illustrative image -- File photo)
This question came into stark relief last Thursday after Nguyen Van Hoang, a 50-year-old taxi driver in HCM City, swerved his car in the manner of a demolition derby contestant to knock a motorbike down. On the motorbike was a bag snatcher making his getaway.
Fortunately, the thief was unhurt and made his escape on foot, leaving behind the stolen bag and the bike.
A video clip recording Hoang's action has gone viral on both news media and social media websites, and thousands have applauded the taxi driver for being kind and brave.
Many people said it was great to see someone get involved, showing that there were still people willing to help others in an increasingly cynical, mind-your-own-business world, where people are afraid to intervene and get entangled in a mess not of their making.
Some people expressed concerns about Hoang's safety, saying the thief who escaped could exact revenge.
Hoang told local media that as soon as heard the shouts, "thief, thief," he saw the suspect and told himself he had to do something.
"I did have second thoughts, and was worried that hitting him with the car could have fatal consequences. He was a thief, but he was also a human being with a family, and a life to live."
All this happened in a flash, and he could not bring himself to not do anything to stop the thief.
"As a taxi driver, I have been trained in self-protection and assisting clients – which is part of professional ethics," he said. 
He said he was not worried about the thief exacting revenge, but regretted not catching him.
The way youth responded to this situation is revealing.
Nguyen Ngoc Hung, a university student in Ha Noi, said Hoang deserved to be commended and rewarded for joining the fight against criminals.
"He did something. At lease he cared about others while many people do not, or even if they do, they are afraid and ignore what is happening," he said.
However, a friend of Hung's, Tran Thu Ha, had a different opinion.
"His action was too risky. It is too dangerous to try and stop someone with a car.
"The thief stole a bag from someone, but it does not mean that someone else can steal his life," she said.
Hung countered that when a thief chooses to be a thief, he chooses to face the risk of being chased, caught by the police and going to jail.
And there is another aspect to this equation: thieves also put others at risk. They can seriously injure victims whose bags or other belongings are snatched, whether the latter are walking or driving. They can also put other people at risk by speeding as they try to get away.
Discussing this topic, Nguyen Tien Hoa of the Ha Noi Bar Association told the Cong an nhan dan (People's Public Security) newspaper that under the nation's constitution and Criminal Code, citizens have the right and obligation to join efforts to protect the country and maintain social order, as also enforce compliance with the law.
Article 15 of the Criminal Code says that citizens can stop and fight those who are violating the rights and benefits of other citizens.
However, people who engage in actions that exceed the needs of self-defence could face criminal charges.
For example, villagers in Nghe An Province beat up a suspected dog thief till he fainted. Another suspected dog thief was beaten to death by a mob in Ba Ria – Vung Tau Province. These are cases where the actions taken were beyond the needs of self-defence, extreme and unnecessary, Hoa said.
He said that in many street robberies, those wanting to steal valuables usually planned in advance, worked in groups and were often armed. So people should be aware of this when engaging in self-defence, and ensure that support for victims is also in accordance with the law.
Dangerous tools should not be used to attack thieves, and their lives should be endangered by ramming them with cars or other vehicles, Hoa said.
When witnessing a robbery, people should try to memorise or record as many characteristics of the offenders as they can and report to the police, he added.
He also said that in order to encourage people join the fight against crime and criminals, the Government should "concretise" regulations on citizens' rights and obligations. For instance, explained, in the US, under a model that brings police and citizens together against crime, that latter receive instructions on legal issues, get trained in self-defence and are equipped with bikes, flashlights and other tools to patrol certain areas.
We, in Viet Nam, might not be far away from having to do something similar. 
VNS