VietNamNet Bridge – Imagine having your left foot almost cut off while on a boat out at sea. Imagine the pain and hopelessness of the situation.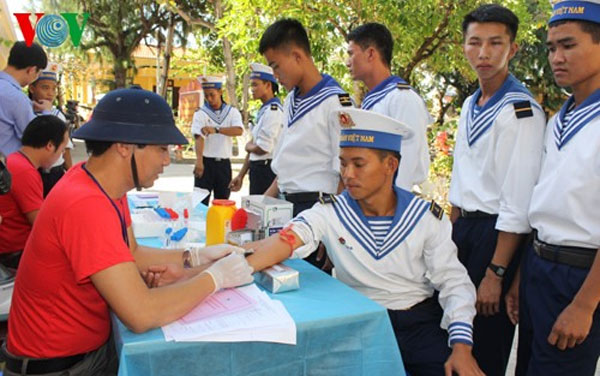 An official from the National Institute of Hematology and Blood Transfusion (in red) draws blood from a soldier on the Truong Sa archipelago for blood examination. — Photo vov.vn
What seems like something out of a horror film happened to one fisherman in central Khanh Hoa Province last year when he was sailing off Song Tu Tay Island, part of the Truong Sa (Spratly) archipelago, the VOV online newspaper reported.
The fisherman lost a considerable amount of blood by the time he arrived at the island's medical centre, said Senior Lieutenant Nguyen Chi Dung, chief quartermaster of the army medical corps of the northern region of the Truong Sa archipelago.
That was when members of the island's live blood bank were summoned for a blood examination, after which the doctors chose the right blood type and performed a direct blood transfusion to save his life, Dung told the newspaper.
A live blood bank consists of people who register to donate blood in life-or-death situations.
"It has significant meaning for marine officials and soldiers, fishermen and citizens who live on islands, as it provides fresh blood as quickly as possible in emergencies," he said.
The Truong Sa archipelago live blood bank is the brain child of Professor Nguyen Anh Tri, Director of the National Institute of Hematology and Blood Transfusion, and his colleagues. It was created after a decade of field research and planning.
Indirect blood transfusion, where blood is stored in a receptacle before being transfused, is popular in urban areas and major cities, but doesn't work as effectively in remote areas and islands, according to Tri.
Distance makes it hard to use stored blood, while sometimes there isn't enough blood stored on an island at a given time, Tri said.
Living conditions on islands aren't high enough to afford specialised refrigerators for storing blood, he added.
"The live blood bank doesn't require such equipment as blood is stored in donors' bodies," Tri said.
"The bank's donor list consists of healthy people who are willing to donate their blood to others," he added.
"We proposed the idea to the Ministry of Health last year and got their permission to develop live blood banks for distant areas, islands and border areas," he said.
A team from his institute visited Truong Sa archipelago last week to develop live blood banks and sustainable blood resources for the Song Tu Tay, Son Ca, Nam Yet, Sinh Ton islands
The visit was part of a deal between the institute and the Ministry of Defence's Army Medical Department, the Navy Command and the Navy Medical Institute, he said.
Fast and feasible
Since the institute's proposal was approved last year, live blood banks have been developed and proven effective in mountainous Ha Giang Province's Dong Văn District, border An Giang Province's Tinh Bien District, coastal Hai Phong City's Cat Ba and Bach Long Vi islands, as well as Ly Son and Phu Quy islands in central Quang Ngai and Binh Thuan provinces, respectively.
According to Professor Tri, it is considered a success when 1-5 per cent of the total population of a local area – who are Blood Type O and healthy with no blood-transmitted diseases – agree to donate.
It is not difficult to reach those percentages since military forces in the localities are always willing to donate their blood, he said.
Blood from live donors can be directly transfused to patients within 8-20 minutes, ensuring they are provided with enough blood within the 'golden hour' in emergency situations, he added.
"One patient in Ha Giang Province's Dong Van District got a direct blood transfusion immediately after we completed the donor list," he said. "Doctors in Ly Son Island can now perform operations in their hospital, something they couldn't do before because of a lack of blood."
Health checkups will be provided for donors every 3-6 months, Tri said. For soldiers on Truong Sa archipelago who are rotated to other localities every year, the new soldiers that arrive will be checked up and added to the donor list, he added.
Colonel Ho Sy Hung, chief quartermaster of Naval Region 4, said that the live blood bank is a practical and effective idea, which works well in the Truong Sa archipelago.
"It improves health care services for citizens on the islands and fishermen working in neighbouring waters, contributing to protecting the country's sovereignty over its sea and islands," he said. 
VNS