VietNamNet Bridge – The capital city's prosecuting agency, Ha Noi People's Procuracy, today anulled a decision taken the local police on April 15 relating to the arrest of a senior resident over a land-reclaimation protest.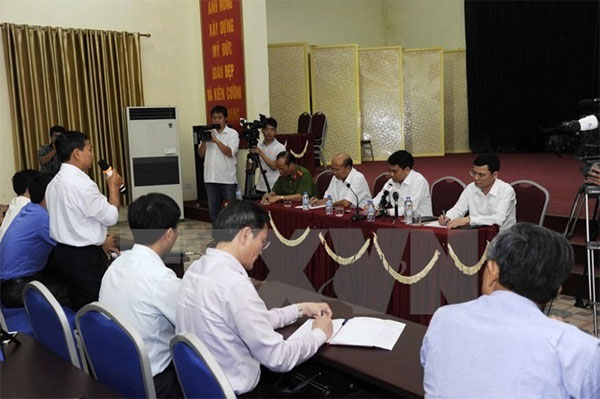 Chairman of Ha Noi People's Committee Nguyen Duc Chung yesterday met with My Duc District representatives to exchange views as they seek common ground on the land issue in Dong Tam Commune.
The anullment came in response a police department request that preventive measures relating to 82-year-old Le Dinh Kinh, a resident of Dong Tam Commune in My Duc District, Ha Noi, be rescinded.
The police requested the anullment saying Kinh had "honestly declared his actions" and have never been convicted previously.
Kinh was arrested in the commune's Hoanh Village on April 15 as part of investigations launched in the case of residents causing social unrest on March 30.
Kinh suffered some injuries during the arrest and was hospitalised. Three other people who were arrested along with Kinh were released on April 18.
Earlier today, residents of Hoanh Village also released Dang Van Canh, deputy head of the Publicity and Education Committee of My Duc District.
Canh told the local media later he was released because of his health condition.
"They let me go owing to my health. I was treated well during the last few days; the villagers treated decently all the other people that they held hostage," Canh said.
"I wish the locals would keep calm," he added.
The case relates to locals' unhappiness with a decision to reclaim 50.03ha of land in My Luong, Tran Phu and Dong Lac communes of Chuong My District and Dong Tam Commune in My Duc District. They had lodged complaints with district and city agencies.
Authorities maintained that the locals had trespassed upon military land, but residents denied the charge.
Last Saturday, when Ha Noi police arrested four alleged violators to investigate the case on "causing public disorder," 38 city policemen and officials of My Duc were illegally detained by the villagers.
Fifteen of the hostages were freed on Monday.
Ha Noi's People's Committee Chairman Nguyen Duc Chung visited My Duc District yesterday to talk to residents, but the issue was not resolved.
Chung said he would hold another meeting today with the residents of Dong Tam Commune.
VNS