VietNamNet Bridge – In 2016 and the first quarter of 2017, authorities uncovered 430 cases of human trafficking, involving 600 accused and 1,500 victims. Some 85 per cent of the victims were to be sold to other countries, mainly to China – in 195 cases – involving a total of 378 accused, while 490 victims were freed.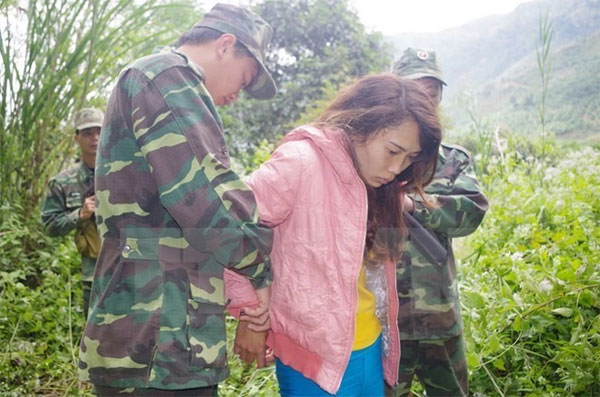 Border guards arrest a 'professional' human trafficker in northern mountainous provinces of Viet Nam. — Photo: Quang Duy/VNA/VNS
The above figures were made public at an annual conference reviewing the implementation of the anti-human trafficking agreement between China and Viet Nam, held yesterday in HCM City.
The conference was co-chaired by Major General Nguyen Phong Hoa, deputy head of the Police General Department under the Viet Nam's Ministry of Public Security, and Tran Sy Cu, deputy director of the Criminal Investigation Bureau under China's Ministry of Public Security.
Major General Hoa said the Greater Mekong Sub-region, including Viet Nam and China, is considered to be a "hot spot" of human trafficking and illegal migration. Human trafficking activities conducted in this area are a "multi-billion-dollar business," Hoa added.
Authorities in recent times have uncovered a number of human trafficking rings that smuggle Vietnamese via road or by air to China, Russia and Eastern European countries, forcing the victims to work in slave-like conditions in nail salons or narcotic plant cultivation fields.
According to reports delivered at the conference, along the Viet Nam-China border, human trafficking remains a long-standing issue that has festered into more complicated forms due to numerous reasons. Traffickers have taken advantage of the easy immigration and cross-border travelling procedures between the countries to conduct their business. In addition, in remote areas where there is scattered presence of authorities and less enforcement, the lack of jobs, economic difficulties and lack of access to technology, coupled with the naivety and credulousness of the locals and the rugged terrain, have further compounded the problem.
At the conference, aside from reviewing cooperation results, delegates discussed and came to a consensus on a number of priority issues for more effective implementation of the agreement this year. Provisions for a standard criteria and standard procedures for bilateral cooperation in verifying, identifying and returning victims to their home country between the two nations' authorities were also hashed out. 
VNS