VietNamNet Bridge – A lack of cutting-edge technologies, unrealistic policies, and a failure to take advantage of local expertise and knowledge are constraining agricultural development in the country, experts have said.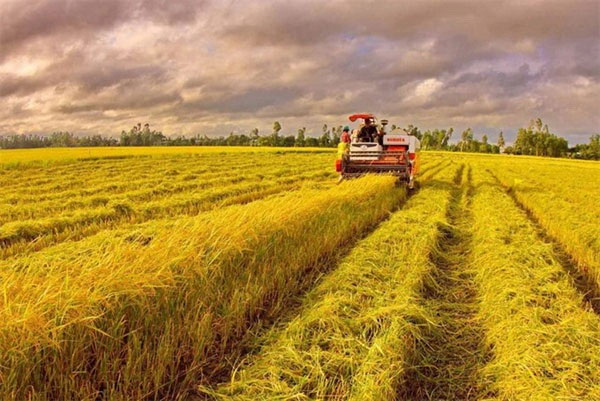 Harvesting rice in Hau Giang Province. The agricultural sector plays a key role in national economic development, but the sustainability of production in the sector remains low. 
Nguyen The Ha, of the Bui Van Ngo Mechanics Industry and Agriculture Ltd Company, said that agriculture played a key role in national economic development, but the sustainability of production remained low.
Speaking at a seminar in HCM City on Tuesday, Ha said that unstable agricultural production, outdated processing technologies and high costs had also contributed to the slow progress of the industry.
Ha said that the cost of rice production, for example, could be reduced from VND3,300 (about US$0.1) per kg to between VND1,800-2,000 per kg by applying advanced technologies to the agricultural production.
"We have conducted research on how to reduce rice production costs for 20 years. But due to a lack of appropriate policies and incentives, the country has not achieved the target," he said.
Straw is now sold at only VND700-800 per kg, but could be sold for VND1,800-2,000 per kg if it was in a rolled package. If straw was processed for cattle feed, it could sell for VND8,000 per kg.
Straw could also be exported for other purposes, he said.
"The Mekong Delta has 10 million tonnes of straw. If we apply advanced technologies to agricultural production, we can increase the value of rice significantly," he said. "We are wasting a huge and valuable resource".
"We are doing research on making a new machine that would transform straw into cattle feed, but we are looking for state support or incentives," he said.
Vo Tong Xuan, rector of Nam Can Tho University, said the region should not focus solely on rice plantations, but should shift to other cultivated crops.
Dong Thap Province, for example, could shift from planting rice to mango for export, but it would need support from various sectors and agencies.
Challenges
The region faces a number of problems, including the loss of farmland due to global warming, saline intrusion and pollution.
Le Quang Tri, director of the Institute for Climate Change Research at Can Tho University, said households had not adapted well because of inadequate policies.
He called on provinces to create policies that combine regional linkages and trade diversification to fully exploit the strengths of each locality, focusing on "policies and people as the decisive factors".
Le Thanh Tung, an official of the Ministry of Agriculture and Rural Development, said the delta's farm produce had not met certain international standards and that a growing frequency of epidemics was raising production costs.
Tran Huu Hiep, of the Steering Committee for the Southwest Region, called on the region to strengthen management and quality oversight of local agricultural products.
Other shortcomings include poor infrastructure, a shortage of skilled labourers, and a lack of a specific plan for global integration under new free trade agreements.
The region produces more than 50 per cent of the country's rice and 90 per cent of exports, in addition to 70 per cent of fruit and nearly 70 per cent of aquatic produce.
Xuan, of Nam Can Tho University, said that government agencies should provide more information about the content of bilateral and multilateral free trade agreements to farmers and businesses.
To prepare for global integration, farmers should modernise production, reduce production costs by working together, and strictly follow good agricultural practices, he said.
He also called on the government to invest more in improving the region's infrastructure, reform education, and develop favourable policies related to land ownership, rural credit and technology transfer.
To be competitive with other countries, domestic businesses must produce quality products, meet customers' tastes, supply goods at the right time, and offer competitive prices, he said. 
VNS