VietNamNet Bridge – The number of methanol poisoning cases has surged over the past three months compared with previous years, according to information presented at a workshop Monday in Ha Noi on the effect of alcohol abuse and the treatment of methanol poisoning.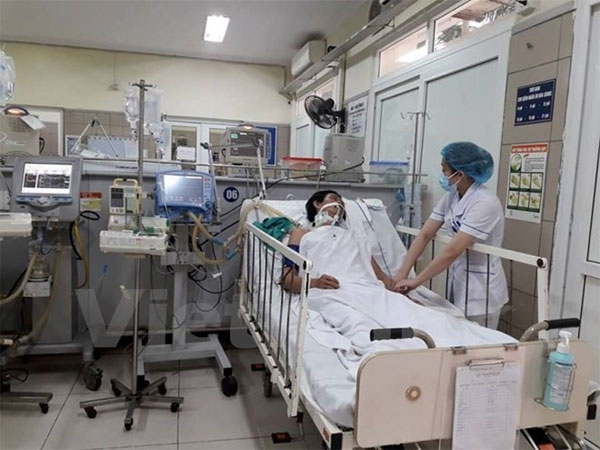 An alcohol poisoning patient is treated at Bach Mai Hospital in Ha Noi. - Photo vietnamplus.vn
Addressing the event sponsored by the Viet Nam Food Administration, Nguyen Trung Nguyen from the Poisoning Control Centre at Bach Mai Hospital said the centre treated 34 cases of methanol poisoning cases this year. Of these, nine people died. Nguyen warned that even those who survive are likely to suffer serious after-effect.
Over 60 cases were recorded in the country last year, compared with only a handful in the previous years, he said. Consuming alcohol with methanol content of nearly 50 per cent was the cause of alcohol-related deaths, he added.
Deputy Minister of Health Nguyen Viet Tien said: "It is heartbreaking to see victims of methanol poisoning die, or remain maimed, despite doctors' best efforts to save them." Methanol-laced alcohol can cause lasting nerve damage or blindness, he warned.
Identifying the responsible person is very difficult, Tien said, but consumption of alcohol, especially of methanol, must be curbed. He suggested that as an authorised agency, the Ministry of Industry and Trade should tighten the management of alcohol quality to prevent poisoning.
Nguyen Hung Long, deputy head of the VFA, said the prevention of methanol poisoning should focus on small alcohol dealers, especially small food establishments.
These establishments usually sell alcohol without brand names, he said, adding that it was difficult to distinguish between white wine and methanol-laced alcohol.
Participants at the workshop agreed that there were shortcomings in the management of alcohol production and trading.
They proposed that a law be promulgated soon, strengthening control over advertisements, as well as places which sell alcohol, and the consumption of alcohol by children and drivers. 
According to the Viet Nam Food Administration (VFA) under the Ministry of Health, 382 people have been poisoned by unsafe alcohol over the past 10 years, 98 of whom died.
Most cases of alcohol intoxication are caused by drinking alcohol of unknown origin, or home-made liquor sold at small restaurants or in street stalls.
VNS