Traffic police in central Thanh Hoa Province on Wednesday found a frozen tiger weighing 180kg in an ambulance travelling on HCM Trail in the province's Thach Thanh District.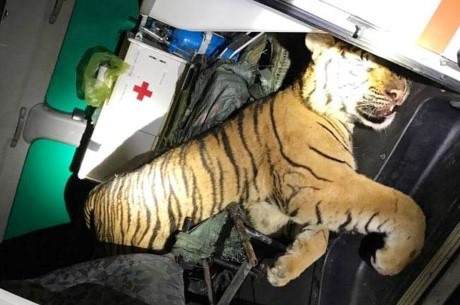 A frozen tiger weighing 180kg is found in an ambulance. 
Police tried to stop a private ambulance 37A-03115 after seeing it flout traffic rules, but the driver kept driving.
The driver and another man allegedly left the ambulance and ran towards the Cuc Phuong National Park.
Upon searching the ambulance, the police found the frozen tiger in a bag. The case is being investigated.
Late last month, five frozen tigers were discovered in a Vietnamese man's freezer with their organs removed in central Nghe An Province.
According to the World Wild Fund for Nature (WWF), in 2011, Viet Nam had 30 wild tigers, but, at present, there are only five remaining in the natural environment.
In Việt Nam, the tiger is on the list of endangered species, and hunting or trading tiger is prohibited. Violators can face fines or criminal penalties depending on the level of violation.
Tiger organs and bones are used for medicinal purposes. Tiger bones are commonly boiled and mixed with rice wine in Viet Nam, a mixture believed to treat arthritis and increase strength.
A report titled "Reduce to skin and Bones Re-examined," released last year by TRAFFIC -- a wildlife trade monitoring network -- and WWF, called on Viet Nam to close down tiger farms.
According to the report, Viet Nam has also become an increasingly significant hub for tiger trafficking and home to a growing number of tiger farms – close to 40 per cent of the country's reported seizures came from captive facilities. 
It is estimated that there are more than 7,000 tigers in farms in Asia, mostly in China, Laos, Thailand and Viet Nam. 
VNS