VietNamNet Bridge – Three men involved in an online soccer gambling ring that engaged in transactions worth some VND900 billion (US$39.6 million) were recently arrested by the police in central Nghe An Province.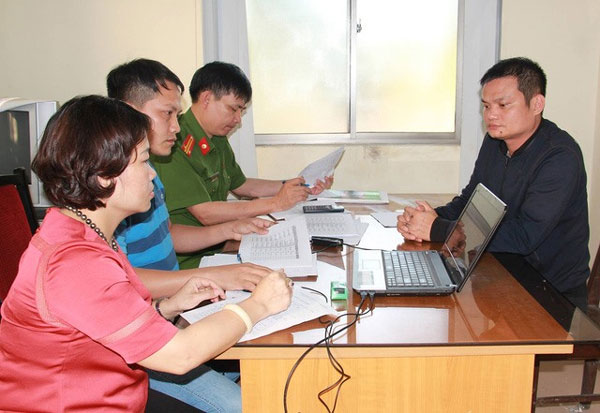 Ringleader Tran The Hung (right) during investigation with the Nghe An police and concerned authorities. 
Colonel Nguyen Xuan Thiem, head of the Nghe An Police's Division of Economic Crimes and Management Positions Investigation (PC46), said this online soccer gambling ring had the largest transaction value ever uncovered in the province.
The arrested are Nghe An-based 38-year-old Tran The Hung, and Le Hong Trung, 30, and Ngo Minh An, 47, both from Vinh City.
Two laptops and five mobile phones containing data related to the gambling racket were also confiscated, police said.
Investigation revealed that from 2014 till date, Tran The Hung used a "Master Agent" account (KX573) on website bong88.com to organise online bets.
Six "Agents" and 45 gamblers in Vinh City regularly participated in Hung's gambling racket.
Some 38,500 bets were placed since 2014 on the system with total transactions of some 23 million points. Each point could be exchanged for VND40,000 ($1.8).
Tran The Hung and Le Hong Trung were charged with "organising of gambling" and Ngo Minh Anh with "gambling", police said.
Further investigation into the case is underway.
VNS